First-Gen Q&A: From Howard to Peace Corps
This is part of a series of Q&As with returned Peace Corps Volunteers who identify as first-generation college students and/or new Americans. Learn how they navigated the challenges of the decision-making process and service abroad!
Ayah Belal served as an education Volunteer in Comoros from 2015 to 2017. She identifies as a first-generation college student.
"My parents immigrated to the United States in the 1980s and met in New Jersey. I grew up in an Egyptian household in Maryland, where my first language was Arabic. I grew up in the aftermath of 9/11, so I experienced stereotypes of Muslims and the Middle East throughout my childhood. It was this upbringing that made me passionate about international affairs and exchange programs. The Peace Corps was the perfect opportunity to help me pursue my passion for intercultural exchange; I especially wanted to promote the Peace Corps' Third Goal, which is to help Americans better understand other cultures."
How did you first learn about Peace Corps?
I first learned about the Peace Corps at Howard University, where I was pursuing a degree in international relations. I was directed to the Peace Corps as the best way to receive experience abroad. The Peace Corps helped me understand how cultural exchanges can create bridges among people of different backgrounds. In addition to that, my parents also had friends who'd served in the Peace Corps in the 60s and 70s, and their stories made me very passionate about joining.
Did you face any challenges in pursuing your goal of becoming a volunteer?
Initially, I was very excited about being accepted to Sierra Leone, but shortly after receiving my invitation, Volunteers were evacuated from the country due to Ebola. I was later reassigned to Comoros. I was excited about the new assignment, but also scared because I was part of the first group of Volunteers to return to the country since 1995, and it was a place I knew very little about.
I couldn't tell my family where I was going during the application process because under the older application I wasn't allowed to choose my country. My parents also didn't really understand the concept of Peace Corps, and were concerned about me being so far away for an extended period of time. My parents, like me, had never heard of the islands of Comoros, and weren't too keen on me being sent to a country that had limited access to flights.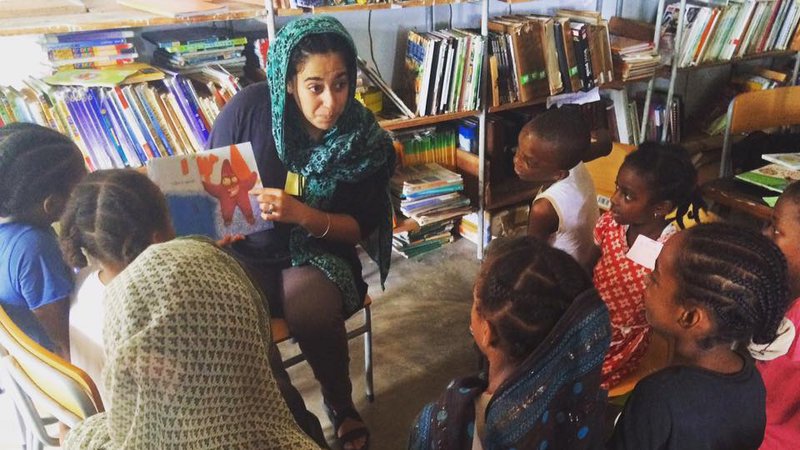 What were your biggest challenges during service?
I often missed my family back home. I had very limited network access in my community and was unable to connect with my family as often as I would have liked. Language was also a challenge. Because we were the first group of Peace Corps Volunteers in Comoros in decades, our language training wasn't as fine-tuned is it might've been. Also, because I served in the first group to return to Comoros, I had to do a lot of explaining about the Peace Corps and myself. Many community members were not aware that Americans are a diverse array of people, so I had to explain why I was there and who I was, as a Muslim-American who spoke Arabic.
What was a major highlight of your service?
As an education Volunteer, I taught English to high school students. I also created youth-empowerment initiatives, such as entrepreneurship and girls' empowerment projects.
A major highlight of my service was creating a team that helped put Comoros "on the map." Because it is a group of small islands, the country is sometimes forgotten, and I was able to launch an initiative (still ongoing) that has helped promote the country and the Peace Corps' impact there. I first traveled to Ghana, where I received special Peace Corps media training. When I returned to Comoros, I used my new skills to help acquire media equipment, create a Peace Corps Comoros media team, and train staff and volunteers on social media strategies and campaigns.
How did your family view your Peace Corps service?
My mother was very supportive of my Peace Corps service, while my father was not, at least initially. He was very concerned that I was going to a developing country with limited access to amenities. After I left and he came to understand what I was doing as a Peace Corps Volunteer, he became very supportive of my decision to serve.
How has Peace Corps benefited you?
The biggest personal benefit I received from the Peace Corps was my host family. I now have a family in Comoros that I can always go back to and whom I do plan to visit in the near future. But I have an even bigger family that expands all across the U.S.—my Peace Corps family. No matter where or when they served, a returned Peace Corps Volunteer is someone you can always reach out to.
I went into service not knowing that there were career and financial benefits of Peace Corps service. There are many! After service, I received noncompetitive eligibility (NCE), a federal hiring benefit, which helped me land my current job.
Peace Corps also helped me pursue my master's degree in public diplomacy at American University, with the help of a Coverdell Fellowship. Without the Coverdell, I truly would not have been able to afford the tuition and was able to complete my degree in a little under two years.
---