Finding 'The Warm Heart of Africa' in a Malawian hospital
Malawi is sometimes called "The Warm Heart of Africa" and, after nine months here, I have found this to be true. 
More often than not, I am greeted with a smile and wishes for a safe journey or a blessed day. I am a member of the nursing faculty at Mzuzu University School of Nursing and Midwifery in Mzuzu, Malawi. I am a Peace Corps Volunteer and also a volunteer with a private organization called Seed Global Health. This collaboration seeks to promote nursing and medical education across Africa by providing U.S. volunteers to resource limited settings. I have particularly enjoyed working with Mzuzu University's nursing students in clinical settings.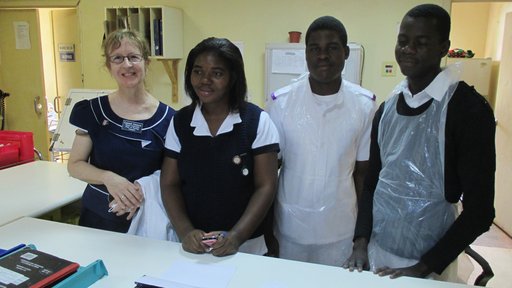 Maclear, a 31-year-old woman, was being cared for on the female surgical ward after experiencing major head trauma due to a road traffic accident. She was semi-conscious but able to swallow, a positive sign for head injury patients. Her eyes were closed and she did not respond to verbal cues. Clinicians and nurses had ruled out internal injuries; her basic vital signs (pulse, respiration, temperature, blood pressure) were stable.
She moved her limbs spontaneously and randomly, without apparent conscious volition. Her speech, when it came, was agitated and my students told me her words were not decipherable in her native language. Her parents were in constant attendance and fed her soft foods with her head slightly tipped up. During these feedings, her eyes were closed. Her father was always there, holding her hand as he sat at her bedside. This devotion touched me and I imagined my own adult children and how I would feel were they in this situation. The healing effect of her father's hand in hers must be taken into account as a part of this story.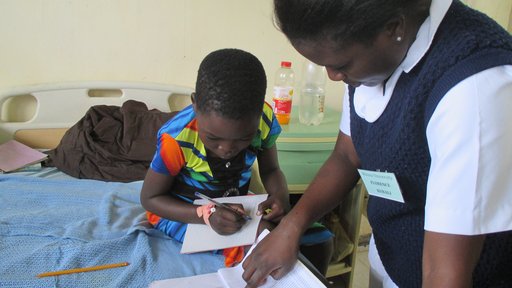 One of the most respected surgeons at the hospital did rounds with the nursing students and said Maclear must be gotten up every day. I agreed and rallied some nursing students to help. The process of dressing Maclear with her mother's help was difficult. Nurses and parents do intimate acts of service throughout the world. Our patient's skirt was slightly ripped at the zipper during the process; we had to pull and pull to get it up to her waist. One student held her arms and shoulders so that she wouldn't slide out of bed. Another worked with her mother and me to secure Maclear's blouse and button it modestly. Then four of us lifted her into the wheelchair.
From that day on, a group of nursing students made it a point to get Maclear up. I witnessed one student in particular: After Maclear was up and secured in the seat, Peter would massage her hands, arms, legs and feet. Day after day, there was no apparent improvement and Maclear was still unable to hold herself erect without support. Day after day, she was gotten up and Peter tried to bring life back into her lifeless limbs by performing range of motion and massage exercises. She was also wheeled outside and put in the sunshine, though during my observations she didn't seem to be aware of this change in environment.
I missed Maclear's awakening because I was working in the male surgical ward for a while. When I returned to the female ward, Maclear's bed was empty. I've seen so much death here that my heart fell. I thought perhaps she had died. When I looked in the next bed, however, she was sitting up eating porridge and conversing with her parents. I went over to them beaming and they were, too. Witnessing this transformation was wonderful and I talked in particular to Peter, who had paid such careful attention to Maclear. I believe his hands-on nursing care and stimulation made the difference. My role in this narrative is small. I only recognized a clinical need after collaboration with the doctor. Then I delegated the nursing students to help and to be consistent in their care of Maclear. Finally, I encouraged them, particularly Peter, by celebrating the successes that make nursing and teaching nursing very fulfilling.
"The patient was first in intensive care and then to the surgical ward," nursing student Manasseh said. "She couldn't respond or move herself well. A head injury is serious. When the patient fully recovered, she was responding. It felt good because we took care of her condition. As a nurse you always wish your patients well by providing quality care to them."