Finding the Christmas spirit in the Himalayan foothills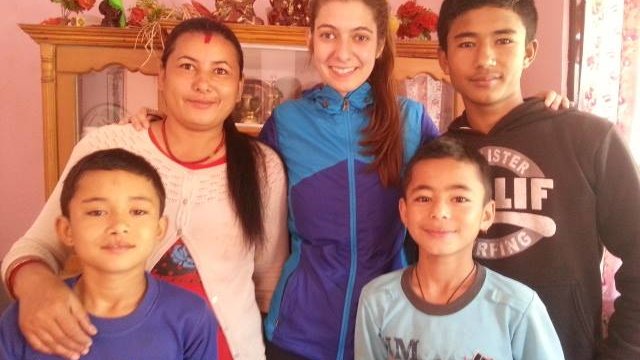 Dec. 22, 2015
When I signed up for the Peace Corps, I knew I was going to miss a lot of holidays and family events back in the United States.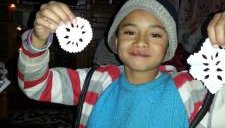 Having previously completed my undergraduate degree abroad, celebrating holidays over the phone had become somewhat normal for me. I thought I would be fine in Nepal, but as my second Christmas in Nepal approached, dormant pangs of homesickness began to stir.  
I planned on meeting up with other Peace Corps Volunteers for New Year's Eve; therefore it made sense to stay in my village for Christmas. I decided to keep busy and treat the holiday as if it was any other day. 
A few days before Christmas, I casually mentioned to my 12-year-old twin host brothers and their friends that my family's biggest holiday of the year was coming up. Living in a country where elaborate cultural and religious traditions mark the passage of time better than a calendar, I shouldn't have been surprised when their eyes lit up. The excitement from the major Dashain and Tihar festivities in the previous months was dying down, and my brothers saw a new opportunity to celebrate. 
Suman, the more extroverted of the twins, proudly exclaimed, "Priya didi (big sister), we are going to celebrate Christmas at our house this year!"
Before I had the chance to respond, our neighborhood friends chimed in, eager to take part in celebrating this new holiday. They giggled with excitement as I explained my family's traditions, from hanging up stockings to putting presents under a decorated tree. "You put a tree in the house?" they wondered, and asked if I was making it all up. I was having trouble explaining in Nepali, so we gathered around my laptop and watched the movie "Elf."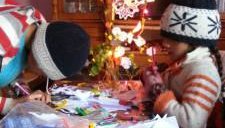 Now there was no turning back. We found a scraggly potted plant that served as our Christmas tree and started making ornaments with markers and notebook paper. Luckily, people in my village loved using jilly milly (strings of lights) to decorate, so we were able to borrow some for our tree. I taught them how to make paper snowflakes, and we spent the afternoon listening to Christmas music and decorating the house.

On Christmas morning, I was woken up by Sudeep, the more reserved of the twins, knocking on my door at 5 a.m. Deliriously I remembered explaining to him the day before how I used to wake up early to find presents under the tree. He could barely contain his excitement as I placed the presents (chocolates wrapped in paper and tied with yarn) under our little tree. 
Thanks to a care package from my brother in the U.S., we made pancakes with syrup to share with the neighborhood kids and their parents for a special American breakfast. When it was time to give out presents, I ceremoniously shook each child's hand and posed for pictures while the rest of our friends applauded. Our front door was always open for anyone to come in, but that day our house was particularly bustling with neighbors curious to see what we were doing and take part.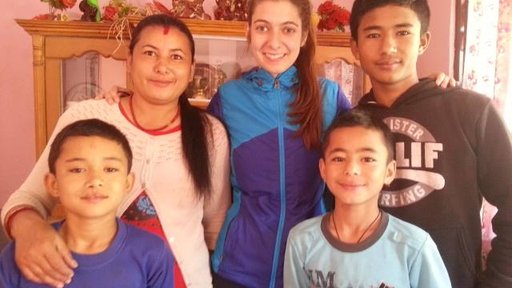 Engaging not only the kids in the celebrations but their families as well made the day that much more special. Our impromptu Christmas celebration stands out as one of my favorite memories from service.
While in the Peace Corps, I engulfed myself in projects and activities that promoted food security and nutrition in my community. I was so caught up trying to make a tangible difference in my community and leave a lasting impact that the cultural aspects of my experience sometimes took a backseat. It was eye-opening to see not only how much I enjoyed sharing my traditions with my community, but also how excited and interested they were to learn about it! 
Celebrating Christmas in Nepal showed me there is more than one way to make an impact and no effort is too small. I left Nepal more tuned in to and appreciative of the little things in life, and have my neighborhood friends to thank for that.