Finding empowerment as an LGBTQ+ Volunteer in Costa Rica
When I was young, I found other guys attractive. I didn't know what those feelings meant, though, because I didn't have the language for it then.
I knew that what I felt was different from those around me, so I didn't speak about it. It wasn't until I got a little older that I began to see men in TV shows and movies openly express their feelings for one another. And then it hit me: I'm gay.
As an undergraduate at Denison University in Granville, Ohio, I studied abroad in Lima, Peru, for a semester. There, I learned a lot about the country's rich culture and history, and the injustices and inequities experienced by Peruvian natives. While my program allowed me to acquire the information and knowledge around these issues, there wasn't room to take action. Upon returning to the States, I vowed to find an opportunity to return overseas, immerse myself in the community on a deeper level, and provide aid.
I graduated from Denison and worked for several years prior to joining the Peace Corps, where I served as a Youth in Development promoter in Costa Rica.
Prior to serving, my understanding was that the LGBTQ+ community and lifestyle were politicized and taboo in many ways. That said, I also knew that Costa Rica was more progressive than even its bordering countries and was making strides towards legalizing same-sex marriage.
As I got to know my Costa Rican community through informal conversations over dinner and formal interviews carried out during my community analysis, people freely shared their less-than-progressive beliefs about the LGBTQ+ community with me. I instantly became less comfortable in my own skin and acutely aware of how I presented myself in public. I became self-conscious about my tone of voice, the clothing I wore, and my body language. I became fearful of being "found out" and worried how this could affect my relationships with community members and how it might negatively impact my work.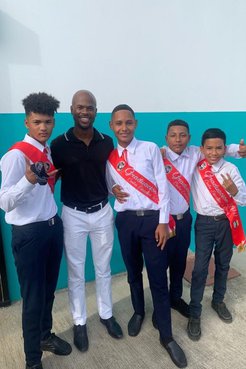 After several conversations with Peace Corps staff, sharing with friends and family, and much reflection, I was able let go of some of that stress and anxiety. I remembered my purpose for serving, which helped propel me forward. Additionally, I moved into my own apartment, which was a game-changer. Having a safe haven allowed me to feel a lot more comfortable and, once again, proud.
I was never open about being gay in Costa Rica due to the potential for biased attitudes and my fear that identifying as gay would hinder my relationships with community members and negatively impact my work. But Peace Corps staff created a space that allowed me to feel seen, welcome, safe, and celebrated. From the small Pride flags hanging in the office to attending the gay Pride parade with Volunteers, I received genuine care and intentionality from staff.
I am proud of the work I accomplished with local youth in my community. I designed and implemented workshops that focused on enhancing leadership, life skills, and emotional awareness. Additionally, I led several programs to increase community engagement and recreational opportunities for youth.
The most significant aspect of my service was helping community members realize their vision. I valued providing support in the areas that were deemed most necessary by students, parents, and staff at the school.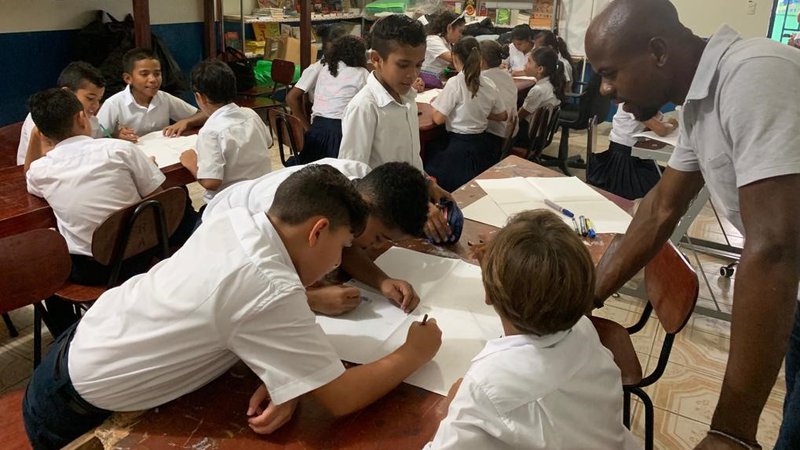 I am incredibly grateful for the work I did with 10th grade boys. I facilitated a workshop where they learned the difference between primary and secondary emotions, how primary emotions can escalate to anger, and methods to control that anger. The workshop ended with a free-flowing conversation around emotional development and how their peers and men in the community expressed themselves. I appreciated the students' openness and vulnerability. It seemed that young men in Costa Rica seldom had opportunities to discuss these topics, and they were very appreciative of the experience.
Service furthered my desire to work to strengthen communities. When I returned to Chicago after being evacuated in March 2020, I sought out nonprofits that worked on the ground. In August of 2020, I started doing gun violence prevention work on the west and south sides of Chicago. In the future, I hope to use my Spanish skills to further my reach and serve additional populations.
If you are a member of the LGBTQ+ community who wants to serve in the Peace Corps, I advise you to make the most out of your experience, identify communities of support, and find ways to celebrate yourself. Also, recognize the privilege we have as Volunteers to enter in and out of safe spaces, whether it be the Peace Corps office, the homes of other volunteers, or visiting the States. Unfortunately, systems of support may be very limited or nonexistent for local people, so we must remain grateful, and if possible, create those safe spaces for others.