Fifth time's the charm: Volunteer reflects on a decade of experience overseas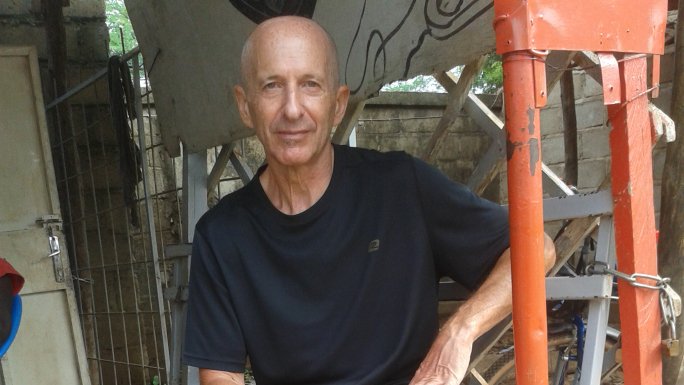 May 11, 2016
In honor of Older Americans Month, the Peace Corps commends those who defy expectations of age and pursue the next chapter of their lives by making a difference overseas.
When Americans are selected to serve in the Peace Corps, they must prepare to leave the country for two years, or 27 months if they factor in pre-service training. Such preparation may involve renting or selling their homes, saying goodbye to their loved ones – including pets – and giving up worldly possessions. 
For some, it could be too much to handle. For others like Paul Menard of New Bedford, Massachusetts – a Peace Corps Volunteer who hasn't settled back in the U.S. in over a decade – they feel right at home.

Paul has served in the Peace Corps five consecutive times since 2000 – which totals to almost 11 straight years overseas – living and working in El Salvador, Senegal, Romania, Namibia and now Burkina Faso. While volunteering in the sectors of agroforestry, organizational development and health, respectively, Paul has encountered a variety of memorable people and moments throughout his time abroad. 
"During my five tours of service, I've lived and worked with Mayans, Fulani, Romanians, Roma, San and Mossi, each of which are uniquely different," the New England native said. "All those differences have made my life in the Peace Corps rewarding beyond description." 
As an older Volunteer – he first departed for service at age 48 – Paul believes earlier life lessons have equipped him with plenty of transferable skills on his world tour of cultural exchange, functioning as a "proverbial jack-of-all-trades" in the countries he has visited. "I have found that I have evolved during my years in the Peace Corps," he said. "I see the world differently as I have taken aspects of each culture and society for myself."  
"With being the only person like oneself for lengthy periods of time, I found that living overseas requires an opening of the mind in order to navigate through different styles of living on a daily basis," he added. 
Recently completing his fifth tour of service, Paul served as a Health Volunteer at a rural clinic in his Burkina community that disseminates vital information to more than 10 neighboring villages. His main objective was to provide sex education to local middle school students as a way to reduce the number of unwanted pregnancies in young Burkina women. 
Aside from his primary assignment, the University of Massachusetts Dartmouth alum branched out in his Burkina community to form a girls' soccer team and a theater troupe at a local middle school, plant Moringa trees around town and facilitate a village cleanup project. 
When he first signed up for the Peace Corps, Paul wanted to satisfy his lifelong interest in helping others and discovering exotic places, especially after listening to the stories of a friend who served as a Peace Corps Volunteer in Zaire (now the Democratic Republic of the Congo) during the early 1980s. 
Paul eventually arrived in El Salvador to serve as an Agroforestry Volunteer and immerse himself in the local culture. He integrated into his community by attending meetings for a local chapter of Alcoholics Anonymous to offer moral support. During one of those meetings, four months before completing his service, Paul realized that he wanted to continue living as a Peace Corps Volunteer. 
"One Saturday night, we were at a meeting and it struck me as such a surreal and exciting place to be," he said. "I can still envision the little kerosene flame, the mud brick house, shadows on the wall, the language, and the people… all surreal. I was there and I was helping people."  
"The Peace Corps has allowed me the opportunity to have many more surreal and exotic experiences since that night back in 2002," he added. 
Paul has also learned six new languages from traversing the eastern hemisphere, including French, Spanish and Romanian. He cited the San dialect used in Namibia as the most difficult to learn as it entails communicating with only four click sounds. 
"The same word may be used with those four clicks," he noted. "The wrong click meant the wrong meaning, and many times, people would just gaze at me trying to figure out what I was trying to communicate. I like all the languages, but the San click language is such a novelty that I can even impress the citizens of Burkina Faso with it." 
Looking back on a decade of Peace Corps service, Paul believes that he has left a slight impact in each of these five communities because he knows he at least tried his best to improve them. While each community may have subsisted in different ways, especially when all compared to western society, Paul has found that every culture thrives on similar human values. 
"I discovered that, in the end, people are basically the same," Paul explained. "It is in the way they handle aspects of life such as family, livelihood, social interactions that differ, but their goals are the same. I have found that, despite these differences, the desire to be respected is a common language." 
As his service comes to a close, after sharing his wealth of experience across the globe, Paul has still managed to learn new things each day while overseas. Most notably, he's learned that it's never too late to expand your horizons. 
"If I never would have followed my dream of joining the Peace Corps, I am sure I never would have had the chance to see the world the way I have," he said. "By living side-by-side with the people in my villages, walking a little way in their sandals, listening to their worries and dreams and sharing in their happiness, I've discovered the true way to learn about life." 
It's never too late to serve in the Peace Corps. If you would like to learn more about serving in your golden years, click here to find an event in your area, or watch this video to get a first-hand look at the Peace Corps experience as a 50+ Volunteer.