Extending my service was the single best decision I ever made
Growing up, Nicole Banister moved around…a lot. 
In fact, she never attended the same school for four consecutive years until college. But after finishing her degree in culture and politics at Georgetown University's School of Foreign Service in Washington, D.C., she knew she wanted to put her passion to work in the Peace Corps.
"The combination of growing up as an expat and being exposed to a variety of different cultures and communities by my parents inspired me to pursue my passion for global human development," Nicole says. "And there's no better opportunity to do that on the grassroots level than in the Peace Corps."
Banister spent her first two years in South Africa serving as a School and Community Resources Project Volunteer. During that time, she worked full-time teaching seventh, eighth and ninth graders English and life skills classes at a primary school in a rural community of just 600 people.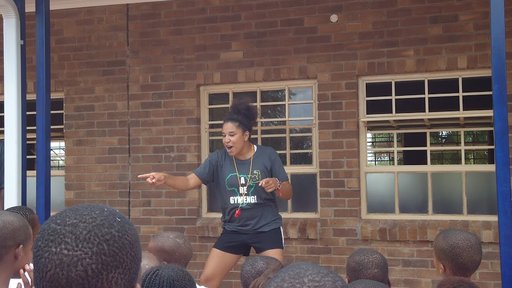 In addition to building a sustainable library of more than 2,500 books at the school during her service, Banister coached a daily exercise class for all interested kids using the curriculum of an organization called Grassroot Soccer. She also organized an event called "A Re Gymeng!" or "Let's Exercise!" in Sepedi, which brought together five fellow Peace Corps Volunteers to deliver a full day of rotating health and fitness sessions to 83 primary school students.
But when her first assignment came to an end, "I knew I wasn't ready to leave South Africa after a mere two years," says Banister.
So, she extended her service for a third year and accepted a position as the Peace Corps program assistant at Grassroot Soccer's headquarters in Cape Town.
Despite having played basketball, not soccer, while growing up, Nicole says the job is well worth it.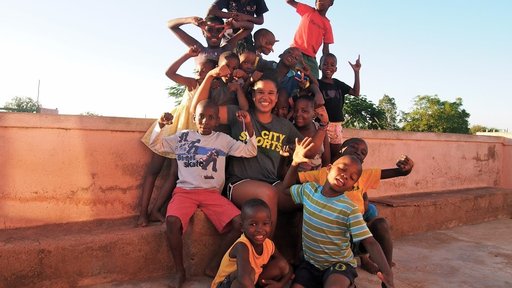 "Extending my service for a third year with Grassroot Soccer has been the single best decision I have made during my Peace Corps service," says Nicole. "I have grown tremendously as both a person and a professional by working collaboratively with some of the world's most passionate adolescent health and youth empowerment specialists."

In her new role as the Peace Corps program assistant for Grassroot Soccer, she liaises with Peace Corps Volunteers around the world to help them implement the Grassroot Soccer program.
On any given day, Nicole is on the phone with Peace Corps Volunteers from Thailand to Fiji to Madagascar, or traveling domestically and internationally to facilitate trainings as a Grassroot Soccer Master Coach.
"To work for the organization that provided me with such a meaningful and impactful youth program in my rural community during my first two years of service has been a dream come true," says Nicole.
So what's next for this basketball player-turned-Grassroot Soccer Master Coach?
"I have about four offers on the table — two in Cape Town and two in D.C. — and I have no idea whether or not I want to stay or go!" Nicole says. "We'll see what the universe has in store for me."