Experiencing connection through language in the Dominican Republic
In December, I was invited to church by a Haitian student of mine who lives in a nearby batey, a sugarcane settlement with a majority Haitian population. I walked the 30-minute unshaded walk to his church in a heat I, being from the Midwest, have never experienced.
As a Volunteer in the Dominican Republic (DR), I knew I'd have to learn the fast-paced Dominican Spanish and everything about the culture of my new community, but the idea of learning more than that never crossed my mind. However, after I learned about the Haitian population in the DR, I become infatuated with learning more about their rich culture as well.
I accepted the invitation to church that hot Sunday with no reservations. But as I, an American dressed in his Sunday best, crossed the highway into the Haitian community, I noticed that all eyes were glued to me. Nervously walking up to the first person I saw, a man wearing only a towel, I asked "Ki kote legliz la?" (Where is the church?). "Legliz la?" He affirmed, before turning around and shouting something to someone in the next house over. Two small children, a boy and a girl, jumped out into the street. Both were dressed in their church cloths, and that immediately made me feel less out of place.
"Walk him to the church," the man said to the kids.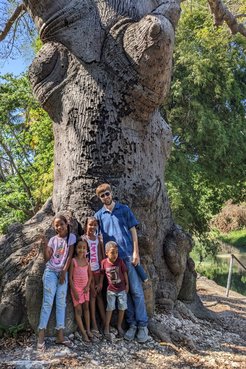 As each child took one of my hands to lead me — a common gesture in the Haitian culture — and I used the Haitian Creole phrases I'd practiced in weeks prior. I asked them for their names and favorite colors. As we walked hand-in-hand through the streets, onlooker's eyes were still watching me, but the company of my two escorts took all my nerves away.
Arriving at the church, I reunited with my student and met the pastor, who again took my hand and led me to a chair placed right next to the pulpit facing the congregation — another Haitian tradition, for guests of honor.
Although I lost myself frequently in the trilingual service — Spanish, Haitian Creole, and French were all spoken — I was able to recognize the pastor's gesture for me to come introduce myself to the congregation. After giving my well-rehearsed Volunteer introduction in Spanish, I decided to give the same introduction in Haitian Creole. To hear the emphatic applause afterwards filled my heart with so much love and enthusiasm; I felt the warmth of a new culture I had not previously known. After the service, members of the congregation called me their brother, and offered to walk me the whole thirty minutes back to my house in the midday sun.
There is a Haitian proverb — Dèyè mòn gen mòn — (literally "Behind mountains there are mountains"). Meaning, there is more to this than meets the eye, there are hidden truths yet to be revealed. After experiencing the kind of connections that can be made through language, I realize now how much more there is to my community — and my service — than I saw before. It brings into perspective these goals of the Peace Corps, and why I am here—to help build cultural bridges that did not exist before, and to find commonality amongst differences.