Experiences and lessons learned from the World Map Project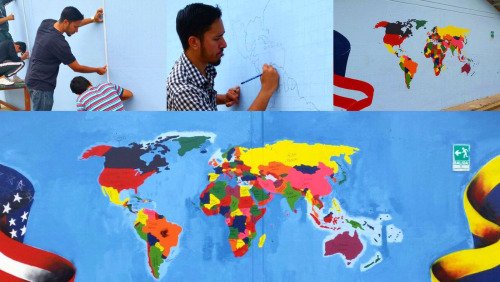 Jan. 5, 2017
Why dedicate the time and effort to painting a map of the world at a high school in the middle of Ecuador?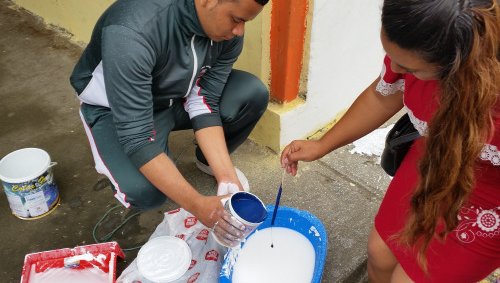 People would inquire about the meaning behind the mapping project as we stood painting in the boiling sun many days. I would often respond by explaining my purpose as a Peace Corps Volunteer in promoting cultural understanding and then explain to them that the project is an educational initiative for the students of the school that helps them to learn and engage more with the world in which they live.
On a personal note, this mapping project has been something I have always wanted to do because of the communal work it involves between the Volunteer and his or her community, which in my case is the school where I work. It's also a project that helps students to understand the scope of how big our world really is and look beyond their country's borders or where they are located geographically. which is something I've been passionate about since being in Ecuador.
The actual process of doing this project has been a journey in itself.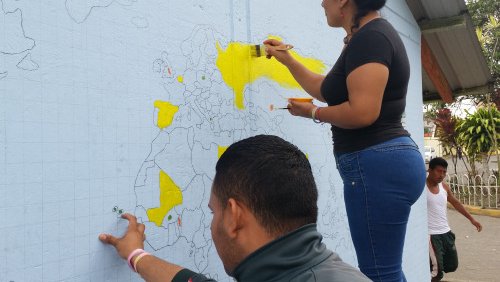 Earlier this year I presented the idea to an art teacher in my school and she thought it would be an interesting undertaking for us to work on. We didn't actually get started until around September after me and one of my students went class to class for two or three days collecting donations and pitching the project to the rest of the school. After we collected enough money to buy the materials we needed, we made our purchase of the necessary colors and then painting began the following weekend.
At first, this project it was slow to get off the ground. Me and about four other students (who I call el equipo) would work only on Saturdays, but after about a month we started to work during the week, which is when things picked up. Materials such as the projector we used to trace the continents and countries on the wall and extension cords to work at night were all borrowed from my coworkers in the school.
The sense of urgency between myself and my students honestly couldn't have been any more different. After all this time in Ecuador, I admit I still like to get things done a bit quicker than at the pace things operate here. Some days I would have plans drawn out in advance for where I would like to be with the project, though doing so didn't yield results and as such has been yet another eye opener. I've humbly learned to not think of this initiative on selfish terms but rather to coordinate with everybody involved on their own time, a true learning experience!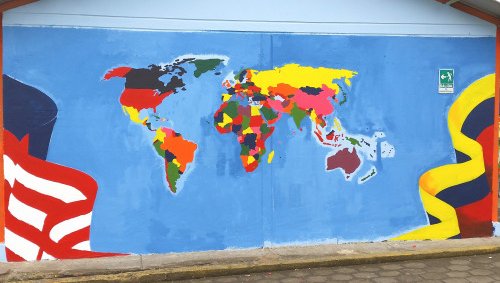 Completing the mapping project has meant a lot to me. It feels great to know that I can leave something with the school that is going to be of benefit to them and serve as a reminder of the American who came and served for two years.

With only three months left in Ecuador, my mind has now begun to think of life back home and the road that lies ahead after service. Doing the mapping project has been an absolute blast and I think it might take some time to grasp a full concept of what I did here. From the students and teachers I work with to fellow Volunteers and everyone else, my train of thought since last January has been opened in ways that would not have been possible if I didn't become a Peace Corps Volunteer. 
As always I'd like to end on an optimistic note and say that I'm grateful for the experiences I've had while doing this project, and even more so grateful to those who gave their time and effort to see this through to completion.
---
Learn how you can create a world map mural at your own school
Get started