Everything is Connected: a Global Pandemic and Giant Clams
"When a pandemic alters daily life patterns for all of humanity, it also impacts our fish stocks, our protected areas, and our endangered species - some for the better and others for the worse."
Everything is connected. That is the ecological mantra I preached as a coastal resource management Volunteer in the Philippines from 2014-2016.
Fast forward four years later to spring 2020. Instead of coral surveys and mangrove field trips, my daily routine involves greeting my laptop for streams of email exchanges interspersed with Zoom calls during stay-at-home orders. That mantra feels like an old memory of a past self.
If everything is connected, surely the giant clam featured as the background on my computer screen must be feeling this pandemic too? Are beach closures and travel restrictions from COVID-19 going to bring a revival of ocean habitats? How does one celebrate World Oceans Day from home?
First, I take a deep breath…in…hold…release. Marine organisms, specifically seasonal phytoplankton blooms, produce more than half of the oxygen in the earth's atmosphere. Yes, thank the ocean – we ARE still connected. As I continue to breathe mindfully, I decide to bring the ocean into my living room: the documentary Chasing Coral on Netflix was filmed in over 30 countries and cut from 500+ hours of underwater footage. It blows my mind every time to watch the time lapse views of the coral reef. The film itself tells a story which inspires action. But how applicable are those actions in the face of this pandemic?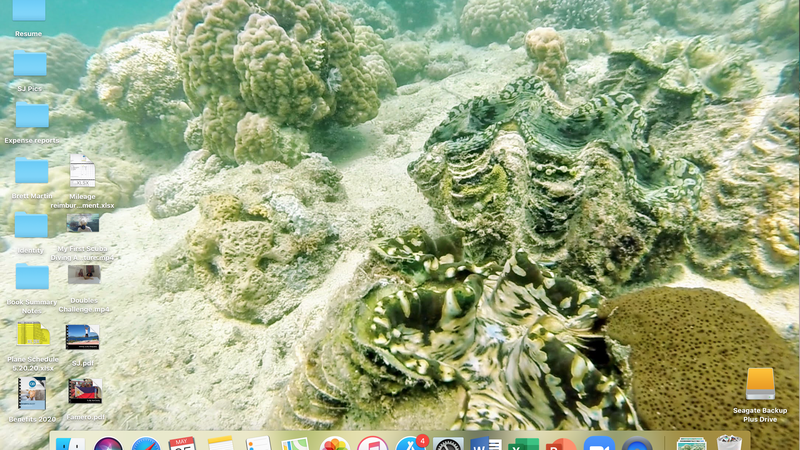 This question brings me back to my computer screen and my friend Tridacna gigas, the giant clam, staring back at me. These clams can grow to four feet in size and more than 440 pounds in weight. Such impressive mass is possible through a symbiotic relationship with zooxanthellae, an algae that lives inside of its tissues, giving the clam its color.
Giant clams were virtually extinct in the Philippines in the 1980s before a conservation and breeding program brought about their revival. I took the photo that now serves as my computer's background five years ago as a Peace Corps Volunteer. I was snorkeling the Looc Fish Sanctuary, the site of Romblon's largest giant clam garden.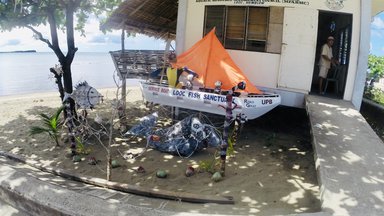 Just last week, using Facebook messenger, I caught up with my Filipino work counterpart, Ma'am Rita Sarmiento, to learn more about the status of the Looc Fish Sanctuary and my celebrated giant clam in the face of this pandemic. Ma'am Rita previously worked as a Provincial Aquaculturalist, breeding tilapia and milkfish to maintain the provincial stock. However, throughout the month of April, my former co-workers were redirected to assist with food packing to support the needs of their community during the nationwide lockdown.
Ma'am Rita is not the only fisheries worker whose daily work was altered in response to the pandemic. Globally, as coast guards and navies respond to domestic needs, offshore illegal fishing may be on the rise. Less oversight will likely yield increased consumption.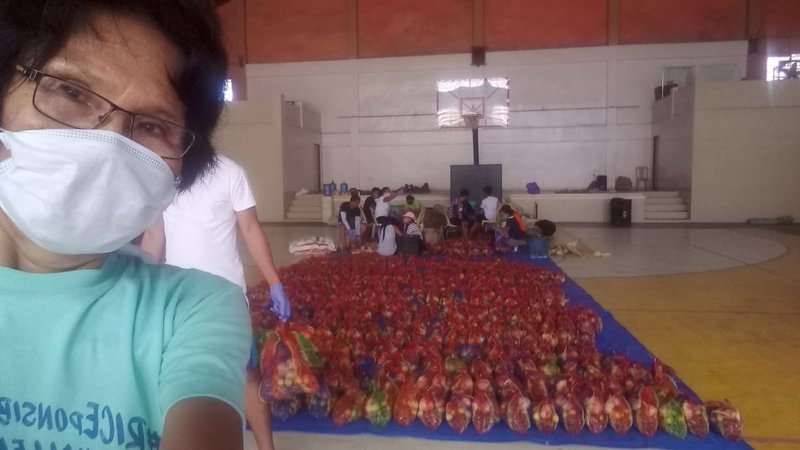 Love the Ocean Creed: I believe that the ocean harbors life – life that I must protect. I believe that the ocean is mankind's greatest common heritage. I believe that the diversity of the ocean is important to sustaining human life. I believe that I am part of but one ocean, and that everything I do affects the delicate balance of life on Earth. I believe that it is my duty to protect the ocean. I believe that by protecting the ocean I help to protect the future. Therefore, I pledge to always live in harmony with the ocean.
Within the Looc Fish Sanctuary, my Tridacna gigas is most likely still filtering water, recycling nutrients, and creating a habitat for fishes and marine invertebrates just as it was before (giant clams can live to be over 100 years old!). However, Ma'am Rita informed me that some things have changed. The Looc Fish Sanctuary, which received a large portion of its budget from tourism fees, is now struggling to pay the Bantay Dagat (ocean guards) who protect the waters of the fish sanctuary. This problem resounds from conservation sites around the globe, which now lack tourists—and thus funds—for protecting marine areas.
Issues of decreased law enforcement and a lack of conservation funds are not good news for our oceans. And yet, there are some positive marine outcomes from recent stay-at-home orders. Most notably, as we move into sea turtle nesting season, beach closures and reductions in tourism have allowed more mama sea turtles to lay their eggs undisturbed. From the eastern coast of the United States, to Thailand and the Philippines, sea turtles appear to be thriving, potentially increasing future turtle populations worldwide. Additionally, beach trash and boating accidents to marine life have declined.
And so, I return to "everything is connected." When a pandemic alters daily life patterns for all of humanity, it also impacts our fish stocks, our protected areas, and our endangered species—some for the better and others for the worse. As you continue to breathe phytoplankton-produced oxygen, take action to help our oceans. Help move your community to 100 percent clean energy and support coral preservation. The recommendations from the Chasing Coral documentary are just as applicable now, as they were then.
When I am finally able to make a return trip to the Philippines, I hope to snorkel through Looc Fish Sanctuary with my son so he can photograph the growth of my original giant clam.