Ending GHSP service on a high note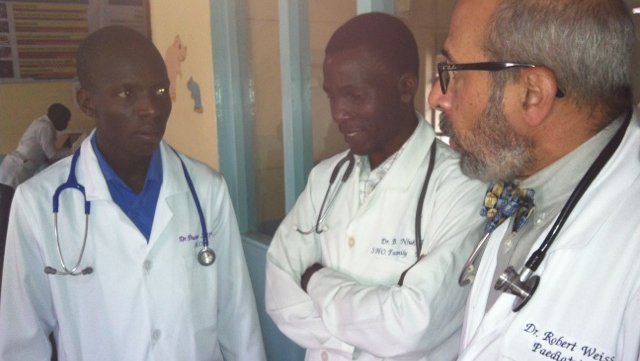 July 10, 2014
A few days before I closed my Global Health Service Partnership (GHSP) service, the residents at my post in Uganda hosted a dinner for me at the Buffalo Inn.
 Two of my colleagues, Drs. Kumba and Kiwanuka, joined the evening's festivities.

Following dinner, my counterparts gave speeches in my honor. Dr. Olive Keneema, Resident in Pediatrics at Mbarara University of Science and Technology, kicked off the evening and spoke for the Senior House Officers. Dr. Keneema said these residents (two of whom are pictured with me above) enjoyed working with me, especially for both my sense of humor and for how I could make the difficult more bearable. Then Dr. Kumba spoke, acknowledging that I was a great addition to the department, and how I often contributed a "different pair of eyes" to help give a non-Ugandan perspective to cases. He also praised my wife both for her charm and loveliness when they met, and also for her willing sacrifice of me for this year.

Dr. Kiwanuka amazed me. He said that, although it is not customary in Uganda to say good things about people until their funerals, in this case he wanted to acknowledge my contribution to the department "while I could hear it," which received good-natured laughter from everyone.
He went on to say that he has learned much about the Peace Corps program and has been pleased with this experience. He remained indirect — the Ugandan way — however his willingness to speak, and indeed his very attendance, spoke eloquently of his opinion. Had I not been sitting down, I would have fallen down. And although I am not given easily to tears, my eyes were moist.
When I had the chance to respond, I praised everyone. I shared what I had learned about Uganda, its people, their endurance in very difficult situations, the tremendous work being done with limited resources. I thanked Drs. Kumba and Kiwanuka for their support and told the group that if they wished to visit or lecture at the Cleveland Clinic, I would not only host them in my home, but I would also do everything in my power to make them feel welcome. I even spoke briefly of the talks I had with Dr. Kiwanuka and Dean Sam about the idea of establishing a visiting Global Health Residency Program at the Cleveland Clinic, and trading residents as part of this program.
I was four feet off the ground when I walked into my apartment. I still am. I truly believe that I have affected some small changes in the Ugandan faculty teaching program and style. In addition, I think I have caused several of the medical students to think about pediatrics as a career.
When I called my wife to tell her all this, she was bursting with pride. In Jewish parlance, she was "kvelling"— something a mother does, for example, when her son or daughter wins a Fulbright, becomes a Rhodes Scholar or is called to the Stanford of the East.
And part of this success is yours, my dear friends.