Roughly half of the world population is female. 
Thus women should, merely by their numbers alone, hold up Half the Sky. Yet a survey of American CEOs or a comparison of men and women's average salaries would not yield this same gender balance.
I discovered a male-biased stereotype of my own in coming to the Philippines: I consistently expect the mayor or other government officials of power to be male, yet on many occasions I have been surprised to find myself shaking hands with a female! I am fortunate to work in a country ranked 9th worldwide in terms of gender equality (the US is ranked 20th). In the Philippines, two former Filipino presidents were actually Filipinas. And my greatest role models at my site are high-achieving women, starting with my host mom.
Irejean Famero or "Mommy Jean" - a retired district supervisor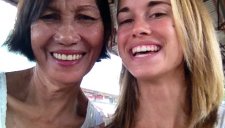 Mommy Jean worked first as a schoolteacher, then 15 years as a principal, followed by four years as the District Supervisor of 18 elementary schools overseeing 150 teaching personnel and 10 non-teaching staff.
"Here in the Philippines, women are given the same opportunities as men. If men can do, women can do!" said Mommy Jean. This statement is backed up by literacy rates of Filipino males and females, which are virtually indistinguishable at all levels of education. Worldwide, the Philippines ranked #1 in gender equality for both education and health/survival. After education, how do job opportunities and career advancement fare for females?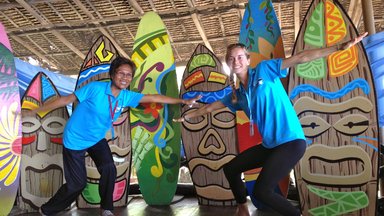 Espirita G. Sarmiento or "Nanay Rita" - a provincial aquaculturalist
At 62 years old, she is working as an aquaculturalist in the provincial office. Even when leading a group of all males (fisherfolk are generally males), she leads with a well-respected authority, built from her wealth of knowledge, which ranges from Fisheries Law to troubleshooting low seaweed production. Physical labor doesn't scare Ma'am Rita either and she can frequently be seen pulling large and heavy nets through a muddy fishpond to harvest tilapia. Her energy and dedication is remarkable, and she will leave a large hole to fill when she finally retires.

Trina Q. Firmalo or "Trina" - provincial chief of staff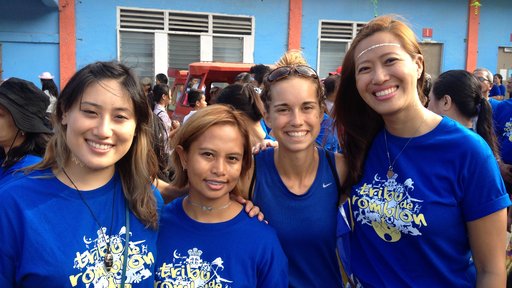 In 2007, Trina received a full scholarship to Princeton University for her master's in public affairs with a concentration in international development, after which she was offered a job at an non-governmental organization in New York City; she turned down this opportunity to return to the Philippines, where she knew she could make a greater impact. Her daily responsibilities as chief of staff include ensuring that the programs and projects of the provincial government are being properly implemented, managing the provincial budget and listening to the needs of countless residents from fisherfolk to the chiefs of police. There never seem to be sufficient hours in a day for Trina to accomplish all that she is striving for.

If women do not already hold up Half the Sky in your country, join the Let Girls Learn campaign to help adolescent girls complete school.