Empowering girls as leaders in Madagascar
Many Peace Corps Volunteers find that some of the most impactful and meaningful projects involve educating and training youth.  
A popular way to engage youth is through camps during summer and winter breaks from school. This past summer, Education Volunteer Gabrielle Skillings, along with three other Volunteers and four local counterparts, hosted a Girls Leading Our World (GLOW) camp in the Lake Alaotra region of Madagascar, with financial and in-kind support from the community and the Let Girls Learn Fund.

GLOW began in Romania in 1995 through the initiative of a Volunteer interested in engaging local girls from her community through education and empowerment.  GLOW has since expanded globally, becoming a cornerstone of Peace Corps' work in gender and an anchor activity of the Peace Corps' Let Girls Learn Program. GLOW camps have increased in popularity over the years as an effective tool for promoting girls' development at the individual and community levels. Through a specially crafted curriculum, Volunteers work to build capacity and foster a network of support among the girls in the short-term and positive behavioral change in the long-term. For 20 Lake Alaotra participants, camp GLOW was an once-in-a-lifetime event with resounding impact. In just one week, the girls demonstrated greater leadership skills and increased enthusiasm for their role in the further development of their communities.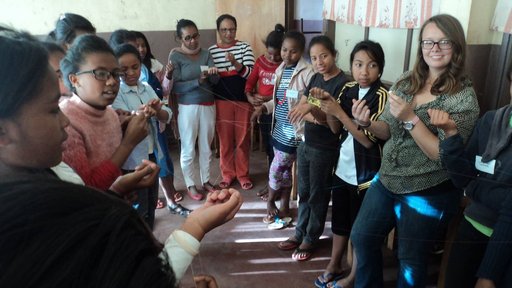 Each day of the week-long camp was packed with new adventures and activities. Striving for practicality and sustainability, the Volunteers and Malagasy counterparts chose to focus on leadership, goal setting, and general life skills; providing a foundation for positive decision-making. This is incredibly important as one issue that affects many Malagasy secondary school girls is the high cost of education. Many adolescent girls move from the countryside to the city in order to attend school, and are quickly affected by the cost difference between rural and urban settings. With few options and limited support, girls are faced with pressure to dropout or engage in risky behaviors to generate income. Volunteers created a GLOW camp curriculum that provided skills to help mitigate these negative situations, including sessions on self-esteem, effective study tips, community leadership, and reproductive health. They traveled to a geophysics lab where the girls saw their first glimpse of planets through a giant telescope. The Volunteers emphasized that science is not simply a boy's subject, a commonly held belief in the Lake Alaotra area. Next, the group visited the American embassy for a panel discussion with 11 Malagasy women that shared how they reached their career and personal goals. Each time a Malagasy woman shared her story with the GLOW campers, it demonstrated a new possibility for their own futures. The girls realized that finishing their education, becoming fluent in another language, or becoming leaders in their communities are all possibilities for their own lives.
On the third day of the camp, a guest speaker from Youth First (a Malagasy non-governmental organization) taught the girls about short and long-term goal setting, to help them visualize how they can make their dreams a reality. Empowered and engaged, the girls' attitudes changed dramatically by the end of the trip. After a last minute scheduling change, Volunteers and their counterparts scrambled to find an alternative activity. A counterpart's friend led the group to the Felana Maitso orphanage, where the campers met Madame Olga—a brilliant woman with a bright vision for the children in the orphanage's future. She took the group on a tour of the facility and explained the inner workings of orphanages in Madagascar. Overcome with passion for these children and empowered by their lessons on leadership, the GLOW campers wanted to assist the orphanage in any way they could. They quickly prepared short, basic English lessons to teach the kids colors, animals, and clothing vocabulary. They spent hours at the orphanage, playing games and talking to the children. It was an exciting day for the children and a fantastic lesson about the power of volunteerism for the GLOW participants.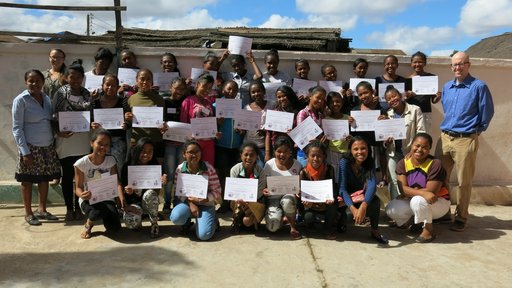 A crucial element to a successful GLOW camp is encouraging the girls to return to their communities and pass on their knowledge to their peers. The skills and ideas presented at the camp can be disseminated to a much larger number of youth if each girl makes an effort to share her experience. Since the Lake Alaotra camp ended, several of the girls have done presentations at club meetings in their communities. They are currently developing plans to begin weekly youth clubs, leading the meetings themselves. Sustainable peer education is one of the most valuable aspects of GLOW camp. The Volunteers in Madagascar hope that the impact will grow in the coming months as the GLOW girls relive the exciting experiences from their week of camp and continue to find ways to lead and give back in their communities.
Like Gabrielle and her partners, you can transform the lives of thousands of girls around the world. A gift to the Peace Corps Let Girls Learn Fund will give Volunteers, and the communities they work with, the resources they need to educate and empower girls. Every donation we receive is tax deductible and 100% goes directly to Peace Corps Let Girls Learn programs and activities.