Ecuadorian teachers boost language proficiency with help from Virtual Service
Paul Siguenza understands the challenges that the National University of Education's (UNAE) Centro de Idiomas' (Language Center) 17 teachers face. Before starting his current role as director, he was a language center teacher himself. Providing high-quality instruction to UNAE's 2,000 students drives Paul, which is why this past spring he participated in Peace Corps' Virtual Service.
Paul and the UNAE staff wanted to help the students who were struggling to reach a B1 level, a graduation requirement mandated by the Ecuadorian government. Of the 209 students that took the B1 proficiency exam in September 2021, 41 percent did not pass. Limited English exposure in the public schools combined with large class sizes can result in highly qualified students failing to pass. Paul thought a new approach could help prevent some students from having to take the exam multiple times.
Remembering UNAE's two previous Peace Corps Volunteers, Paul reached out to Peace Corps post staff. At the time, on-the-ground Volunteers wouldn't arrive in country for at least another year, but the university could have more immediate support through Virtual Service. Four returned Peace Corps Volunteers (RPCVs) agreed to donate their time each week to co-facilitate a two-hour language support session twice a week.
These four Virtual Service Participants – Beverly Hansen (Ecuador 1962-1964), Anne Krawitt (Benin 1984-1987), Maurine "Mickey" Gatto (Ecuador 1968-1970), and Cullen O'Donnell (Ecuador 2017-2020) – prepared for these sessions by collaboratively developing practice activities and prioritizing objectives based on previous B1 assessments.
"Out of the 400 students who participated, only 10 or 11 didn't reach the B1 level, which is an improvement," Paul said.
As the 12-week-long project reached its completion, the four Virtual Service Participants and their UNAE counterparts wanted to ensure greater sustainability and further build the school's capacity. This led them to think about shifting the focus and mentoring the language center's teachers.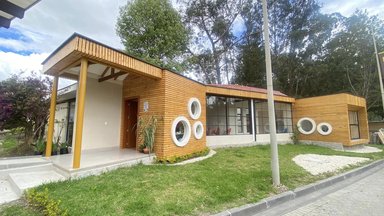 "We decided to have [teacher] workshops, because we've learned that we need to restructure the exams and have a format that matches our pedagogical model. We need to innovate and adapt; learning and teaching is changing all the time," said Tania Rodas, an English teacher at the Learning Center and Virtual Service counterpart.
All four Virtual Service Participants remained dedicated to the UNAE collaboration, continuing for another 26 weeks to address these new project tasks.
"We strategized how to maximize project objectives given busy stakeholder schedules and unanticipated challenges. Working with Virtual Service Participants has been a delight and a real example that there is more than one way to make a difference," Peace Corps Ecuador's TEFL Programming and Training Specialist, Ellen Comis, said.
To start, Beverly and Mickey created a workshop schedule that included concepts, theories, and resources. The four Participants then divvied up the participating UNAE teachers; allowing them to allocate more time for each UNAE teacher to ask questions and get one-on-one assistance. For consistency among the groups, Mickey developed a standard lesson structure.
"The idea behind this [approach] was to make it very personalized for the language center teachers. Having smaller groups helps each teacher get close attention," Paul said.
Having this kind of help is an amazing and rewarding experience for us as teachers.

Tania Rodas
In addition to their hour-long Thursday workshops, Beverly, Mickey, Cullen, and Anne met with each other to discuss their delivery. They wanted to approach their role as workshop facilitators to make space for the teachers to discuss the exam format among themselves, flag sections that could be confusing for students, and build upon the teachers' ideas. Each week, the Participants sent their lessons and resources to Tania to upload on UNAE's Moodle platform for future use.
"Collaboration with UNAE has been wonderful. Both Paul and Tania are supportive, engaging, willing to listen, and willing to adapt the workshop according to our suggestions," said Mickey.
The UNAE team had a similarly positive experience.
"Having this kind of help is an amazing and rewarding experience for us as teachers. I'm sure we'll have good results. I think many of the students who attended the first portion could pass the exam," said Tania.
Paul went on to add, "I'm grateful for all the willingness from everyone at Peace Corps to collaborate on solutions. That willingness has helped us structure and organize these two [virtual] projects to support UNAE students and teachers."
The participating UNAE teachers and four Virtual Service Participants will be awarded 30-hour certificates once the workshops are complete. Paul hopes that this certificate detailing their hard work will motivate teachers to continue their professional development. As of December 2022, 96 percent of students have obtained their B1, a 53percent increase.
What does the future look like for UNAE? The entire team is excited to welcome an in-person volunteer this April. The Language Center is also expanding its language offerings to include French.
UNAE's commitment to education is just one reason why they are a valued Peace Corps partner. We can't wait to see what the team accomplishes in the next two years with their Volunteer.