The Peace Corps Response job description seemed custom made: Welcome Home Foundation, Inc. (WHFI) was looking for someone with good writing skills to research and write a manual for teachers who work with hearing parents of deaf children.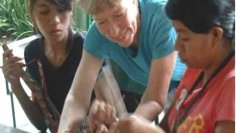 Jackie Beals, a freelance science writer in the U.S., had taught college biology for 20 years and has a daughter with hearing loss.
"I'd been scanning the PCR site for several weeks and saw so many opportunities for people who could teach agricultural techniques, or build houses, or work in healthcare facilities," she remembers. "Then I saw a listing for a writer (check!) with knowledge of hearing loss (check!) and I had to apply!" Four months later, she was in Manila, and by early June she was on site at WHFI, in Bacolod City, Negros Occidental, Philippines.
But Jackie hadn't expected hearing loss to be so prevalent there. "It was only when I started looking at the literature on hearing loss, and what work had been done in the Philippines, that I learned that more than two percent of the population is hearing impaired, and more than one percent are 'disabled' by hearing loss," she says.
Many deaf parents in the study attended the WHFI preschool 20 years ago and were still in touch with the organization. "Arleen was wonderful about setting up the interviews," says Jackie. "Most couples worked, so I met them on weekends. After they completed the written survey, they would tell me the joys and problems of being deaf parents with hearing children." However, some of the 23 deaf parents were harder to schedule: "One father was working construction, so we talked with him in the back of the WHFI van. And we interviewed one mother during lunch break at her daughter's school."Many international studies look at hearing parents of deaf children, but fewer deal with deaf parents of hearing children. This makes sense, given the number of people in each group. However, as Jackie scanned the literature for previous research, she found no studies on this topic done in the Philippines. Working with her counterpart at WHFI, Angelie Arleen Infantado, Jackie undertook the first Philippine study on deaf parents of hearing children.
"My signing improved a lot during my six-month assignment, but I'm still far from fluent," Jackie says, so Arleen or another sign-language interpreter collaborated on the interviews. Jackie also surveyed 23 hearing parents of deaf children currently at WHFI's preschool, as well as her coworkers at WHFI – eight hearing and seven deaf. "It really helped to see how the two parent groups differed, and whether staff expectations agreed with what deaf parents said about themselves."
Most deaf parents are incredibly dedicated to their children and want them to have opportunities that were unavailable to the deaf. However, the Philippines poses unique problems:
First, the multiple languages (the local language, and Tagalog, and wide use of English) make language learning complicated. When American Sign Language is taught, hearing parents learning to sign with their deaf children have to improve their English as well.
Secondly, several generations living together undermine the authority of deaf parents. Households may include hearing grandparents who can't sign, deaf parents who only sign, and hearing (grand)children who don't sign well because they can bypass their deaf parents in favor of hearing relatives.
The surveys and interviews revealed these challenges and others, all reported in the teachers' manual that Jackie completed for WHFI. Agnes Jalandoni, director of WHFI, sees this project as a first step in getting Philippine academics to do research in this area. With the Philippine population passing 100 million in 2014, more than one million hearing-disabled Filipinos could benefit from such studies.
Peace Corps Response can feel good about their role in enabling this first step! Meanwhile, Jackie returned to the U.S. last December and now volunteers at a local school for the deaf.
---