Diving into life: Reflecting on my experiences as an older Volunteer in Fiji
Seven years ago I started meditating with a group of women, and my increased spiritual awareness has led me to seek a peaceful and serene environment, which I have found in my host country of Fiji. I appreciate the relaxed attitude—don't worry about deadlines; we can get that job done tomorrow or next week. As a retiree, this attitude is just right for me.
With over 40 years of work and life experiences, I feel uniquely qualified to contribute to Peace Corps projects and assist my Peace Corps colleagues here in Fiji. Having worked and lived around the world, I can help my fellow Volunteers understand their experiences in a new culture. As an older female American, I believe I'm modeling to my host country community how vibrant and alive an older person can be.
People here in Fiji have remarked that I am "strong." Perhaps it's the good health care I received in the States before I left for service. Or maybe it's that I exercise on a regular basis, which helps me keep up with my community members or younger Peace Corps colleagues in any activity, including rugby (okay, I'm really slow in rugby, but I have played a few games).
The people in my community are a little surprised to hear that I'm a Peace Corps Volunteer. Usually it's the taxi drivers who ask the direct questions: How old are you? Where are your children? Do you have a husband? You look too old to be in the Peace Corps. I tell them that the Peace Corps actively recruits older Americans. I, as an older American, have so much to bring to the table. Being a Volunteer fulfills my need to be of service.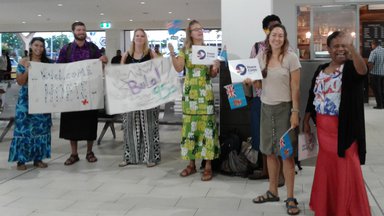 My years as a project manager in various countries and as a campaign organizer in Iowa honed my organizational skills. During my career I worked for South Korean, Spanish, German and Finnish companies, and consulted in other parts of the world as well. I have used skills developed throughout my career in the five projects I'm currently facilitating or leading.
As a Peace Corps Volunteer, I'm an education officer with the Ministry of Education, and my days are generally spent reviewing curricula and activity books, or working on projects such as national teacher training workshops. I also help facilitate the projects with fellow Volunteers, which have included dyslexia identification and training, a solar-powered digital library system and a women's art festival to celebrate International Women's Day.
Drawing on my experience in global warehouse management, I am helping the Ministry of Education revamp their textbook warehouse. With my background working with NGOs, I use my collaboration skills to identify and bring in Fijian, American and global entities as stakeholders in my projects. Including stakeholders means that the projects will have a greater chance of continuing after I leave. Sustainability is key.
Mita, my Peace Corps program manager, has impacted me greatly during my service with her constant support, listening skills and guidance. She has also included me in activities that allow me to see the vibrancy of Fijian culture. In turn, she is able to see how vital and service-oriented older female Americans can be. I was brought up in the early 1960s with President Kennedy's vision for the future and was influenced by the feminism of the late 1960s through to today.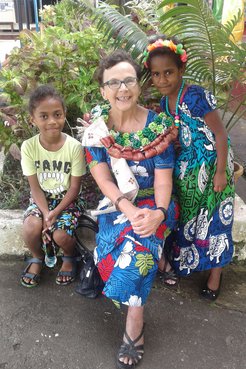 Most people are taken aback by my zeal for life. For example, I started scuba diving 10 years ago, and people in my community are surprised that I am a certified Master Scuba Diver.
I've shown videos of my scuba trips to my host family, but mostly I receive a lot of questions from people, such as, What about the sharks—are you afraid of them? (No, not with the proper training and team members), or How long do you stay underwater? (About one hour). When I'm at the fish market with friends, I point out the parrot fish, squid, octopus and lobsters, and explain what they look like in their natural habitat.
I plan to live in Fiji after completing service, and I look forward to staying in such a friendly and giving culture. My first plan on retiring was to become involved with coral restoration in Florida, but I have started working with some of the local coral restoration organizations here in Fiji. I plan on making this my lifelong service in retirement.