A daughter of Chinese immigrants gives back in retirement
Peace Corps gave me a way to embrace a new purpose after I retired in 2010.
I'm a child of Chinese immigrants who owned a laundry business and raised five children. Through post-graduate education and hard work, I had a successful business career as a global human resources professional in a variety of industries, including energy, semiconductor manufacturing, and consumer products. Accustomed to being a change agent in corporations, I also sought out new personal experiences, particularly ones that fed my curiosity about the world around me.
I aspired to be a Volunteer since I was a teenager in the 1960s. Like many of my generation, I was drawn to President John F. Kennedy's vision. I volunteered in a variety of ways in the U.S. and wanted to continue to volunteer after retirement. This time, I wanted to volunteer internationally. I wanted to learn about and live the life of a local in a different country and, since my children were grown, I had the freedom to make it a reality.
The Peace Corps offered me the ideal pathway to continue to learn about the world and leverage my experience in business to help others in a developing country evolve their economies.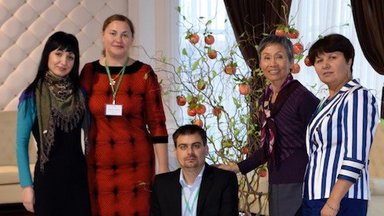 The Peace Corps sent me to serve in Moldova where, from 2013 to 2015, I worked closely with a women's business association to develop small enterprises. I was able to use my strengths in communications, project management, and human resources to contribute to the ongoing work of entrepreneurship training, people management, employment development, and marketing communications. Based on input from the association's beneficiaries, I developed a workshop on human resources management that provided tools and methods for motivating and retaining employees. Within the women's association itself, I spent a fair amount of time on organizational development.
One major pilot project I helped get off the ground was training blind people in massage therapy. I was a certified massage therapist, so I consulted on types of massage therapy, developed a marketing brochure, and constructed financial worksheets. After completing the training program, a few beneficiaries were hired by a massage therapy center subsidized by community agencies. This project was a big highlight of my service.
I was also involved in a social entrepreneurship project that trained about 60 disabled people in employment and life skills, entrepreneurship, and craft vocations. The women's association established two workshops where artisans could hone their skills. I provided assistance in job development, entrepreneurship, stakeholder communications, and hosted roundtables.
My secondary projects focused on English teaching and conversation clubs, a community initiative to promote local volunteerism among young people, and a nongovernmental organization (NGO) that educated youth in environmental protection strategies through games.
Finally, I led a countrywide global tech competition for girls to inspire them to get into STEM fields. Teams of girls learned to build a mobile app and develop a viable business plan. I was able to scale this initiative so it was not solely a Peace Corps-driven project, but one that was sustainable with Moldovan partners, such as universities. Being able to do that was very rewarding.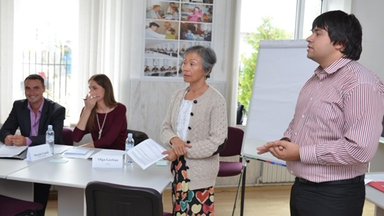 Having an Asian American Volunteer in their community gave locals greater understanding of diversity in the U.S. People didn't routinely see people of color and I certainly got my share of stares, particularly from youth. I stood out, but wasn't immediately identified as American (interestingly, they thought I was Korean until they heard me speak). However, once the community knew I was a Peace Corps Volunteer, I was accepted readily since there had been other Volunteers in that site over the years. I cooked Chinese food for my colleagues and host families, and shared traditions from Chinese culture, like observing the Lunar New Year. Older Moldovans wondered why I would spend two years away from home, why I wasn't married, etc. As a person of color, I found the entire time of my service to be a curious experience.
My biggest challenge was learning the Romanian language adequately in order to function effectively. I pursued tutoring throughout my time there and was able to survive day-to-day. Fortunately, I had a couple of colleagues who could speak English fairly well. We also hired a translator to interpret my trainings in Romanian.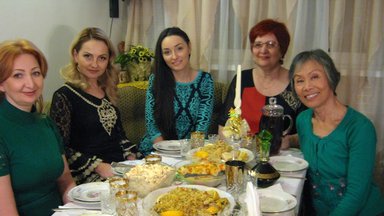 I found Moldovans to have a respectful attitude towards their elders, including myself as an older Volunteer. Particularly with my business background, my colleagues gave credence to my advice on projects. However, serving as an older Volunteer is paradoxical. On the one hand, your experience can go a long way to help your partner organization. Yet, sometimes your partner organization isn't quite ready to make the necessary changes. You have to be patient and resourceful, flexible and adaptable. Older Volunteers tend to have those attributes.
Another big challenge pertained to my organizational development work with the NGO. Having worked in progressive companies, I tackled projects from a strategic and structured approach, taking the long view. However, my colleagues were just getting started in putting together strategic plans.
I slowly introduced tools that would get them on track—a high-level project plan with a timeline, a staff calendar, progress reports on tasks and resources, etc. My counterparts realized they had a better understanding of all the moving pieces of their projects when they were using these basic tools.
Since my return, I've been energized to pursue climate advocacy work. I joined Returned Peace Corps Volunteers for Environmental Action (RPCV4EA), which mobilizes large collective actions to address multiple threats from the climate crisis. For example, RPCV4EA is partnering with Citizens' Climate Lobby to push for carbon-pricing legislation, and we've been heavily involved in climate justice work for the tiny island nation of Kiribati, an island nation in the Pacific Ocean, which is threatened by rising sea levels.
I contemplated returning to service because it was such a transformative experience and felt I could contribute more. However, within four years after my return, I now have three grandchildren! Nonetheless, I've stayed connected with my host family as there is excellent internet connectivity in Moldova.
I would advise older Volunteers to just go do it! I loved my experience as a Peace Corps Volunteer.