Creating change with reusable menstrual pads
Fabric to fabric, I wrap the wings around and fasten the button, securing the reusable menstrual pad (RUMPS) to the light pink demonstration panties.
I look up from my work and grin, knowing that everyone is watching me. Triumphantly, I lift the panties into the air for everyone to see how the pad fits properly. The room explodes in a fit of giggles as the women continue sewing yellow thread into royal purple fabric, creating their own RUMPS.
The project had begun a month before when I stood in front of concerned parents during their PTA meeting to talk about RUMPS and the importance of reproductive health education for their children. One of eight primary schools in my health centre's catchment area, this school is experiencing one of the highest dropout rates in the area. Due to cultural gender roles, most of these dropouts are young girls. Lack of pads, pain and fear of humiliation during their menstrual periods also keep girls at home, causing them to miss up to 20 days of school a year. Without education, these girls are more likely to be married and become pregnant, or already have a child, by the age of 18.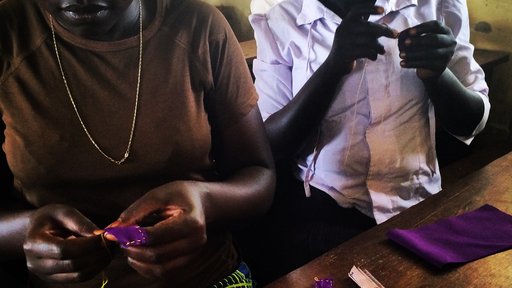 Interest generated by the PTA led the school's headmaster, a female teacher and myself to hold a community meeting with a large group of mothers and girls to talk more about the benefits of RUMPS and gauge interest in a pad-making workshop. Two weeks later, I returned with fabric, needles, buttons and thread.
"What a great feeling of accomplishment you must have had!" was one supportive comment posted on my photos from the day's workshop. Yet despite the fun we had and the 19 young women who now had the skills to make their own RUMPS, I didn't feel any sense of success. I'm not sure what I was expecting. No one stood up saying, "I am proud to be a woman and I feel empowered!" It didn't seem certain that anyone out of the group would go home and make more of their own RUMPS. No one, despite my gentle explanations, seemed to realize that this could be a self-sustained project, as they talked only of securing materials from outside donors. If anything, I came home feeling more defeated than accomplished. Even taking small steps forward felt like walking further into the quagmire of challenges in trying to shift ideas, attitudes and behaviors.
Reflecting on my frustration, I scrolled online, checking in on the rest of the world, and found a photo posted by Peter Jensen. A Peace Corps facilitator and agriculture guru, I had been fortunate to meet Peter during my pre-service training. The first day of our lessons, he stood in front of our group, rubbing his hands together and introducing himself, repeating the same line over and over. Volunteers glanced at each other, confused and questioning his sanity. After a few moments, one person caught on and began rubbing her own hands together. The people next to her, following her example, began to do the same. Slowly, everyone in the room was imitating what Peter had been suggesting and rubbing their own hands together. It was then that he stopped and explained – it first takes one person doing something different, doing something strange, suggesting something unfamiliar. It takes time, but eventually someone catches on and they begin to do that "something different." Others follow, and soon everyone is doing it and has forgotten that it was ever strange in the first place.
"This," he said, "is how change happens."
The photo he had posted was a reminder of the same thing–the number of people he had trained, the number of countries he had visited, but more importantly, his "slow but steady" progress.
Looking at the photo, I realized I may not see the change now, there may be no definite date set for what comes next with my RUMPS group as we wait for school to resume, and there may be a very long way to go to helping girls stay in school. But the efforts we put into the world have a ripple effect. The teachers I worked with were enthusiastic to learn, talking about turning RUMPS into an income-generating activity and getting more parents involved. The program officer for a local organization who works with youth reproductive health joined us and may integrate the lesson into his own programs. I had two men who were willing to attend the training and people actually showed up.
Change. It may be slow, I may not see it at all during my time in Uganda and it may not look like how I think it will. But it only takes one person. And it can indeed happen.