A counterpart's memories of his Peace Corps Volunteer, 36 years later
36 years ago, in the Nepali year of 2038 and Gregorian year of 1981, a man named David walked into Jhabindra Neupane's 5th grade classroom.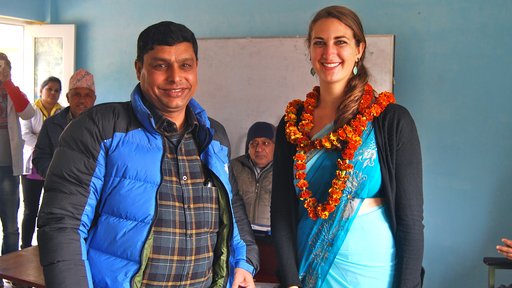 David, a Peace Corps Volunteer with a middle-length brown beard, was placed in the district of Palpa as an English teacher at Mahendra Bodhi Secondary School in Tansen. And Jhabindra, whose father also taught at the school, was one of the top students in his 5th grade class.
Jhabindra, now a 45-year-old health post director with a Master's of Business Management, remembers David fondly and with amazing clarity. In fact, since the very first day I met Jhabindra at our Government Counterpart Orientation in July 2015, Jhabindra has spoken earnestly about the impact David had on his life. 
At the time, Jhabindra was 9 years old and enthralled with what he calls David's "practical teaching methods." Instead of Jhabindra's other teachers, who mainly taught out of the textbooks, David organized plays, games and spelling contests (in which Jhabindra and his friend Gana Bahadur Badracharya, now a university science professor in Kathmandu with a PhD, always alternated between first and second place) to help the students learn English.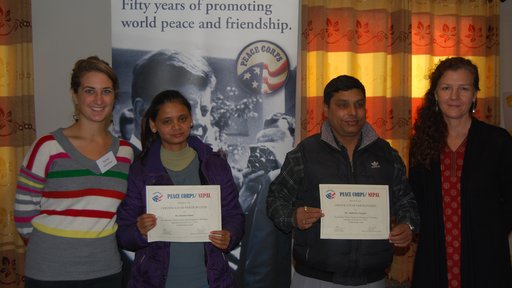 Jhabindra remembers one game in particular David used to play with students to teach English grammar. The game involved giving each student a big poster card with "behind," "between," "among" or another preposition written on it, and asking students to take turns acting out their preposition – be it moving behind the previous student, walking between the group or standing among a cluster of desks. He said David addressed each of them politely and when it was Jhabindra's turn, David told him, "Mr. Jhabindra, you are behind your friend." The way that David addressed the students, Jhabindra remembers, made them feel both proud and excited to be learning that material.

Switching between English and Nepali, Jhabindra told me, "I've never forgotten those things. Ujai pani mero demark ma wahako eseri pareko kura yad ayirakcha" ("Still now, the memories of what he taught in this [interactive] way continue to come to my mind").
David also made sure to give positive feedback to the parents of the students he taught. "Mero aphai bua pani teacher garnuhuntiyo" ("My own dad was a teacher too") and David told Jhabindra's father, "English ma, tapaiko chora ekdam ramro cha'" ("Your son is very good in English"). For such a simple statement, Jhabindra remembers it with crystal clarity, smiling as he relays the praise to me 36 years later.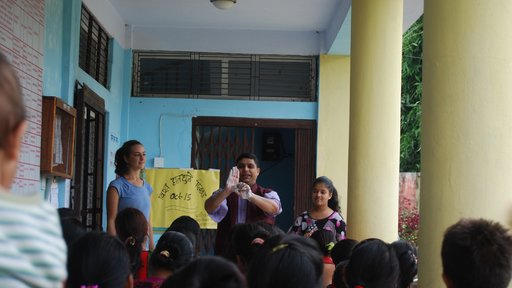 Unfortunately, when it came time for David to end his service, Jhabindra never had the chance to say goodbye. (Jhabindra thinks he must have been out of school at a community function the day David came to the school for the last time.) He remembers, however, that David left an English book for Jhabindra with Jhabindra's 10th grade friend, who later gave it to Jhabindra along with David's farewell. 

Since that experience with David 36 years ago, Jhabindra says, "Ma wahako sangut bhayera, Peace Corps lai derai respecting feel huntiyo" ("After my relationship with him, I've felt a lot of respect for Peace Corps"). He says that David, his Peace Corps Volunteer, not only gave him knowledge but also demonstrated the principles of hard work and the importance of working with communities to encourage behavior change.

And although, at 9 years old, Jhabindra mistook the word "peeese-cor" for a Nepali way to say "American," he grew up knowing that he wanted to work with another Peace Corps Volunteer. So when he learned in early 2015 that Peace Corps Volunteers would be placed in Palpa district again, he immediately sent a message requesting that a Volunteer be placed with him. And that Volunteer turned out to be me.
Before, after being taught by David, Jhabindra thought that Peace Corps Volunteers were "good"; he says now, after partnering with a Peace Corps Volunteer for two full years, "I feel like they're great."
Learn more about serving as a Peace Corps Volunteer in Nepal.
Explore