Corps to Career: Stateside, but blogging about all things abroad
Today, Jessie Beck writes and edits blogs advising prospective travelers on vetting volunteer groups, learning languages and making the most of escapades abroad.
But before Beck became Content and Teach Abroad Director for GoOverseas, she was an Education Volunteer in Madagascar from 2011 to 2013. 
We spoke with Beck about shifting from service life to career, harnessing social networks and keeping those "that one time in the Peace Corps…" anecdotes short and sweet. 
Q: You returned from service in December. What would you tell future RPCVs about the transition into professional work after service?
A: I think I was unusually lucky in being able to have a job that I love so quickly after returning from Peace Corps, but my advice to future RPCVs would be to start networking even during your service. Sites like LinkedIn make it really easy to do this remotely, and there are probably some valuable connections you'd be able to make while in country as well. PCVs have more free time than most, so why not put your feelers out to people in the industry you're interested in working in, then use your COS as a reason to reach out to these people you've built professional relationships with to ask about jobs? But at the same time, you shouldn't necessarily feel like you must get a job straight out of Peace Corps. It was nice to process being back in America – that is, eat lots of tacos and spend hours staring at things in Whole Foods – before starting work.
Q: Was it important to you to enter an internationally focused profession after service?
A: Yes, but then again I've always been internationally focused. I chose to study anthropology in school because I thought it would be a field inseparable from international travel and from there went on to study abroad twice, get certified to teach ESL (English as a second language) and eventually take the leap and join Peace Corps. I never even thought about trying to find a job that wasn't as globally minded as GoOverseas.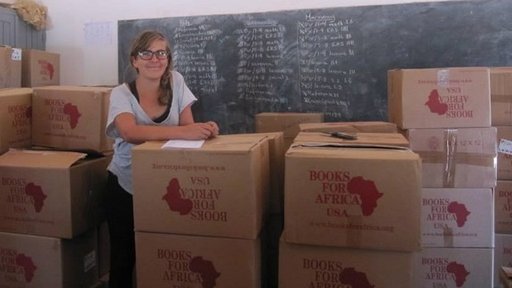 Q: A lot of PCVs maintain blogs during their service and may be interested in travel writing or blogging. How did you make your writing stand out when pursuing writing jobs?
A: I actually started my blog, The Nomadic Beat, as a general travel blog about six months before PC staging and decided to keep that angle even after I got my assignment. I went into this with the intention of building my portfolio and becoming better at blogging, and I decided early on that I would probably be able to grow a bigger audience by marketing my blog as a travel blog with a Madagascar focus, rather than just a Peace Corps blog. Incorporating more in-demand and relevant topics, paying attention to photography and design, writing guest posts for various websites, and being active on social media also helped a lot to get my name out in multiple networks. Of course, I did write a fair amount about Peace Corps — people are curious about that as well — but I took my blog seriously and approached it professionally, reading up on search engine optimization, following other bloggers in the field and monitoring trends. And why not? I had enough free time to develop this interest of mine more than before. Some people learn how to play guitar during their service, I learned how to blog.
Q: As you noted in one of your GoOverseas posts, everyone's Peace Corps Volunteer (PCV) experience – even in the same country – is different. How do you avoid making generalizations about PC service when discussing your own experiences?
A: I won't lie, it's difficult. When GoOverseas asked me to write an article called "10 Things I Wish I Had Known Before Joining Peace Corps," I had a hard time creating that list. I asked a lot of other PCVs on Facebook and in person what they would say and took their opinions into account, but even then I was a little biased toward our collective experiences in Madagascar. Obviously, I had to make some generalizations for the piece but tried to insert one- or two-sentence anecdotes into the article for people to pass their own judgments.
Q: As lists become the norm for online content, do you ever find it difficult to capture the nuances of your experiences in shorter posts?
A: I think that being concise about an idea in general is becoming more and more of a valued skill – just look at Twitter. As a side note, it's probably good practice for PCVs anyway, because, let's be honest, very few people want to hear a 10-minute saga about "that one time in Peace Corps…"
Q: You've traveled extensively, which must inform a lot of your content for GoOverseas. How else did the Peace Corps equip you for professional settings?
A: Peace Corps has equipped me for this position in some unexpected ways. For starters, I also manage the Teach Abroad section [of GoOverseas], which means interacting with schools, sometimes in developing areas, and sometimes with people who don't speak great English. Peace Corps has been a great lesson in cross-cultural communication through language barriers. Most importantly though, I work for a start-up, which, like in Peace Corps, means creating new ideas and products in uncertain circumstances. Being in Peace Corps has really helped me hone in on my entrepreneurial spirit and tackle problems in the workplace with creativity and resourcefulness.