Corps to Career: Kargi Gogo all the way from Georgia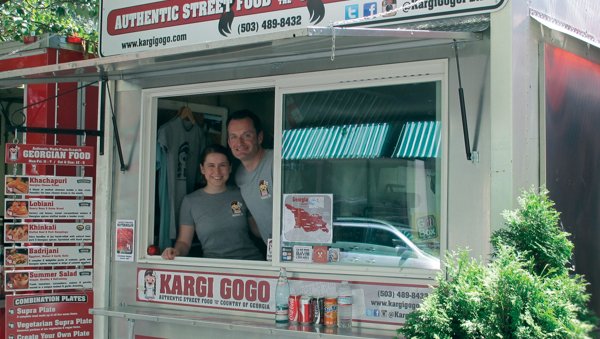 Aug. 19, 2013
Returned Peace Corps Volunteers Sean and McKinze Cook (Georgia 2010-12) always wanted to start their own business, but had no idea what it would be — until they were noshing on some of their host community's cuisine.
"One day near the end of our service, while brainstorming what life after Peace Corps could look like, our host mother called us in for an afternoon snack of khachapuri. As she buttered and sliced the gooey, cheesy, delicious bread, we knew we had to find a way to introduce it to Americans."

In early 2013 Sean and McKinze opened Kargi Gogo, a food cart in Portland, Ore., that serves authentic Georgian street food.
"Food was a natural way for us to connect to Georgians," McKinze said. "Our business is 100% inspired by Georgia: the incredibly friendly, hospitable people; the proud, traditional culture; and, of course, the flavorful and fresh cuisine."
Opening Kargi Gogo was a way to bring the Peace Corps experience back to the states. "Serving popular items from Georgia gives us the opportunity to not only introduce this unique cuisine to Americans, but also to talk about Georgia, its people and its culture on a daily basis. Since Georgian food is hard to find, we have become a gathering spot for immigrated Georgians, Russians and others who have fallen in love with Georgian food at some point."
Sean and McKinze's service in Georgia began after they graduated from college in Iowa and decided they were ready for something different. "We always wanted to travel and that quickly led to our wanting to live abroad. We applied for the Peace Corps specifically because we knew it would offer us the opportunity to not only visit a different part of the world but integrate into a community and culture totally different than ours," McKinze said. 
A short time later they were on their way to Eastern Europe.
The two quickly fell in love with Georgia's scenic landscapes, friendly people and delicious food. Serving as Social Entrepreneurship and Organizational Development Volunteers, Sean and McKinze worked with several Georgian NGOs. McKinze volunteered with a women and girls' empowerment organization that focused on health, democracy promotion and education.
"I am most proud of my work raising funds and awareness for my organization's women's health clinic and of the development of several health resources (DVD lectures and activity books)."
Sean worked with a minority integration organization and a youth center, where he assisted with grant writing, project development and training. He also worked closely with a youth group for under-privileged children.
Even with the nonstop schedule of volunteering, Sean and McKinze found time to spend Georgia's home kitchens and restaurants; learning about the unique spices that make Georgian food so delicious and making traditional recipes.
"We helped prepare supras (traditional Georgian feasts) and made homemade wine. We also learned to roll dumplings at a Georgian friend's restaurant," McKinze said.
Kargi Gogo was the natural way to take the next step in their professional lives. McKinze and Sean plan to expand Kargi Gogo's hours and menu and eventually take it beyond Portland.  
"Everything we are doing is related to our service, and we couldn't be happier about that."
McKinze's also has advice for prospective Volunteers. "[Bring] flexibility and a sense of adventure! Service will likely not be what you expected, but that doesn't have to be a bad thing."