Corps to Career: How Peace Corps prepared me for a career in federal service
As a project manager at the General Services Administration (GSA), maybe my job doesn't have the sex appeal of an FBI agent or a Foreign Service Officer, but I do have the opportunity to take care of myriad of things for other federal agencies so their employees can focus on their respective missions.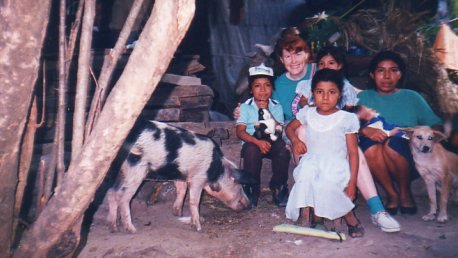 I first figured out that I was comfortable in the role of generalist when I joined the Peace Corps in 1987 to be a health Volunteer in Guatemala. I didn't know any Spanish, and although I had a degree in health education and had taught for four years, I didn't know anything about doing health work in a developing country.

I had never felt so lost and unsure of myself, and here I was, after only three months of training, about to set off for a village in eastern Guatemala called Quezaltepeque. But I ended up having experiences that changed my life. I met wonderful friends in training who are still my best friends today, and I made great Guatemalan friends. The local nurses and rural health promoters were so kind and patient with me as I tried to figure out how I could best help them (and learn Spanish). I accompanied them as they visited rural villages to weigh and vaccinate babies and talk to parents about nutrition. Soon I was heading up mountain paths with local teachers to go to one-room schools to do what turned out to be entertaining presentations to the little kids about health-related things. I can still remember the songs we'd sing about "frutas y verduras – protección" (basically how fruits and vegetables are loaded with vitamins and protect against illnesses) and the good health hygiene bingo games we would play.
I'd visit about 30 small schools a month up in the mountains, and with my bright red hair and halting Spanish, the kids looked forward to seeing me when I'd get to their school again the next month. I occasionally took children to a free medical clinic in Guatemala City, sometimes with their families. It was usually very gratifying, but sometimes very sad. Also, doctors would sometimes come from the U.S. with groups like Heal the Children to do surgeries for people with cleft palates and burn scars, and I'd go with some of the local kids and their families for these operations and help translate. As I reflect back on this time, I realize that I really enjoyed being a generalist. I was always up for any challenge – willing to do anything!
In contrast, I remember a fellow Volunteer with an advanced degree in nursing who wasn't as happy at her Peace Corps site because, being so specialized, she had trouble getting engaged with what she thought was low-level health care and education initiatives. Where she saw inefficiency, however, I saw opportunity. In fact, I began to believe that being a "Jack of all trades, master of some" (as I like to say) was not such a bad thing.
Having a Peace Corps experience that covered so many experiences and topics prepared me for my wide experience at GSA where, among other things, we figure out how to make it easier for agencies to procure and manage things in smarter ways. For example, we own and lease federal buildings and determine greener ways to use them; we standardize the government's approach to security assessments, authorization and monitoring for cloud products and services; and we played a lead role in the Digital Government Strategy that helps citizens interact with government more easily.
I actually didn't start at GSA right after my service ended. I first attended graduate school, then led a service team with City Year in Boston, where that organization got its start. Later, during the refugee/migrant crisis in Cuba in the mid-1990s I got hired by the Justice Department to do conflict resolution and other work in the camps in Guantanamo Bay. My next stop was working at Peace Corps headquarters where I got to run the first-ever Peace Corps Day (now known as Peace Corps Week).
I was delighted to be able to use noncompetitive eligibility to transition to my current job at GSA in 2000. I started working in government-wide policy and in 2004, when the U.S. hosted the G8 Summit, I was detailed by GSA to the Department of State for a year to be the Director of Project Coordination for the Sea Island Summit. My experiences working overseas definitely led to me being asked to do that, for which I am very grateful!
In all of the jobs I've had, I do think there is an underlying theme of helping others. I love volunteering for different tasks that arise, and lately I've become more and more involved with change management, which is really rewarding. I feel really fortunate to work at GSA, where my colleagues and I make it easier for our other federal colleagues to focus on their own missions, and ultimately help all citizens. And it's particularly gratifying to know that the Peace Corps also benefits from GSA's work -- because talk about an amazing mission!