Corps to Career: How Peace Corps helped me become an entrepreneur
The term "entrepreneur" was coined by Irish-French economist Richard Cantillon in the 18th century. It means "bearer of risk." It is that, for sure!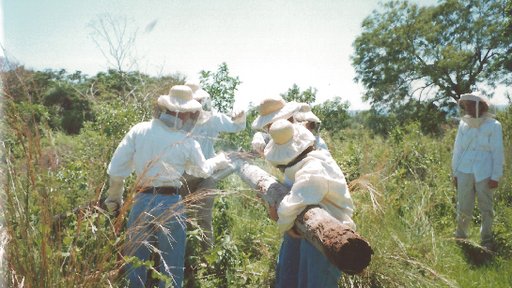 Over the past five years, I've seen other words intertwined in the definition: independent, competitive, obsessed and passionate. Above all, it describes someone with the ability to mobilize people and then help them to understand a vision, so they can participate passionately along with the founder in feeling that their endeavor cannot fail!
For me, it is much more a mindset. Although Babo Botanicals is my core business, I've gotten so many lessons along the way on the spirit of doing business. Each learning experience has helped me develop the skills and confidence to lead a company.
My business education began in the Peace Corps. I had learned beekeeping from my father, and this became the foundation for the work I would do in the Peace Corps. I lived in a small community in Paraguay, three hours from the capital, Asunción, with only one bus passing through each day. This tiny farming community was so tied to the earth that the seasons dictated what the people ate. I remember the juicy watermelon that cooled us off in the summertime and the rich mandioca that kept us warm in winter. There was no running water, and the entire experience altered the way I looked at agriculture and developing countries. I worked with the local farmers to build a sustainable beekeeping community. I've never tasted such glorious honey, straight from the nectar of the overflowing fruit trees, which seemed to hold some magic in their blossoms.
The beekeeping program was created in the spirit of empowering a community, and it was really my first entrepreneurial venture. I set a goal, created the plan of action and then figured how to implement it. I even solicited a grant from the World Bank to help secure financing to execute my initiatives. Most of my most fulfilled workers were women.
My second business venture was creating and publishing a cookbook while in business school. I designed my own cover, solicited recipes from students and faculty and developed a marketing campaign to sell 5,000 copies. Proceeds were donated to a Chicago nonprofit organization. My mother makes onion pie and flan from this cookbook to this day.
Both of these experiences were key to the process of developing Babo Botanicals. In sports, I was always competitive and good at mobilizing my teammates. When it came to personal care product development, the centerpiece of my mission was to develop the very best. Long before LinkedIn, I knew to draw upon my concentric circles of professional relationships for technical and business support. I spent a decade working at large beauty companies developing brands and products – learning so much and developing valuable contacts. I had access to and developed relationships with wonderful, talented people, who gladly provided their services at an affordable cost. They got behind my vision and lent their expertise to help me create a product up to my high standards. This professional collaboration has been the most essential element of starting a company, and one which I feel very good about.
My chief designer was a colleague of mine from my time at Vichy. When I ran into her by chance at Grand Central Station, we got talking and I shared my idea for an all-natural family hair and skincare line. She was a new mom at the time, and the concept was especially exciting for her. I was looking for a great designer, and here she was!
Instead of paying thousands of dollars to an ad agency, she charged me a friend's fee with the caveat that she would only be able to work between the hours of 4:00 to 6:00 a.m. (before her child woke up). Seven years later, and now with another child, she still holds the same hours and has maintained her affordable fee for her work. I respect her schedule, and she respects the fact we do not have L'Oréal-type budgets. This model worked and now many of my employees are moms who have left their corporate jobs and are working independently as freelancers.
Since we launched our first products at Babo Botanicals over the past five years, I have gotten a real education. In this last month of extreme cold, I couldn't help but remember the winter our products went out into the world. It had taken me years to create this precious first shipment. As much as I had obsessed over the development of each product, I never planned nor even imagined that the day the products would make the journey from the farm where they were created to the store where they would be sold would be a day with a temperature of zero degrees. With my first 20,000 bottles of shampoo loaded onto the truck on the coldest day of the year, I didn't know what would happen if they all froze solid.
Sure enough, the bottles lost their seal and leaked. I knew what I had to do, and really there was no other choice. I opened each bottle and cleaned it off myself. I shipped everything from my home and made sure every bottle looked perfect. I was happy for the opportunity to fix the "sub-zero" bottle problem for the next production run but in the meantime, I tried to personally visit every one of the 100 stores involved in my launch, just to check that everything was okay. That was year one.
Year two, the company continued to grow, and I stubbornly insisted on doing everything alone. I felt no one could be as detail-oriented as I was. I was my best salesperson, and I worked into the wee hours packing my own boxes and inputting the accounting into QuickBooks. I loved it. My bedroom started to look more like a warehouse with a bed in it. I'd even hand deliver all local store orders because I was so grateful for their business. I still try to go into any store I pass that carries Babo to speak to the store personnel and make sure products look good. I learn so much when I do this and find it key to running and understanding the business.
Fortunately, I now have an amazing team of marketing, sales and operational people. We have an efficient warehouse partner and real operational systems in place. Both are key to growth. I am so grateful to my team for helping the company grow with so much integrity and unified sense of our mission.
Over the years, my role has shifted. I am in charge of the product development, and I get to tap into the brains of the greatest botanists in the nation. I enjoy research and love working with plant ingredients. In the future, I look forward to stepping back a little more, in order to focus on the social goals of the company.
I am returning to Paraguay with my family this month to check up on my initiatives that started 20 years ago, and see how I can re-engage with the country and people that taught me so much. I am grateful for my experience there, and how it gave me confidence and taught me about hard labor, kindness, independence and forced me to be a self starter. With all this on my side, I hope I have many years of "risk bearing" ahead.
This story first appeared on The Huffington Post
Starting a business? We have resources.
View now