Corps to Career: How my service inspired sustainable entrepreneurship
My husband and I served together in the Natural Resources/Habitat program.
I worked with the Waorani Women's Association, an indigenous women's handicraft cooperative in Puyo, the provincial capital of Pastaza, Ecuador. I focused on assisting with sustainable income generation, capacity building and organizational development of the women's group. The Waorani manage one of the only handicraft and ethnic art stores owned and operated by indigenous women in Ecuador. These sales provide an important and environmentally-friendly source of income for dozens of Waorani families. I worked to implement processes to improve efficiency, transparency and income for the women and their families. 
As part of my assignment, I assisted the Women's Association with a series of reforestation and handicraft training workshops in remote villages located deep in the rainforest. These events provided opportunities for the women to pass on the skills used to make traditional ethnic art (woven hammocks, baskets and bags), all of which are at risk of being lost as the Waorani undergo rapid cultural change and integrate into mainstream Ecuadorian society.

One of the most rewarding experiences I had in Ecuador was serving as co-president of the Gender and Development (GAD) Committee of Peace Corps Ecuador. GAD provided scholarships for Ecuadorian girls, sponsored leadership camps and training conferences and assisted fellow Peace Corps Volunteers in their efforts to implement sustainable, gender-inclusive development projects. We raised enough funds to provide more than 60 scholarships for low-income Ecuadorian girls to finish their high school education. I had the opportunity to help with two of the camps – which were truly transformative and empowering for the girls – plus I also mentored one of the scholarship recipients, an orphan girl who was the first Waorani to receive a GAD scholarship in the program's history.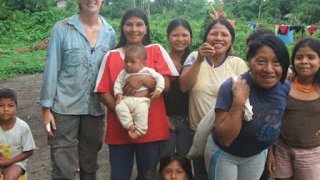 Upon the completion of my Peace Corps service, I helped my mom launch a new business, Buckeye Blooms, on the farm where I grew up and which has been in our family for many generations. The business was born during a transitional time in our lives — local budget cuts were forcing my mom to retire early from her job running the County's Master Gardener program; meanwhile, I wanted to be close to family while transitioning back to life in the U.S.
I actually pitched the flower farm idea to my mom via international text while still in Ecuador (we were allowed a few international texts per month). We had plenty of available land and room in the barn to create a little work studio, plus my mom had been an avid gardener and had grown all the flowers for my wedding in 2000.  I could help with the business and marketing parts and utilize some of the sustainable agriculture training I'd received in Peace Corps.
Buckeye Blooms is a small flower farm and floral design studio that specializes in seasonal, sustainably grown flowers for weddings and special events. The popularity of local foods and the farm-to-table movement has helped to fuel increasing interest in local flowers, which is pretty exciting. We're also part of a vibrant "farmer-florist" community of flower growers that are growing specialty flowers and heirloom varieties. Through this community, I've have also had the great fortune of working with the nation's leading farmer-florist operation, Floret. I'm part of their team which is providing training and resources to farmer-florists across the country and around the globe.
During the first few weeks working on the farm, we joked that we were doing "Peace Corps Ohio." There was a lot of labor involved in the process of building semi-raised beds in what previously was a corn-stubble field. We also created a composting system, connected rain barrels to the barn and installed a sand-point well. Several of our Peace Corps friends came and helped us get the well running — so it was a fun little reunion.
I think it is some of the "soft skills" that you develop as part of your service that are just as valuable as the technical knowledge and skills. Communication, working as part of a team, taking initiative, cross-cultural communication, project planning and implementation, the ability to adapt to whatever environment you are put in – those kind of skills are valued in the workplace and are valuable to virtually any career path you decide to pursue following your Peace Corps service.