Corps to Career: From rural Cameroon to bustling Shanghai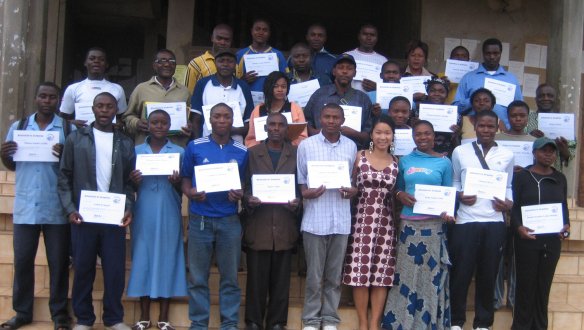 March 19, 2015
After spending 27 months in a small village in rural Cameroon as a Volunteer, picking up and moving to Shanghai was nothing for returned Peace Corps Volunteer Wendy Lee, even without a job or friends there.
However, just a short time later, Wendy is "work[ing] in Shanghai managing the financing for the construction and operation of Apple retail stores in China. This entails working with a wide range of partners – both local Chinese and international counterparts."
Clearly, working in a different culture requires a completely special skillset. In addition to being able to know the job, Wendy must also be able to communicate and form relationships across the American/Chinese cultural divide. Just a basic understanding of the cultures she is working with won't do; she has to be able to pick up on the smallest cultural nuances and adapt quickly.
Wendy got her first taste of what it means to work in a completely different culture while working abroad in London during college. She was immediately hooked on working and living abroad, and knew she needed to find an option after graduation. Whenever she did a search for international careers that would take recent graduates overseas, Peace Corps would come up. Before long, she had applied to be a Volunteer and was sent over to Cameroon.
Once again, Wendy was put into a position where she had to work across cultural lines. However, in contrast to London, she now was in a village where she knew neither the language nor the customs. Although her primary job was to teach business classes to villagers, she also launched a fruitful secondary project that opened bilingual libraries across Cameroon. Partnering with Cameroonians, Wendy learned that locals "know the right local solutions better than any foreigner. They [just] need the same things that we need, and often take for granted in the West: education, health care, infrastructure, good governance, business opportunity, etc." With this in mind, she followed suit of the Chinese entrepreneurs she met in Cameroon and learned to work with the local people as partners. Even in her current position, it is important to "be culturally aware and able to solve problems on the fly."
Like many Volunteers before and after her, Wendy has learned that emotional intelligence is far more important in a career than most skills one can learn, especially to work in a cross-cultural setting. According to Wendy, almost anyone can learn technical skills, but the emotional intelligence that has allowed her to form relationships across cultures and adapt on the fly is much harder to learn and is something she owes to her time in Peace Corps.
As far as her advice for RPCVs looking for jobs in the private sector goes, Wendy suggests being as specific as possible when relaying what skills Peace Corps taught you. "It is vitally important that you craft your stories in a way that private sector people can relate. I recommend identifying the core competencies that your role requires, and think of specific stories from your service that highlight each skill." Storytelling is a vital tool for interviews, she adds.
A technical skillset is good, but, as Wendy has learned, it is not nearly as important as having the ability to adapt and successfully communicate across cultures. In a world where international business is commonplace, Wendy has found that these skills hold the key to success.