Corps to Career: A passion for gender equality and human rights
After receiving a master's degree in human rights, Morgan Davison knew that she wanted to work in gender and youth development but she wasn't exactly sure how.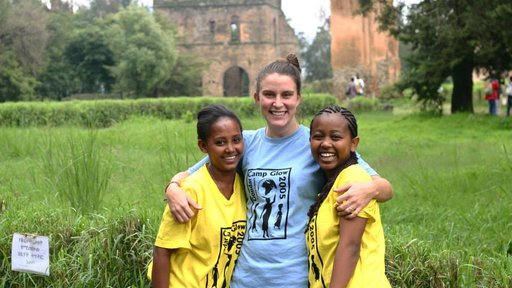 So she headed to Aykel, Ethiopia, with the Peace Corps, where she served as a community health Volunteer.
During her service Morgan realized her penchant for external engagement and outreach. She took on the role of Ethiopia's national coordinator for the Gender and Development (GAD) Committee.
This allowed Morgan to establish the first-ever Action for Gender Equality (AGE) Summit, which brought together 40 students from around the country to champion women's equality. The AGE Summit has become a yearly tradition around International Women's Day. To date, the summit has featured high-profile panelists such as the U.S. ambassador to Ethiopia, famous local TV personalities and a member of the Ethiopian national women's soccer team.
After her service ended, Morgan used her Peace Corps story to get a job at the Department of Homeland Security for the Federal Emergency Management Agency (FEMA), where she worked on the Blue Campaign, a collaborative effort to combat human trafficking.
"My boss at Blue Campaign always said, 'The best campaign is a local campaign,' Morgan said. "I saw the truth of this in Peace Corps and I love bringing it home to my work now."
Currently, Morgan is working as an outreach manager at the National Center for Missing and Exploited Children. She works nationwide with local advocacy centers, and state and federal governments.
"If you know what you want to do, go after it with all you have," she said. "I've found my passion for this work and determination has gotten me far. Skills can be learned. Passion can't be taught.
"One of my favorite quotes is by Howard Thurman: 'Don't ask yourself what the world needs. Ask yourself what makes you come alive, and go do that, because what the world needs is people who have come alive.'"
Our free career services will help you leverage your Peace Corps story.
Learn More