Corps to Career: My Peace Corps experience and language skills opened doors for me
In college I knew I was interested in the Peace Corps.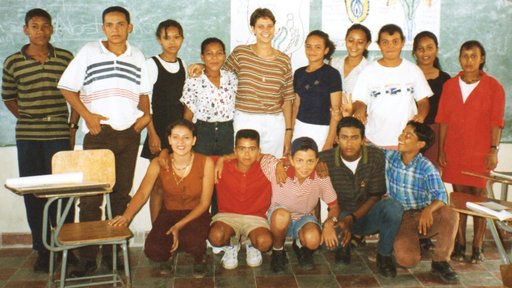 My grandparents had made a career in international development. My grandfather started his global work as an agriculture extensionist. My grandmother was a photographer and artist, and her pieces reflect the daily lives of women, men, and children all around the world. Their work inspired me to pursue a similar career.
When the Peace Corps recruiter came to campus, I was moved to submit my application. I wanted to work outside of the United States, I wanted to be trained to help make the world a better place, and I wanted to be part of something bigger than myself. Peace Corps provided that path.
After a somewhat nerve-racking wait to get my placement, I was thrilled when I found out I would be going to Honduras. I would be a hillside agriculture extension Volunteer—following in my grandfather's footsteps.
Peace Corps training was an incredible experience. The bonds I formed with my fellow Peace Corps trainees helped us weather both figurative and literal storms over the course of our service. Those bonds helped me push through the lonely days, the scary moments, the frustrations, and celebrate the joys and successes. My language skills improved, and I learned invaluable hillside agriculture techniques. Importantly for my future career, I learned solid fundamental skills in community development.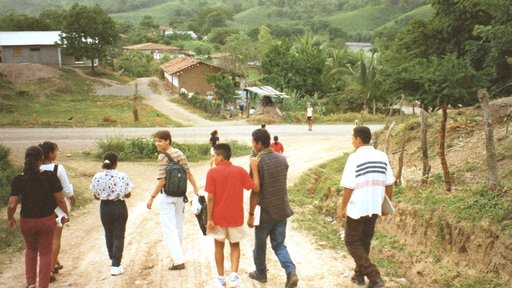 I learned SWOT analysis techniques, identifying strengths, weaknesses, opportunities, and threats. In the Peace Corps we used this to help inform community action workplans. In my career I have used these techniques to develop business plans, and most recently to develop the next strategic plan for my current organization, Room to Read.
In the Peace Corps I learned community mapping techniques. In rural Honduras we used this to identify community resources such as the school, community center, churches, health center, corner stores, agriculture plots, and family gardens. In my career in international education, teams I work with use community mapping to identify homes with children who are enrolled in school, and those homes with children who need extra support to make sure they get to school and learn.
As a side project in the Peace Corps, I facilitated life skills and HIV/AIDS awareness classes with adolescents. It was an enriching experience, deepening my own understanding of teaching life skills lessons and learning from adolescents about the pressures they experience. We created a safe space to discuss adolescent sexual reproductive health, facts and myths of HIV/AIDS, and the joy of articulating aspirations and setting goals. Those life skills classes were some of my favorite activities as a Volunteer.
Now, as Chief Program Officer at Room to Read, I lead a team of technical experts who design life skills programming for adolescents around the world. We have supported 95,000 girls with these life skills interventions. The experience I gained in Peace Corps informs my work at Room to Read today.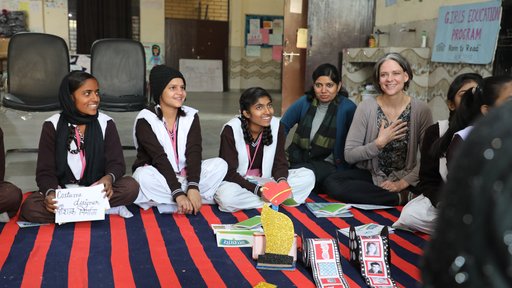 Some of my best friends in Honduras were local school teachers. I saw how dedicated they were to their students, working diligently helping those young minds learn and develop. I also saw how isolated some teachers were, left on their own to invent ways to teach literacy skills, and tapping their personal resources to secure reading materials for classrooms. This helped me gain insights into the realities in rural schools common in so many parts of the world. It also inspired me to pursue a career path after the Peace Corps to address education needs in low income communities.
Now, in my job at Room to Read, I supervise a team of literacy experts who develop teacher training curriculum. We support local teams to train and coach first and second grade teachers to support their students to develop skills and habits of reading. Our organization also supports schools to set up and manage libraries so children can check out books in languages they understand, fostering a love of reading. Through all this work, the Honduran teachers and students I met as a Peace Corps Volunteer are ever present in my mind.
After my close of service, as a newly returned Peace Corps Volunteer, I was a bit daunted translating my Volunteer experience into a job. But with patience and persistence I found a wonderful opportunity working for a consulting firm out of their Washington, D.C. office, backstopping a USAID Honduras-funded education project.
My Peace Corps experience and language skills opened that door for me. I jumped at the opportunity and loved learning different aspects of international development.
My advice for current and returned Peace Corps Volunteers is to be creative in translating your Peace Corps experience into new opportunities, be patient, and be bold in accepting new challenges.