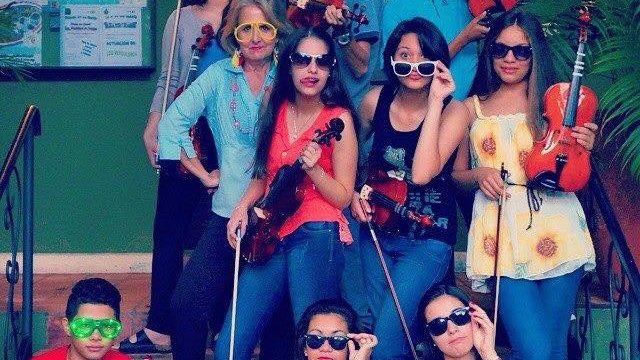 Oct. 13, 2017
One of the most impactful parts of my two years of service in the Peace Corps was the Conservatory Project.
While growing up in Austin, Texas in the '50s and '60s, I was fortunate to be a member of the well-known Junior String Project. In an assembly at my elementary school, professors of music at the University of Texas demonstrated each instrument and informed us that we could take classes in any of those instruments, free of charge, and the instruments would be provided at no cost. I took the papers home to show my mother and we marked the calendar to attend the registration.
When the day arrived, I was shunted into the group of eager hopefuls. There were many of us. We were settled in a small studio lined wall-to-wall with mahogany shelves which were filled with music books. The viola professor hosting us proceeded to play a low, sonorous, rich piece on his instrument. I was in love, totally enchanted, and that moment was the beginning of my many years as a violist. In more recent years I've added the violin, which has been a fun experiment into many other types of music beyond classical, such as jazz, rock, and fiddle.
Waiting in the back of my mind over the past four to five decades since that school assembly has been the desire to perhaps one day provide the same experience to children who otherwise would not have the opportunity. My stint in the Peace Corps very suddenly and surprisingly became the platform for making such a dream come true. 
My site assignment was a small resort town situated near Lake Ypacaraí, several hours down the road from the capitol city of Asunción.  At the onset, I had hoped to be presented by my contact person to the mayor and his staff at the municipality, the town's governance office.  Peace Corps Volunteers find themselves working often with the municipality on their various projects, but my assigned contact told me it would be impossible to get in to see the mayor. Disappointed, I paced my backyard, struggling with what to do next.  My host family, who seemed to make all things possible, made a call. Within moments, the appointment was set for the next morning and I was welcomed into the mayor's office!
As I began to talk about potential projects, he interjected. He leaned forward and told me he was aware that I'm a musician and that I had also worked in the States in developing organizations and events. I smiled, nodded yes, and he said with a grin that he had something to show me at the Cultural Center.
We walked only a few blocks down the cobblestone street and into a beautiful historic home which serves as the visitor center and office of tourism. Mami, the director, and her staff had pulled out all the instruments which had been given to the community by a Paraguayan cultural heritage center. I wanted to sing and dance around the room.
I looked at the instruments they had stored in closets, lying dormant and dusty, just waiting for the hands of hopeful students to begin playing them. There were ten violins (five full-sized and five 3/4-sized for the smaller children), four violas, two cellos and one string bass, along with a high-quality, full-sized keyboard. What's more, there were 18 guitars, six clarinets, three flutes, five trumpets and two saxophones. All new, all in great condition.
Over the next six weeks, I worked fervently with Mami on the details to get a conservatory underway. She also helped me find Paraguayan counterparts who would help sustain the project after my service ended.
We held an assembly at each of the eight area elementary schools and high schools, fashioned after the assembly I attended more than 50 years ago when I was ten years old!  Many students raised their hands to show interest in taking lessons, but time would tell us how many would show up to registration. Paraguayans are sometimes shy, reserved, and hesitant, so I hoped the parents would feel encouraged to come forth with their interested children. 
Many of our plans faced detours and potholes. After working months to pull together professors, we began, and the Cultural Center was filled each day with music. At any given moment, there were little elementary school-aged children tuning their guitars in the garden with their professor, while students learned piano inside. My violinists and I would be on the outdoor stage which held an enormous, wall-sized mirror as the backdrop, a perfect setting for training students in proper stance and positioning of their instrument. On many days, the temperature in Paraguay rises well over 100 degrees Fahrenheit, so teaching outdoors to take in the breeze was typically the way to go. Cars filled with interested well-wishers would honk their horns and wave as they passed.  No wonder Paraguay is known as the happiest nation in the world. 
Within just a month, that little orchestra was performing several simple pieces together, and solo pieces were introduced. Their diligence and desire was amazing. On any given evening I would hear applause at the front gate of my home, the customary form of announcing oneself at someone's home. There would stand one of my precious students with an instrument strapped to his or her back, giving me the traditional kiss on both cheeks as a salutation and asking if I might go over their pieces with them.  Of course I would!  I get a lump in my throat today just thinking about it.  
We began plans for the holiday concert, having feverish rehearsals one after the other, preparing their favorite group pieces and solo pieces chosen from both classical and popular music from the U.S. and from Paraguay. A few days before Christmas, the concert was held in my host family's gardens. Parents and family of each student were invited, as well as friends and community members. Since my fellow Peace Corps Volunteers living in other sites were homesick for their families during the holidays, they were invited to come celebrate with us. My grown children, David, Bess & Lee, came from the U.S. to Paraguay, too!  It was a magical night under the twinkling lights covering the arbor where the students performed.
During my stay in Paraguay, I had stuck a note to my bulletin which I liked to read regularly. It's a quote by former President John F. Kennedy, who founded the Peace Corps.
"The life of the arts, far from being an interruption, a distraction, in the life of the nation, is close to the center of a nation's purpose and is a test to the quality of a nation's civilization."
I left Paraguay knowing that when hearts and souls meet together, great things happen, enhancing every situation, every project, every endeavor, every accomplishment and every life.
Music, as with any art, can reach those places inside us, influencing us in more ways than we know, improving the quality of our own life and of those around us. 
That little orchestra taught me the value of engagement, friendship, and bonding relationships. In turn, I hope that I instilled in each of the students not only the love of music, but the lesson that diligence, determination, and commitment, combined with a willing and patient spirit can take you to places you've never been before.