City Year to Peace Corps: My first steps into the international community
What brought me to City Year and the Peace Corps in Mongolia was that I have always been interested in giving back and helping people. 
I was born with dyslexia and since I was very young, many people have helped me with my education. When I was in primary school, my parents were told that I might not be able to attain college because of my struggles in school. With the help of my parents and teachers, I was not only able to complete high school but to graduate in the top half of my class. In 2007, I decided to attend Tulane University in post-Katrina New Orleans. My experience taught me that I have to give back to the world the same opportunities and help that I was given in my youth.
I knew about the Peace Corps for almost all my life but I did not know if I had the determination and strength for it. When I discovered City Year it was not only an opportunity for me to give back but to see how I could handle similar situations in the U.S. that Peace Corps Volunteers might face in classrooms around the world.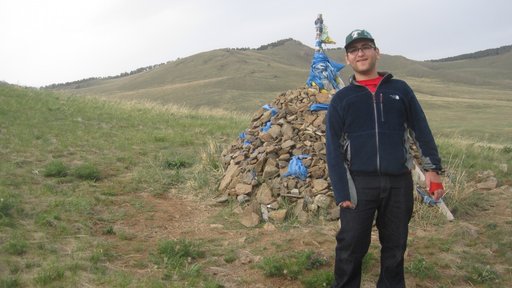 One of the biggest challenges is dealing with students from very different backgrounds. In City Year, many volunteers work with students who come from a different socio-economic upbringing and may not have had much interaction with other groups. In Peace Corps, Volunteers are often embedded with communities with different cultures and often a different language. My experience with City Year in 2012 helped prepared me for my service with the Peace Corps.
Before City Year I lived in New Orleans for four years, but when I started service I was exposed to a different side of New Orleans. I saw the side that for centuries were denied their fair chance at education, employment and equal rights. Many of my students did not have any family members who went to college or completed high school. It was culture shock for me because I was taught that education was the key to success, but most of my students were never taught this lesson.
Sometimes it was very frustrating because some students did not see the importance of education in their daily lives. By having role models such as teachers and corps members, some students were given the idea that they could go to college and be successful in their lives. By living in the city before and after City Year, I saw both sides of New Orleans and realized how important it was to have interaction between both halves.
Currently, I am serving in rural Mongolia as an English teacher. For most of my students this is the first time they are exposed to an American or any foreigner. I am often invited to cultural events that I may not know much about. Some of these events include Naadam and Shine Jil. Since I am in a different environment I have to keep an open mind and be culturally respectful. Sometimes there can be friction – such as when people you do not know invite themselves into your home.
You have to remember that you are a role model not just to your students, but also to your whole community as a foreigner. One of the biggest challenges of service is language. It is not only frustrating for myself but also for my students because our languages are drastically different. Despite this struggle, students often try to overcome this challenge and do well not just in class, but also in English-based competitions. Living in Mongolia by myself is one of the hardest things I have done in my life but it is worth it to help my students and to build a better world.
The Peace Corps has given me my first steps into the international community and a rare opportunity to work in the field of development. My two years in Mongolia will remain with me for the rest of my life and it will shape the work I will do in the future.
This post first appeared on City Year's blog.