Checking my privilege as an LGBTQ+ Volunteer
June is an important month for me as an LGBTQ+ Returned Peace Corps Volunteer.
June is an important month for me as an LGBTQ+ Volunteer. I received my invitation to serve as a Peace Corps Volunteer in Costa Rica in June 2018. LGBTQ+ communities around the country also organize Pride events in June to commemorate the Stonewall riots of 1969 and the impact these demonstrations had on the LGBTQ+ rights movement.
When I received my invitation, I was ecstatic to go to Central America and be immersed in a completely different culture. Although I had grown up in a Mexican-American household, I struggled to relate to my Latin heritage at times, especially as a queer person. Some of these struggles stemmed from the machismo prevalent in Latin culture. When I applied for the Peace Corps, I realized that machismo could be a challenge during my service and affect my relationships. However, I joined the Peace Corps to promote peace and friendship and be of service to others. Despite the difficulties I would face, I knew that I had a lot to offer my country of service for this once-in-a-lifetime experience.
I was assigned to work in a rural community four hours north of the country's capital, San Jose. As a community economic development Volunteer, I worked with women's groups, youth, and a cacao association.
Although my site had community resources such as businesses and schools, it lacked big-city amenities and diversity. Community members were typically conservative and religious, which often led to uncomfortable conversations about my beliefs and lifestyle. Because of this, I knew it was best to conceal my LGBTQ+ identity at the risk of losing working relationships with my community.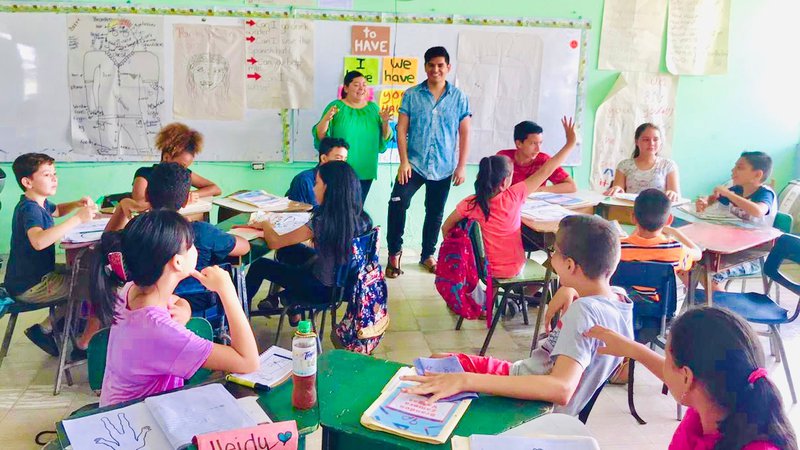 Not long after arriving in Costa Rica, other Peace Corps Volunteers and I traveled to San Jose to participate in La Marcha de la Diversidad, the country's annual Pride event. Growing up in Southern California, I had participated in several Pride events, but never one in a foreign country.
I arrived in San Jose the day before the march and stayed at a hostel with a group of Volunteers. Peace Corps Costa Rica's Volunteer-run Intercultural Competence, Diversity, and Inclusion Committee organized a series of discussions on LGBTQ+ history and issues, including one facilitated by a transgender host country national.
It was a privilege to be a part of such a unique experience. Back at my site, community members treated me with tremendous generosity and kindness, but I could not have these honest conversations or be open about my queer identity. Within the Volunteer community, I could be my authentic self.
The day of La Marcha de la Diversidad is one I will never forget. Groups of people, young and old, lined the streets of the capital. Shiny vehicles, energetic dancers, and engaging performers and musicians passed through the crowds of people sporting rainbow colors. Drag queens waved at spectators from extravagant floats. For a few moments, I thought I was back home.
Peace Corps staff and Volunteers marched next to the U.S. Embassy, carrying a massive rainbow banner with the Peace Corps logo. There was even a surprise appearance from the president of Costa Rica, Carlos Alvarado Quesada. The amount of love and support that day was contagious. I discovered a sense of hope for LGBTQ+ rights in Costa Rica while recognizing the privilege I had as a queer person from the U.S.
Pride events were born from social inequality and political unrest. LGBTQ+ people of color took a stand against social injustice and brutality and paved the way for others to express their authentic selves. La Marcha de la Diversidad is a reminder of our right to live and love freely despite ignorance, adversity, and hate.
Even though I am no longer a Volunteer in Costa Rica, I will always remember holding back my queer identity while doing my best to serve others. In return, Costa Rica showed me the importance of appreciating our freedom and liberties and how to enjoy life (pura vida).
On May 26, 2020, Costa Rica became the first country in Central America to recognize and perform same-sex marriages. Other Central American countries may follow and extend the same fundamental rights and liberties. The LGBTQ+ community in Costa Rica now shares equal same-sex marriage rights as the LGBTQ+ community here in the U.S. We must not take these rights for granted. As we show our pride, let us remember to check our privilege and support, promote, and protect the rights of the LGBTQ+ community around the world.
---