Channeling Peace Corps service, RPCV tackles Baltimore's food deserts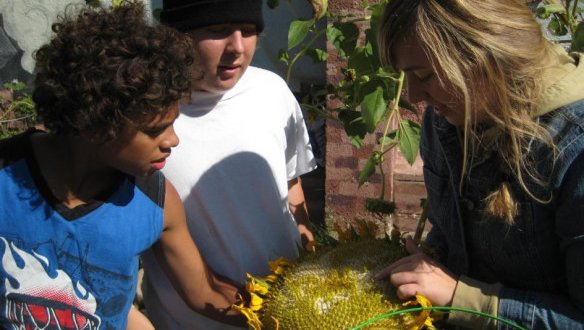 April 7, 2014
During her service in San Sebastián, Guatemala, Charlotte Keniston saw impoverished families grapple with poor access to food. But it wasn't until she returned from service in 2010 that she realized just how relevant food plights were to her own community.
When Keniston arrived in Baltimore as a member of the Shriver Peaceworker Fellows Program at the University of Maryland – Baltimore County, she began a visual survey of food in the area for her master's in fine art.

She found a dearth of food resources but an abundance of community members who were similarly concerned about food access in their neighborhood. Baltimore's Pigtown neighborhood is considered a food desert: an industrialized area with minimal access to healthy, fresh food.

In collaboration with area neighbors, Keniston and representatives from the Shriver Peaceworker Fellows Program formed Pigtown Food For Thought in late 2011, bringing together students, youth and community members to organize a local garden and rally for improved access to food resources.
Now, the garden is maintained by a group of roughly 10 community members, with some 25 people rotating in and out to help.
"In both the Peace Corps and the [Shriver Peaceworker Fellows] Program, we were really encouraged to dive into our communities," Keniston, who served as a municipal development Volunteer, said. "The whole thing kind of happened organically."
Keniston also received a grant to conduct cooking exchanges and purchase groceries for cooking demonstrations, providing a social forum for neighbors to interact and proactively learn about healthy choices.
While a Volunteer in San Sebastián, Keniston worked with women's groups who socialized and united over cooking meals together.
"Some of them walk for a very long ways, and for some, it's the only out-of-the-home social activity for the week. On the surface, these groups are poor, but they come together and put together these amazing meals, putting together what they each have from their gardens," Keniston said.
Keniston saw the same sense of collaboration and community partnership burgeon in Pigtown, where neighbors now dutifully remind each other of their garden responsibilities, she said.
The sustainable garden is a tangible civic success, but Keniston said small, more personal experiences, like children's astonishment at seeing beets pulled out of the ground, are just as rewarding.
"I think with any community project, successes are often small moments," Keniston said. "The garden is a great visual success but there was a day when I was working in the garden and I had some eggplants and a woman looked at it and said, 'This is the first time I've ever seen food growing in this neighborhood.'"
In and out of the Peace Corps, Keniston noted she's developed realistic expectations for community change but a hopeful attitude toward collaboration wherever she's planted.
"I think Peace Corps helped me to realize that change takes a really long time, and that you can't expect it immediately," Keniston said. "Also, just learning to relate to people who are really different from me. Most of my friends were women my age or younger who had three or four kids, whose life experiences were totally different but who became incredible, incredible friends."