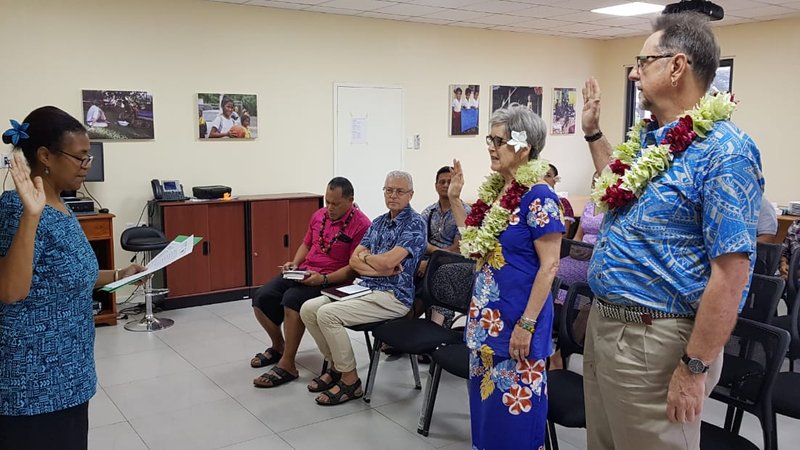 Feb. 15, 2019
Steve Price and Deborah Buckley were recently sworn in as Peace Corps Response Volunteers in Samoa as event coordination specialists. Here are their stories.

Steve Price:

"Epilogue: a section or speech at the end of a book or play that serves as a comment on or a conclusion to what has happened." 
In 2003, my spouse and I left the comfortable confines of American life to serve in Suriname, South America, as Peace Corps Volunteers. Eventually, we both had labeled these 27 months of service as a life-affirming, life-defining transition. Our time in Suriname gave us both a sense of accomplishment and gratitude. More than that, it gave me an understanding that life is not always as it appears, and that if one is open to learning, the lessons will come from the most surprising situations, people, and places.
After service the emotional readjustment was somewhat difficult, but the return to career was quite simple: the state of Utah had just the right counselor position awaiting me. Good years went by and in 2014, still thriving in state employment, I happened upon a federal position with the Peace Corps: field-based regional recruiter in Utah. I began this very satisfying job that spring. 
Then in 2017, I retired, ready to write the "great American novel" or catch that record lake trout.
Nope. The life of the Peace Corps continued to run through my veins. I once again needed, no, wanted more. I was nearing the age of 65 and I knew that the Peace Corps was the best and most prudent place for me to apply this search for more. After six months of perusing Peace Corps Response assignment openings, I found myself being invited to serve in Samoa as an environmental event coordination specialist for 12 months. I am anticipating a hardy and adventurous service, and I am very pleased to feel the life of the Peace Corps flowing through my veins, yet again… no, yet still.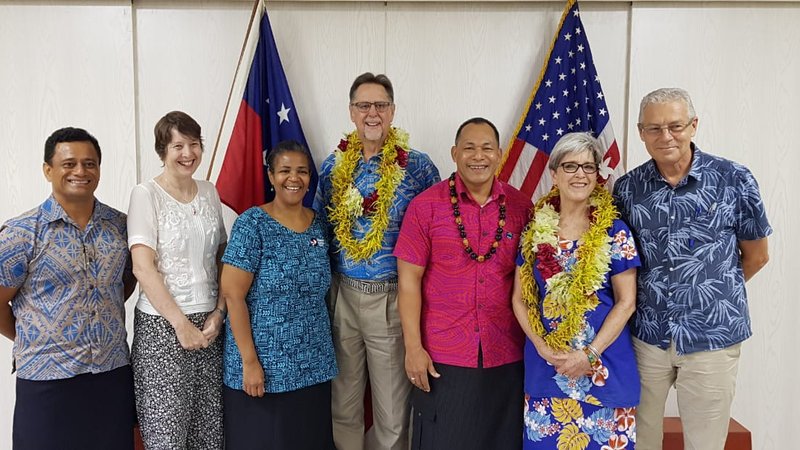 At one point in my parallel journey with the Peace Corps, I thought my connection to its application of "peace and friendship" had come to an end, although "peace and friendship" had now become permanent ideals. My epilogue had once included comfort, fishing and writing. The epilogue has now been edited to include service, adventure, lessons, relationships, application of skills, perhaps a restringing of that old classical guitar and writing (hey, maybe some fishing and comfort, too!). 
Sometimes an epilogue needs a thoughtful re-edit.
Deborah Buckley
"Timing out." That's what it's called when your five-year term as a Peace Corps employee comes to an end. 
My "time-out" date was to be May 3, 2019. Five years as a field-based recruiter in Charlotte, N.C., following three years as a Volunteer in Romania, was about to come to an end. I had loved every minute and was going to miss the students, stakeholders and campus life to which I had been exposed and forever changed. 
As the end was imminent and the government hiring process slow, I spent most of my summer weekends updating my resume. Unlike many folks, I would rather speak in public than write about my accomplishments. But I did and in September, I started job searching. I stayed focused on federal jobs, hoping to reach the 10-year mark before starting to think about retiring in 2022.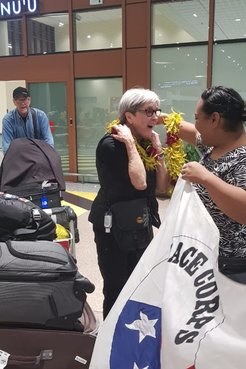 Then a colleague sent me a link to a "really cool" job in Samoa as a Peace Corps Response Volunteer.  I had always hoped I would be a Peace Corps Response Volunteer again, but imagined it would happen as part of my retirement years.

She was right. The job not only sounded "cool" but stimulating, significant and in sync with my desire to experience different cultures, people and places while accessing meaningful, environmental work along the way. Here it was! As Mary Poppins would say, a "practically perfect" position in every way. I applied without hesitation.
As I begin to put things in boxes, find homes for furniture and notify family, friends and communities about my departure, I am filled with all the excitement, gratitude and humility one at my station in life might feel. I truly am one of the fortunate ones. 
Samoa, here I come! Thankful for another opportunity to serve.
---