A chance meeting leads to intercontinental friendship fostered through letters
A friendship between returned Volunteer Cate (Togo 2005-07) and current Volunteer Kelsi (Tonga 2016-18) grew through letter writing and a shared love of art. The weekly exchange of letters has helped encourage Kelsi during her service.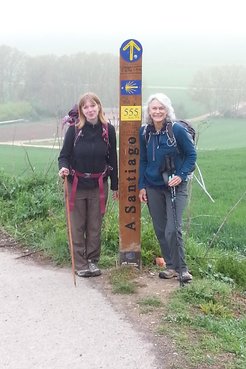 Cate: I met Kelsi in 2015 on the Camino de Santiago. Although we both were walking the Camino for solitude and self-reflection, fate put us together and we eventually enjoyed walking together almost the entire 500 miles.

Kelsi: It is true that fate seemed to bring Cate and I together on the Camino. Cate managed to keep a daily account of our journey together in a visual diary, which she painted or drew in each day, and which I soon followed suit.
Cate: We are over 35 years age difference but we have, among other things in common, art. We bonded because we felt like "rogue pilgrims" and found humor along the way as well as the spiritual reflections which cannot be avoided walking the Camino. Since Kelsi was considering service in the Peace Corps, many of our conversations included memories of my (and my husband's) service in the Peace Corps in Togo, 2005-2007.
Kelsi: To be honest, Cate is the reason I joined Peace Corps, in the first place. Listening to her stories of Africa (Togo), and the people she met over the course of 500 miles, urged me to apply the moment I returned to America. 
Cate: Which brings me to the reason I have written Kelsi almost every week since she entered Peace Corps. I felt a little responsible for her being there.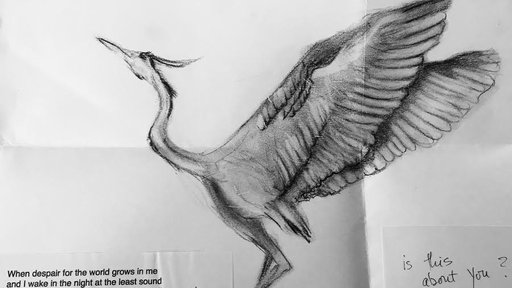 Kelsi: One of the recent letters I received from Cate enclosed a beautiful illustration of a heron, along with a poem from Wendell Berry that speaks appropriately of the dark times too.

Cate: I know the culture shock, the solitude and loneliness, the feeling of "what was I thinking?" I wanted to support her and at least help get her through training, the hardest part I think. So I tried to send her something every week — an inspirational poem on an artful background or a sketch of something going on in the U.S. Poems by Mary Oliver, David Whyte, e.e. cummings, Billy Collins, John O'Donohue, Emily Dickinson. Poems about the sea, broken shells, being in nature, solitude, anything that might relate to her experience.
Kelsi: One of the last letters I sent to Cate was of an illustration I drew of her. I painted her as I see her, a beautiful elegant goose. This stems in part from a poem she sent called "Wild Geese" by Mary Oliver, which declares "you do not need to be good," a complex I developed when I first arrived on the tiny dot of an island I reside in the South Pacific. I thought being a Volunteer meant I had to be perfect, but the poem continues "You do not have to walk on your knees for a hundred miles through the desert, repenting. You only have to let the soft animal of your body love what it loves."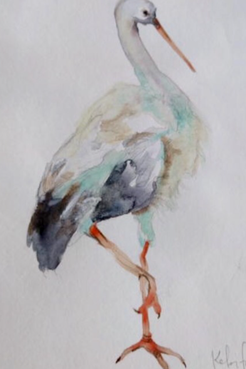 Peace Corps at its bare bones is about connecting with people wholly unlike yourself and yet finding a beautiful commonality. It is not about fixing or throwing yourself away. In the too quiet moments when I forget why I joined Peace Corps, I think no matter "where you are, no matter how lonely the world offers itself to your imagination... over, and over announcing your place in the family of things." 

The poems Cate sends remind me why I joined Peace Corps, but also serve as a reminder that I have a home too.
Cate: I fell in love with poetry again trying to find just the right poem for her.
Kelsi: Another poem by [Mary] Oliver called "The Summer Day," appropriate for the continuous temperate weather of Tonga, asks this simple question: "Tell me, what is it you plan to do with your one wild and precious life?" I have this crudely pinned by my bed, and as I wake each morning I ask this question.
Cate: When I was in the Peace Corps, friends said they didn't write because their life was so uninteresting compared to my life in Togo. But the truth of the matter was I wanted to hear about their daily life because I missed it, too. So I try to remember that with Kelsi. Writing her has become a pleasant routine and I try to maintain the weekly letter; however, a new grandchild has thrown me off course the last couple weeks. But alas, the mail system is so haphazard that regularity isn't an issue. She told me one day she received seven letters on the same day. I felt bad she had been without the past six weeks.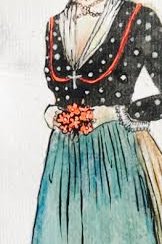 Kelsi: I don't expect Cate to write me every week, but her simple act of kindness, like all simple acts of kindness spread to encourage me to be kinder to myself and my village. It is returned Peace Corps Volunteers who built the foundation and legacy of Peace Corps today. Especially in Tonga, where being a "love volunteer" (as they affectionately call us) is synonymous with respect, integration and, most important, love.

Cate: It is such a joy to see Kelsi thriving in Tonga.
Kelsi: Sometimes it feels like you could really change the world, and other days you are too tired to brush your teeth. In the latter moments, I am reminded of Cate and the wild heron "when despair grows… rest in the beauty of water… and come into the peace of the wild things." In truth, she inspires me to not only just paint and write while serving in Peace Corps, but simply to let my life be like a painting, instead.  
I am truly grateful for the day fate brought Cate into my life on that long Spanish country road. I can only hope to become like Cate when I can help another new Volunteer remember what it is they want to do with their one wild and precious life.  
Do the unexpected. Become a Volunteer.
Apply