Celebrating and sharing history and cultures: Finding passion through service in Malawi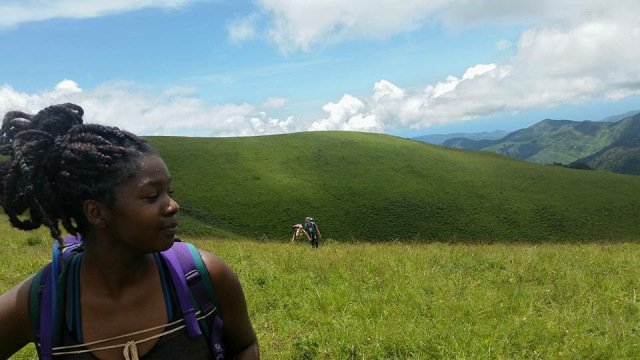 Feb. 27, 2017
When Nyassa Kollie's father thinks about his childhood and the hurdles he overcame in pursuit of his education, he replays the voices of encouragement telling him that he could do anything, even earn a doctorate in chemistry.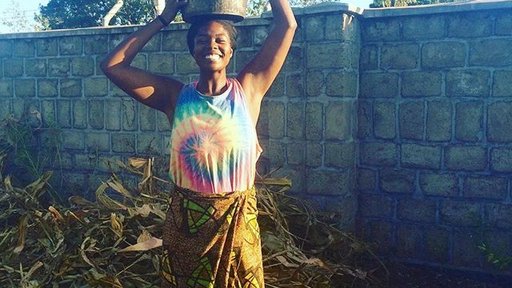 Similarly, when Kollie's mother faced obstacles growing up, it was the voices of hope that prevailed and lifted her up, reminding her that her education mattered.
Those voices her parents heard belonged to Peace Corps Volunteers.
Kollie, now a Volunteer in Malawi, wouldn't fully grasp the motivation that fueled her father's passion for education, or of the love her mother had for the volunteers who defined her youth until years later.
"My parents were taught by Peace Corps Volunteers and experienced such positive and impactful interactions," said Kollie. "They were extremely proud that I decided to join the organization that had helped them in their youth."
When Kollie graduated from the University of Iowa in 2014 with her bachelor's degree, she knew she wanted to pursue an international career.
And the Peace Corps would help her do that.
As an education Volunteer in Malawi, Kollie works with students at the primary and secondary level, motivating them to reach their full potential, just like Volunteers did for her parents. Yet Kollie's true impact resonates outside of the classroom. From spearheading youth clubs to hosting gender-based workshops, Kollie's service is far-reaching.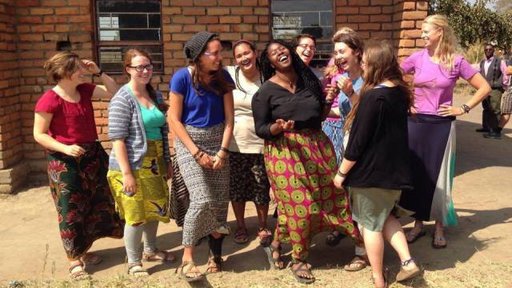 "The Peace Corps has played a huge role in shaping my professional career goals. When I graduated, I knew I wanted to serve people and I was interested in doing so overseas, but that idea was so broad. I wanted to find my passion. Through my service in Malawi, I've been able to find exactly that."

A constant pull of identities

Kollie will be the first to admit that her journey wasn't always easy. She has faced gender and racial discrimination, but none of these challenges color her Peace Corps experience serving in the country known as "The Warm Heart of Africa."
"Serving as an African-American woman is a unique experience; it's a constant pull of identities," Kollie said. "People assume I'm not American or I'm not really from America, and the identification of 'black American' – a clear distinction from just a regular American, in addition to not being called azungu [meaning 'foreigner'] – offers parallels of where I fit in the eyes of host country nationals. My presence challenges stereotypes and ideals of what an American is, and it confuses and intrigues many people. But ultimately, it is a chance for teaching and learning experiences."
Protecting the natural tresses that cover Kollie's head has been another constant while serving in the Peace Corps. Since arriving to her site in Malawi, Kollie has experimented with box braids, twists and other Malawian hairstyles, but she quickly found that taking care of her hair overseas would be more difficult than expected. The Malawian breeze that hugs Kollie's natural curls causes breakage and severe dryness.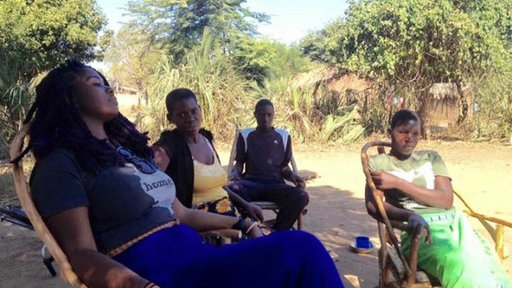 "Even now with six months left of my service, I am constantly learning and trying to help my hair retain length and be healthy," Kollie said. "It's been by far the most emotionally draining situation of my service."

Still, Kollie has found a way to use her experience to educate her community about herself and the diversity of the U.S. When community members ask why she chooses to wear her hair natural instead of chemically straightening it like most Malawian women, Kollie discusses the different hairstyles African-American women wear in the U.S.
Sculpting young minds
Kollie knows firsthand how powerful educators can be. So, she continues to find ways to make a lasting impact on her students in the classroom through celebrating African-American history and Malawian history.
"As a teacher, I have the privilege of sculpting the young minds of Malawians as they learn about their history, and I share mine," Kollie said. "We place a high value on black history. Every opportunity I can, I find ways to highlight inspirational Malawians and African-Americans who can inspire my students so they know that people like them have done, are doing and will do great things."
The lessons Kollie collected throughout her service will stay with her long after she departs Malawi. Kollie hopes to someday return to her host country as a Peace Corps employee to help inspire the next generation of Volunteers.
"Once you've thought about serving in the Peace Corps and feel you are ready for the great unknown, take the jump," she advises those considering service. "Apply! I absolutely believe that it will be the best life decision you make."