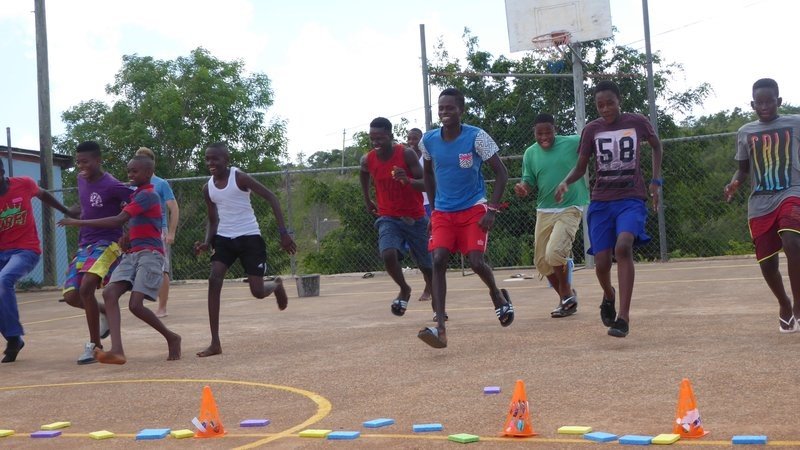 Feb. 13, 2019
Camp Respect was born in 2016 out of a desire to reach young men in Jamaica.
It's country where negative statistics run high: high unemployment, high incarceration rates, a high murder rate, and a high rate of illiteracy. Peace Corps Volunteer Evan Adams noticed that the male youth population in his host country was receiving a lot of negative attention as parents struggled to encourage their sons to do well in school or to even attend in the first place. The common refrain is that "idle boys" become idle youth, who become the idle men with low job prospects and a high likelihood of falling in with the wrong crowd, while girls in Jamaica typically excel in school, are less likely to drop out than their male classmates and are more likely to gain employment in the professional sectors.
Enter: Camp Respect. Evan and his fellow Volunteers worked with their community counterparts to identify 20 boys between the ages of 10 and 17 to attend this year's camp. They also recruited four young men to serve as counselors, exploring tough topics alongside the campers. They valued including Jamaican camp counselors because they understood the importance of including role models to whom the campers could relate; having grown up as young men in Jamaican society, they had "been there," positioning them to work through the camp's themes in a way that made sense to the campers.
They decided to focus on four key areas: leadership, gender equality, independence and civic responsibility. Why gender equality? Because they realized they couldn't leave it out. The name Camp Respect came from their desire to encourage men to show respect for themselves, each other and their fellow humans – including women. They built dialogue around the concept of empowered young people, urging campers to realize that the success of their female classmates need not mean failure for them.
Since the first camp in 2016, past campers have returned to work as camp counselors, helping to build on lessons learned in past years.