Camp Pugsada Tara Panga (Girls Are Strong)
I spend a sizable number of hours per day with my 8-year-old host sister, Elvira. 
Elvira is intelligent, funny, independent, a bit sassy, and has become one of my closest friends in Burkina Faso. Over the past 18 months, I have seen her literally grow. I can't help but wonder, as well as worry, what her life will turn out to be, living in an environment that will continue to throw obstacles and roadblocks in the way to her achieving a desirable future.
Though there is still gender inequality throughout the world, many countries have made amazing progress. I feel quite lucky that while growing up I was encouraged to be independent, strong and capable of success. From a young age I learned that it is healthy to be assertive, it is good to be unique. I have noticed while living in Burkina Faso that many girls do not have that encouragement. Often, culture dictates a "chosen" set behaviors, roles and expectations for women, limiting many young girls like Elvira from reaching their full potential.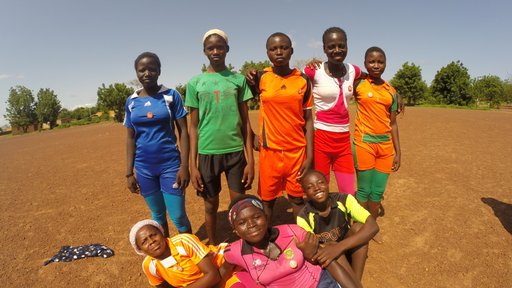 The most common reason for a girl to drop out of school in Burkina Faso is due to pregnancy or little family support. I remember talking to a leader in my village about the challenges girls face in and outside of school. His response resembled something like: "c'est comme ça," "it's like that," which was very disheartening to hear. With collaboration and insight from teachers and parents, I wanted to help create an opportunity for female students in my community to learn the tools and skills to thrive in a system that is often working against them. My hope was to provide a safe environment for girls to laugh, run around, ask questions, and a place where they could simply just be girls. My goal was to increase awareness of the continuing issues surrounding girls' education and rights, while creating strong leaders in the community, ultimately hoping to narrow the gender gap, village by village. 
That's when Camp Pugsada Tara Panga (Girls Are Strong) was born.
During the camp many ideas and subjects were introduced to the participants such as leadership and goal setting, reproductive health and puberty, malaria prevention, soap making, and hygiene, violence and positive gender roles. We were aided in these sessions by several guest speakers, including local teachers, clinic staff and powerful businesswomen. These facilitators were there to approach these subjects in a culturally appropriate way, but also to show the participants' important role models that they could utilize in their communities. 
It was amazing to see the difference among the girls from the first day compared to the last. I remember walking into the center on the first day and there was silence between the campers. Participants were timid to ask or answer questions.  Throughout the camp, I saw a visible change in self-confidence and attitudes. I realized that this was probably the first time they have had an opportunity like this, away from the stresses of home, to be adolescent girls. 
As a Peace Corps Volunteer, I often wonder whether or not the project is making a positive change with the target population and the community. I was surprised when two days after the camp finished, I asked the girls to come back to the center to retrieve their camp family photo and when I arrived, I saw one of the girls writing names on a large piece of paper, and collecting money from each girl. When I asked them what they were doing, she told me that they all decided to pool together money to pay for all the supplies and ingredients for liquid soap making. 
Two weeks from now, we will be making 60 bottles of liquid soap, all from their money, to sell in the village. 
Sometimes affecting one mother, one host sister, or just listening to students' interests is all it takes to change mentalities and create a positive change.

Submitted by Health Volunteer Molly Vaux