Building a culture of service in Paraguay
My passion for social transformation through service has taken me from living in government-subsidized housing projects in Poughkeepsie, New York, to Paraguay, the heart of South America. 
Its origins began during my childhood when I accompanied my parents on a wide array of community programs and initiatives that shaped the way I understood the world and my desire to work towards social justice. It has propelled me forward as a young adult to work with community leaders in spearheading the design and implementation of Paraguay's first-ever national youth service program. 
During this journey, I realized that one of the most effective ways to impact society is through civic participation and social innovation programs and policies that bolster participatory democracy, promote mutual understanding, strengthen social capital, empower citizens and respond to our most pressing public problems. 
Building a Framework for National Service in Paraguay
While many members of the Peace Corps community are familiar with the three goals, another major mandate is often forgotten: providing capacity building to host country institutions to help them develop their own national and international volunteer programs and infrastructure. 
During my service as an urban youth development Volunteer in Paraguay (2010-13), I had the opportunity to learn about this aspect of the Peace Corps mandate and develop community-based approaches to strengthen volunteerism at a local level. With the support of my former supervisor in the education sector, María Josefina Rios, I worked with returned Peace Corps Volunteer Brett Larsen, fellow Volunteers and local leaders to create volunteer networks in the capital city of Asunción and the city of Encarnación.
For decades international agencies like Peace Corps, the Japan International Cooperation Agency (JICA) and the Korea International Cooperation Agency (KOICA) have sent volunteers to Paraguay to work on projects with community leaders. Our burning questions were: how could we harness that spirit of solidarity and service present in these programs and Paraguayan culture to institutionalize it? How could we ensure that volunteerism was harnessed as a tool for development through public policy across sectors to ensure sustainability long after we were gone?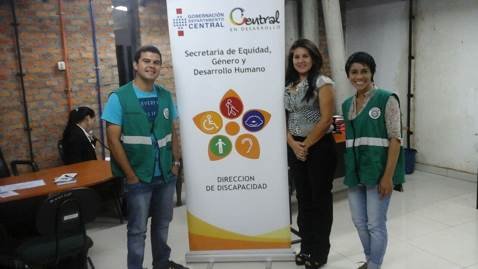 After years of organizing volunteer festivals, conferences and service projects, I formed part of a team of civil society leaders that encouraged the incoming government administration to create Paraguay's first national service program, AROVIA Paraguay (AROVIA stands for "I believe" in the Paraguayan indigenous language of Guraní). Seven national government ministries created the program through a formal agreement. 

As a co-founder of the program, Minister of Planning Dr. José Molinas Vega invited me to implement the first pilot. Several former Peace Corps Volunteers worked within our team, including Molly Reddy and former Peace Corps Response Volunteer Rubén Hernández. We've also had two Volunteers extend their service for a third year at different times (Favio Germán and Michael Kunz) to establish strategies for collaborations between AROVIA and Peace Corps Paraguay from the field to regional and national levels. 
In the process, we brought in experts from across the globe to help build our model. We received support from the United Nations and the Fundación Superación de la Pobreza of Chile and its national service program, Servicio País, through a south-south cooperation. We were lucky enough to connect with Susan Stroud, executive director of Innovations in Civic Participation, who has served as an advisor to our team with past support from the U.S. Embassy in Paraguay. 
In 2015, we implemented our first pilot with 15 professional volunteers as part of the government's national poverty reduction program, Sembrando Oportunidades (Harvesting Opportunities). These volunteers left their hometowns and served for a year in Paraguay's most impoverished regions, developing community projects, building capacity in community-based organizations and connecting communities with public-private sector programs and goods in services.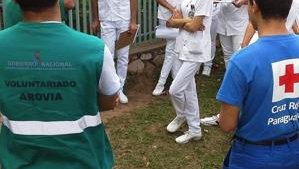 In 2016 we doubled the program to 30 volunteers and in 2017 we expect to roll out programming that deploys hundreds of professional volunteers and university volunteers, and thousands of local community counterparts. 
Some recent highlights to promote national service include:
●    Expanding the one-year service program for recent college graduates and developing a several-million-dollar proposal to create a national education corps to promote community participation in public schools.
●    Developing a proposal for a pilot with YouthBuild International to work with unemployed youth who have dropped out of school on programming that includes community revitalization and service-learning projects, vocational training, counseling, completion of high school equivalencies and insertion into the labor market or higher education.
●    Connecting with the Teach for All Network to work with local youth leaders on the development of Teach for Paraguay.
●    Drafting a national volunteerism law with civil society leaders.
●    Hosting a national volunteerism council with representatives from international volunteer agencies and local civil society organizations.
●    Winning a $100,000 research grant to measure the economic and social impact of the program.
●    Presenting AROVIA's best practices at the World Volunteer Conference in November 2016 in Mexico City.
●    A policy proposal for public-private partnerships in national service drafted by Harvard Kennedy School of Government and Harvard Business School graduate Randy Ojukwu. 
What I've learned in the process is just how powerful it is to connect with the right people at the right point in time on a shared vision. AROVIA has been the creation of many people at different points in time pushing an idea forward. Back in 2010 I had no idea an initiative that started at a grassroots level could lead to something so massive. Our efforts are guided by the belief that through meaningful immersion in well-designed service programs, we can bridge social capital and lay the foundation for a new generation of thoughtful and empathetic citizens. 
Thanks to the opportunity I was given through my time with the Peace Corps, I believe we're in the process of doing something that will not only impact Paraguay but also other countries throughout the world.