Bringing the person I love home to America
We first met in July 2012 when I was a Peace Corps Volunteer in Thailand. He sent me an SMS saying, "Hey Guy!"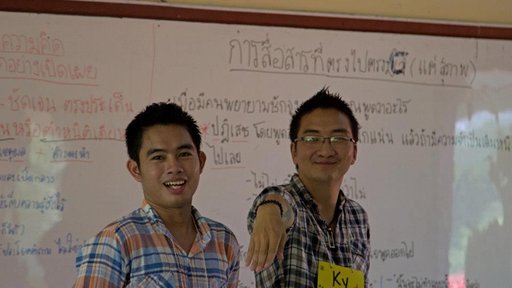 I had no clue who this person was... and seriously, who writes, "Hey Guy!"? Through five degrees of separation, a Thai national, Film, had heard about me and wanted to meet. 

Throughout my time in Thailand, Film and I met in Bangkok and Ayutthaya (his hometown). We went out to dinner and had dates just as if I were back in the U.S. The summer between my first and second year of graduate school, I interned at the U.S. Embassy in Bangkok and we spent lots of time together. After my internship finished we went to Singapore for our first real vacation. It was then, being with him and seeing his unconditional love for me, compassion, and genuine warmth, that I knew I wanted spend the rest of my life with him.

Fast-forward to May 2015: Two years after completing my Peace Corps service, I was a newish master's degree recipient and had just gotten engaged to Film. Yet he was still in Thailand. We need to fix that. The fiancé(e) visa, aka the K-1 non-immigrant visa, is the official way to bring your unwed, foreign-born partner into the U.S. to marry. (There are other options for those who are already married in a foreign country.) Here's our timeline and what I did, from start to finish, to bring the person I love to America.

P.S. Because the U.S. Supreme Court struck down DOMA (The Defense of Marriage Act), same-sex couples follow the same steps as different-sex couples for the K-1 visa regardless of if same-sex marriage is legal in the foreign born partner's country. Same-sex marriage is not recognized in Thailand.
February 2015: I (as the sponsor) submitted the I-129F "Petition for Alien Fiancé(e)" form to United States Citizen and Immigration Services (USCIS). I also included form G-1145, "Notification of Acceptance of Application/Petition," which specifically asks USCIS to notify me when they receive my application. I also sent proof of my relationship and proof of our intent to marry with the I-129F form: Photos, SMS messages, call logs, emails, and preliminary wedding plans, etc., all help. There was a $340 filing fee. 
March 2015: I received notification that USCIS had received my I-129F form.
April 2015: USCIS sent me a case number. I set up an account on USCIS website to receive case status updates. 
May 2015: Film, already holding a 10-year multiple-entry tourist visa, arrived in the U.S. for two weeks to attend my master's graduation. 
May 2015: Film and I got engaged at Constitution Gardens in Washington, D.C., in front of family and friends.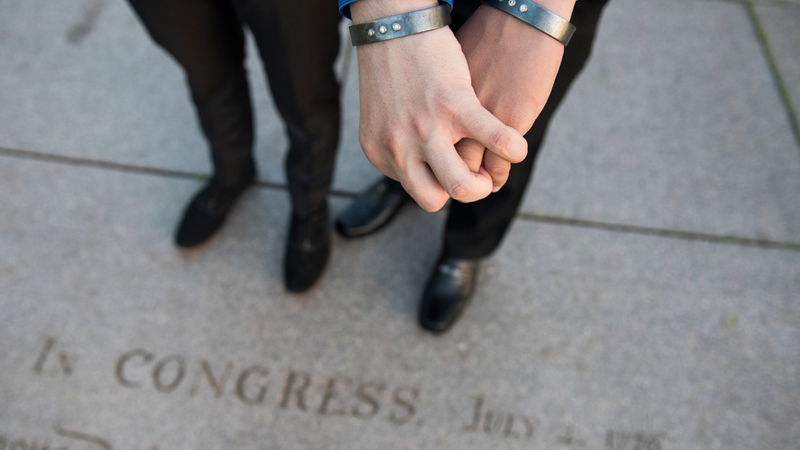 August 2015: I received a letter from USCIS requesting additional supporting evidence that Film and I were in a legitimate relationship and intended to marry. I asked close friends to write notarized letters on my behalf confirming our relationship and that they had heard of or were involved in our pending wedding. I also gathered engagement photos, additional letters, and Facebook posts as supporting evidence and mailed everything to USCIS. 
September 2015: USCIS approved my I-129F petition and forwarded my case to the U.S. Embassy in Bangkok. They also sent me a Bangkok-specific case number (different than the USCIS case number). Whew! That's done and out of the way.
November 2015: Film had not received any information from the U.S. Embassy in Bangkok so he reached out to the visa unit to find out the next steps. The visa unit promptly replied and told Film that his information packet was in the mail. Two weeks later, when nothing had arrived, he reached out again and politely asked for an electronic copy. Film received an electronic copy of the packet; however, he needed a personalized cover letter with his case number for the Royal Thai Police to conduct a background check, which he then requested. In the meantime, we started filling out the other many required forms for the packet together:
Passport (Luckily, Film already had one.)
Birth certificate
DS-2001, specific to the U.S. Embassy in Bangkok ("Notification of Applicant Readiness" form)
DS-160 form confirmation printout (Electronic visa application form)
Marriage status certificate (proving Film is indeed single. Thankfully, he is.)
Lots of color passport photographs (so happy Film is photogenic)
Confirmation printout of the Global Support Strategy Registration (and receipt to show that Film paid the fee [about $375])
I-134 Affidavit of Support (Evidence of financial support)

The petitioner (me) had to fill out this form and provide tax returns, stock holdings, bank statements, pay stubs—anything that proves that Film will not be a financial burden on the U.S. public. This also includes any debt the petitioner might owe (student loans, etc.).

Military records (Thailand has a lottery conscription process; since Film wasn't selected, he had to submit his military lottery exemption records.)
Official translations of any document not in English (i.e., EVERYTHING)
December 2015: The personalized cover letter arrived and Film went to the Royal Thai Police to get his background check started. He was told it would take 31 business days to complete… great.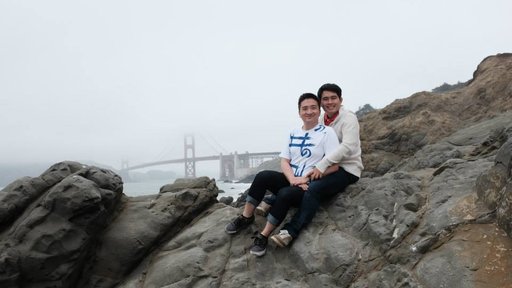 January 2016: Film received the police background report a week early (it's always good to check in periodically; the forms might be done sooner than you think!). He mailed off the packet, careful to separate originals from certified copies (the embassy requires copies of some forms and originals of others). 
*Tip: It's worth paying for priority mail and confirmation* 
Two weeks later: Film received the final packet with four medical forms: DS-2054, DS-3025, DS-3026, and DS-3030. He had already made an appointment to make sure his vaccinations were up-to-date as we knew this was a requirement. He was also given a tentative visa interview date of February 9 in the event all of his medical forms were returned on time. 
*Wait to receive your packets before making any medical appointments* 
February 2016: Film went to all of his doctor appointments. Bringing his passport, photographs, vaccine records, medication lists, and a family medical history sheet (for his reference), he spent close to three hours at one of only two embassy-certified hospitals. He was told he needed a few follow-up tests as well, which would take about two months. The total cost was about 11,000 Thai baht, about $310.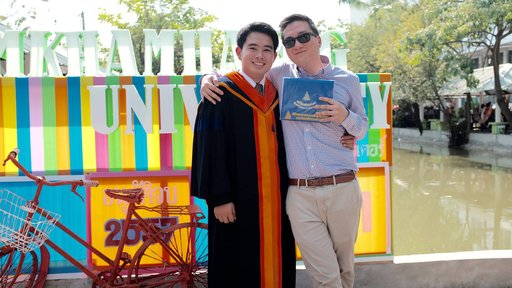 March 2016:
 I went to Thailand for Film's undergraduate graduation (in Thailand graduation ceremonies are held one year after classes end) and we started looking for wedding venues in Thailand. Film received a new interview date for April 4. 
April 4, 2016: Armed with additional supporting evidence of our relationship, our wedding venue confirmation, his medical forms, and some interview prep, Film went to his interview at the embassy. 
That same day (15 minutes later): Film was approved for the K-1 visa! YAY! The embassy kept and processed his Thai passport, authorized the visa, and said they would return everything within two weeks. 
 April 18, 2016: Film received his Thai passport back with the visa sticker inside! Film now has five months to come to the U.S. He also has a packet he absolutely cannot open and must hand-carry through immigration. He will bring the packet, his passport, and K-1 visa to the Customs and Immigration officer at the airport where everything will be checked one last time. Once admitted to the U.S., we'll have 90 days to get married. Good luck to everyone thinking about or going through this process. It's long and tedious but worth it in the end. 
---
The views expressed here are from my own personal experience, do not reflect the views of the Peace Corps and should not be taken as official legal advice. As of May 2016, the following information is correct. If you have specific immigration questions, please contact an immigration attorney. Opinions are my own.