Bringing Peace Corps Moldova home
I tend to fall in love with places. 
Pretty much any place I visit, I can find something charming and imagine a life in that community. This makes sense on a tropical island or in a resort town. But would it hold in Europe's poorest country? 
It turned out that my Peace Corps home was no exception to the falling in love rule. When I arrived in the Republic of Moldova in the summer of 2011, I immediately took a liking to the backyard chickens, cherry trees, homemade wines and slower lifestyle, and I also really loved my host sister. We bonded quickly and I kept dreaming of ways I could someday get her to visit – or even to stay – in the U.S. I kept up this tendency with many of the people I met during the following two years, imagining how we could keep our lives connected even after my "official" time with them was over.
Toward the end of my service I was introduced to the idea of a project in entrepreneurship education for youth, run by the University of Delaware's Horn Program in Entrepreneurship, by a family friend and mentor. He was a wildly successful entrepreneur and was passionate about sharing the possibilities of entrepreneurship. Known as the Diamond Challenge, the project is an original curriculum in entrepreneurship that teaches youth how to build a business like a scientist, and it culminates in a start-up competition. 

I thought it was a great idea and wanted to see if the Moldovans agreed. I made some calls and was quickly introduced to a young organization, Invento, in the capital city of Chisinau. We discussed the idea in relation to the needs of Moldovan youth. The group unanimously agreed to move forward with the project, and I ended up extending my Peace Corps service by six months in order to help. It was through this project that I met Inesa, who I would eventually end up getting to see in America with me.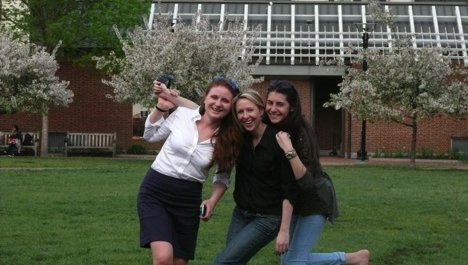 Some months later I had finished my service and had returned home, but the Diamond Challenge was in high gear in Moldova with Inesa leading a group of volunteers and judges, all working together to execute the live-pitch portion of the competition. Because of the talented team we had working on the project, and because the Diamond Challenge was a truly unique opportunity for high school students across the country, we had had an impressive turnout: Over 40 student teams registered and, in February, 14 teams were invited to Chisinau to compete in the preliminary round. Meanwhile, back home in America, I was working hard with Volunteers who were still on the ground and Invento volunteers in Moldova to use our networks to raise funds for the winning team of the preliminary round so they could travel to the USA for the final round of the competition.
The winning Moldovan team was a group of students with an idea called "Bike Now." Two 10th graders, Tudor and Tamara, had come up with a social enterprise importing used bikes from the USA and selling them and spare parts, as well as providing a bike rental and repair business. We worked as a team to make some compelling videos and were able to successfully raise the funds to get them to the U.S. An exciting development for me was that my Moldovan colleague Inesa would join them in the States for a week! It felt like a dream come true.
The team arrived in Newark, Delaware, on April 28 to give their best shot at a $7,500 top prize. They would be up against 13 teams from four U.S. states and teams from Kenya. They did an amazing job and came in third place overall, a completely unexpected outcome. We rounded out their trip with visits to business incubators, co-working spaces and successful technology companies in New York City. Inesa, Tudor and Tamara kept exclaiming, "Wow, you can do anything here!" and "People pay for so many different products and services here!" There were so many wheels turning in their heads.
That was exactly why I dreamed of having my Moldovan friends come to the USA: to understand the immense possibilities in entrepreneurship. Plus I got the chance to show Americans how special the Moldovans are.
I now work at the University of Delaware, and one of my projects is sharing the Diamond Challenge opportunity with high schools students throughout the USA and the world. And I am still dreaming up how to get my host sister here.