Bringing learning to life in a Moldovan classroom
Imagine a small, sparse English language classroom in rural Moldova.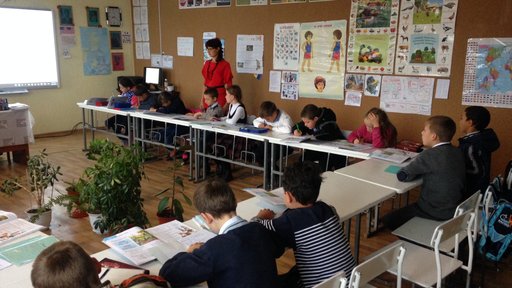 It has an old chalkboard and a homemade "whiteboard" of white paper sealed with clear tape; otherwise it is brightened only by student drawings, a large box of student-made flashcards and flowering plants supplied by the teachers.
The teachers are high-tech, trained and brimming with ideas about student-centered learning and gender equality, but they are defeated by the constraints of the classroom. They, the administration, community, students and perhaps especially the parents — all are anxious for students to acquire English language skills that will lead to future opportunities in Moldova and the wider world, but they need help acquiring equipment and supplies to realize their dream.
While the government of Moldova has made great strides to modernize its English language curriculum, and has invested in technology and training for teachers to increase English literacy, most teachers are stuck in small classrooms, carrying personal laptops back and forth to school and hooking them up to a single projector that can be checked out of the psychology classroom. If the laptops don't work, planned activities are sometimes canceled.
Recognizing this problem, and hoping to expand classroom uses to include after-school English clubs, summer programs for students and Let Girls Learn initiatives like tutoring  and volunteer projects, I came up with an idea.
Through this Let Girls Learn project, we hope to bring the English learning to life by collaborating with the school and community to create a new English classroom and resource center, transforming the room into a place of student-centered learning, gender equality, improved student learning and resources for teachers and community members. In support of this effort, our school identified a larger classroom and committed to acquiring desks and chairs that can be arranged in myriad ways to facilitate language practice and conversational skills. We improved the environment of the room by installing cork on one wall for noise reduction and heat retention and roller shades on the windows to reduce the glare of the sun, and we also improved teaching capabilities by installing a magnetic whiteboard and a computer, printer, smartboard, work tables and bookshelves. We didn't just build a resource center; we helped develop the organizational capacity of the community by involving them in the planning, funding, and implementation of the project on the grassroots level. The school community honed their fundraising skills through collecting contributions, and gained teamwork and practical work skills during the room renovation.
The project will contribute to the development of communication skills between students, teachers and parents, and the community contributions will continue to develop team spirit and a sense of ownership.
Now students will be able to develop their technological comprehension and skills in the classroom with hands-on, individual sessions with teachers using smartboard technology.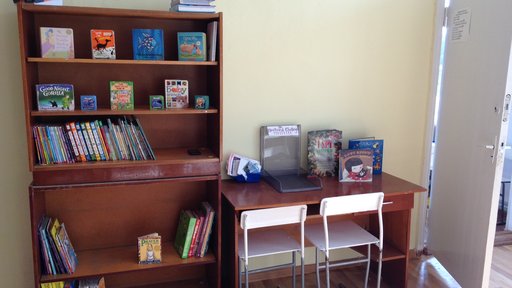 English teachers are already trained on the technology, and school partners and I will conduct training sessions to each class on how to use the smartboard. By encouraging the use of new technology to improve student-centered teaching, we believe the classroom/resource center can be a force multiplier of student learning across areas of study.
Our greatest concern in all of this was timing — getting everything accomplished by First Bell on September 1. But where there's a will, there's a way.
After the ceremonies of First Bell, our sixth grade class came in and gasped. They wouldn't leave until they had checked out some library books. And the other classes have reacted in the same way.
We can already see that capacity building — in terms of English language skills and critical thinking— is going to be a major part of the project results. And because my partner teacher/project manager has, in just a few days, already enriched her technical expertise and shown enthusiasm with her colleagues for "showing them what's possible" with technology, I anticipate sustainable use of the resource center.