Bringing the African diaspora to Central Asia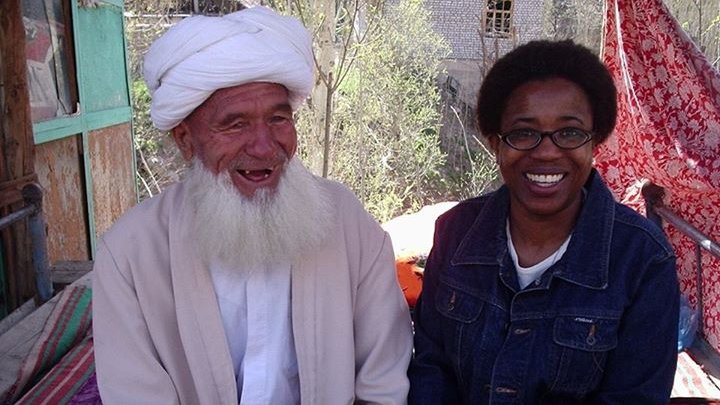 Jan. 28, 2016
During her time as a Peace Corps Volunteer in Uzbekistan, Vickie Nailing saw only a few black people other than herself. 
Her looks drew attention, both positive and negative, throughout her three years in the Central Asian nation. Skin color defined her experience more than any other aspect of her service.
"For nine out of ten people, I was like a celebrity," Nailing said. "But sometimes I felt like a freak in a freak show. My greatest challenge was the dichotomy, me being black and them not. I had people coming up, staring at me, laughing, touching my hair."
Nailing was determined to overcome this challenge because of her dedication to service. Prior to the Peace Corps, the California native spent many years doing charity and missionary work to help families in need through her church.
"I worked with three charities," Nailing said. "I went to Mexico to give out food and clothing in the barrios. I was also a counselor for a day camp in San Francisco's Chinatown through the Cameron House, which ministers to the Chinese. Finally, I worked with a grassroots civil rights church in Mississippi for several years, working with African-American families."
Nailing began her Peace Corps service teaching English in 2002. She lived and worked in a city in the fertile eastern area bordering Kyrgyzstan. Nailing taught students ranging in age from seven through 17 at a charter school specializing in languages.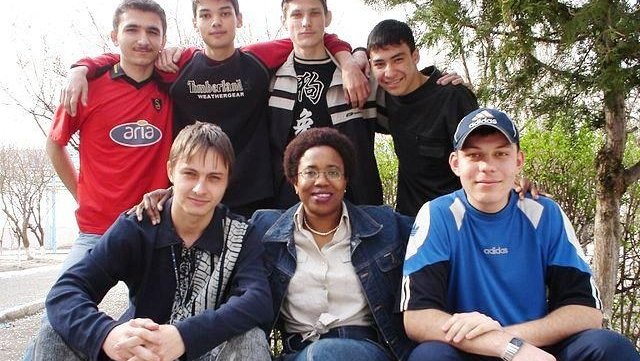 "I expanded their English resource library," Nailing said. "I wrote a Small Project Assistance (SPA) grant to purchase a TV and VCR, and videos like 'Sesame Street' and National Geographic. I also wrote a letter to get free books. The library was used by English teachers and students."
Nailing was surprised and pleased to receive a great deal of support and resources from her community.
"The first day that my principal met me, she gave me a coat because I didn't have a good quality coat," Nailing recalled. "That thing kept me warm. She also gave me a TV with a VCR and a refrigerator. A lot of Volunteers never got that treatment."
Nailing also said she found support in trying to address her community's lack of understanding about her skin color. She proposed an African heritage festival that would educate locals about the African diaspora.
"The principal was 100 percent on board, which made my experience amazing," Nailing said. "I collaborated with other Volunteers and gave them different jobs—one girl knew all about African dance, and taught that. We had a cake walk. A DJ played jazz, blues, Motown, and hip hop. The students picked a country, and each had a booth with food. It was a huge success."
The festival grew to a citywide event with the participation of about a dozen schools. Jon Purnell, then-U.S. ambassador to Uzbekistan, also attended the festivities and ate a plate of jollof rice served at one of the West Africa booths.
"He was highly impressed with the event," Nailing said. "When I ended my service he wrote me a letter of recommendation."
Nailing was so enthusiastic about working with her community that she extended her service after an initial two years. She was disappointed when the program was suspended during her third year due to political conditions. With the goal of returning abroad to teach English, Nailing is currently enrolled in a Teaching English to Speakers of Other Languages (TESOL) certificate program at California State University, Chico.
Nailing said the "dichotomous" experience of race during her Peace Corps service remains an issue that is important to her.
"My hope and goal for the Peace Corps is to raise awareness of how important training in diversity is," Nailing said. "It needs to do a better job of helping white Volunteers understand how privileged they are. I had an argument with an Uzbek woman on street, 'You're African.' 'No, I'm American.' I'd like to be part of that training."