Breaking the roles when serving as a couple in Morocco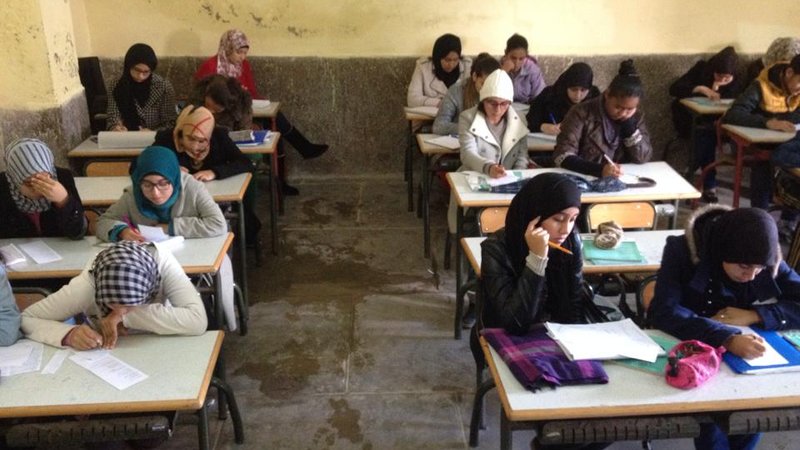 June 28, 2016
Olivia has a favorite thing to say: "I don't cook."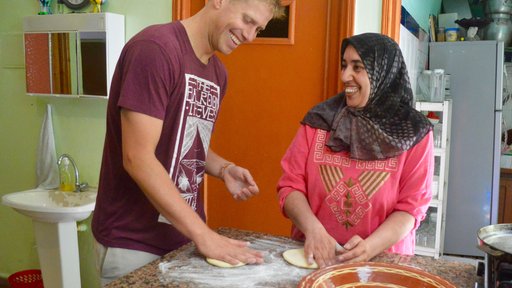 Ma-kan-taab-ch mezyen. Kabir. Kabir kay-taab. 

"Kabir cooks."
 It's a hit. The room erupts; everyone enjoys it, the strangeness of it. I chime in. 
 Hadi ma-kat-aarf wallo.
 "She doesn't know anything [about cooking]."
 Another hit. 
Often, attempts at humor with limited language can fall flat but this one, in particular, lands every time. Just about the world over, and definitely in Morocco, the gender roles are pretty clearly defined — the kitchen is the woman's domain. 
Odds are, we are dismissed as foreigners, a third gender not restrained by Moroccan social statutes but still, in a lot of ways this is the point, to represent a new perspective. This is not the only role we serve as Peace Corps Volunteers in Morocco but it is the one we find ourselves in more often than not.
Morocco has incredible diversity. Its landscape runs from the lush Mediterranean coast in the north to the sands of the Sahara in the south, with the breathtaking Atlas Mountains governing the center. Its linguistic and ethnic diversity ranges from a number of ancient indigenous Amazigh peoples and dialects to Darija, the Moroccan form of Arabic, to metropolitan cities like Casablanca and Rabat still teeming with French. It also has vast developmental range, where on one hand the city of Essaouira is fully matured with good roads, drinkable tap water and high-speed internet, yet on the other hand villagers an hour east can still be without electricity and spend hours a day retrieving water from the river. 
However, in the midst of such immense variety, there are also powerful consistent qualities that run nationwide.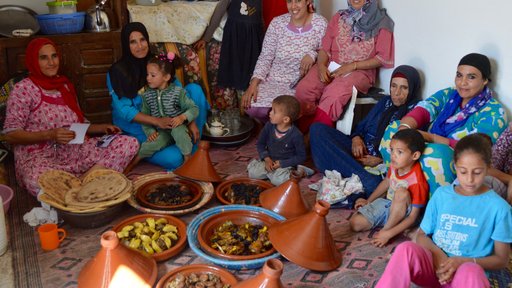 Xubz — bread — is definitely one. While some regions do it differently (and everyone's mother makes it the best), it is a staple nearly as universal as water.
Tea is another, mint or otherwise.
Islam, certainly. It is the state religion, taught in schools and adhered to in most public and social spheres.
Hospitality, another, is as Moroccan as baseball is American.
And what is the thing that binds them all together? As with any society, the links include gender roles and social etiquette.
To begin with, the role of women in Morocco is changing. Moroccan girls today have improved access to education, broadened opportunities in the workplace and generally greater social freedom than that of previous generations. That does not mean, of course, that more improvements cannot be made. Our experience as a married couple has tended to reflect a classical gender structure with certain parameters for girls and women that are not the same for the boys and men.
Men have a task: provide.
Women have a task: nurture.
In these traditional roles, even in more progressive places like Essaouira, men come to dominate the public sphere. You are more likely to see men and boys outside past dark. If a family's child drops out of school while another remains, odds are it was their daughter. If a family's child plays a sport, odds are it is their son.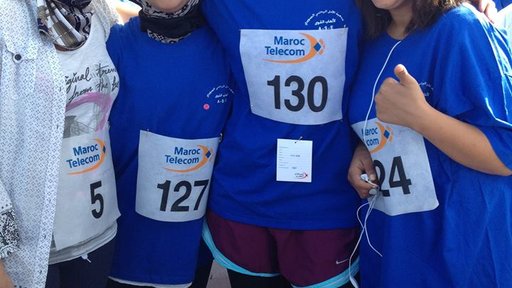 As for marriages, they are often still arranged on some level between families. They rely heavily on a man's ability to provide and therefore regularly result in an age gap. Younger women often marry an older man who has had time to accumulate the necessary funds and status.  If a woman or girl is still in school, marriage will effectively end her education.

This is not a new circumstance. The arc of human history does not tell a very strong gender-neutral story. However, following its current course, it does tell an optimistic one — whether that's an American story or a Moroccan one. We are in the early beginnings of an exciting new Moroccan chapter. It will not be without challenges but it has certainly already begun. Recent laws regarding the rights of rape victims, outlawing child marriages and regulating child labor have been adopted. Boarding houses allow for girls (and boys) from rural areas to attend school without having to go back and forth far distances each day.
Now, with this new chapter and newfound mobility, has there ever been a better time for a Youth Development Volunteer to be a departure from the norm? It is not ubiquitous, by any means, but has there been a time in recent history when young women feel free and empowered enough to look beyond the classical gender structure? No.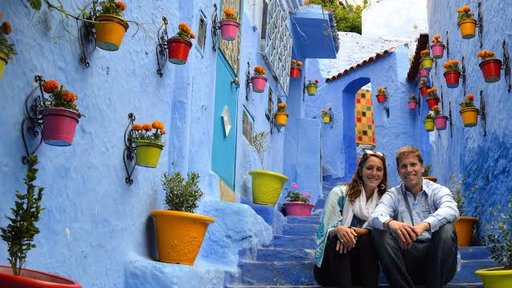 Olivia has done a number of successful gender-specific programs (see Essaouira Empowers, GLOW Camp, Healthy Lifestyles Women's Workshops, Let Girls Learn, Girl Rising), always with enthusiastic participation and community support. Men and woman both come out to advocate for the ideas she presents, but the numbers in the seats pale in comparison to the friendships Olivia has fostered and the person she represents.
At a time when young Moroccan women are outlining new territory for themselves, Olivia and all the other female Volunteers in Morocco illustrate new perspectives and roles. They exemplify a variety of notions regarding what a woman is, should and can be. And they do this not through detailed instruction, but by being, above all else, who they are — strong, public, dynamic, educated women.
Are these mass movements? No. They are small, subtle signals sent into the links of the community, of the friendship, to either be received or not, but that doesn't mean they can't have an immense impact upon the future.
 I am always grateful when I get to play my part in this elusive role we play — ourselves.
Kan-faddel ntaab, aziz aaliya.
"I prefer cooking, I love it."
 Walekin, wesh yimken taallemha kifesh, aafak? Hit dak chi, ma-yimken-ch liha.
 "But could you please teach her [how to cook]? Because it is impossible for her."
Olivia and Kabir are Youth Development Volunteers serving in Morocco. Both graduated from Emerson College in Boston where Olivia earned a degree in Political Communications and Kabir in Writing, Literature and Publishing. As part of their work with youth they have engaged in Let Girls Learn programming, including leading Girls Leading Our World (GLOW) camps. They are excited to join First Lady Michelle Obama and Peace Corps Director Carrie Hessler-Radelet in celebrating Let Girls Learn in Morocco this week. Learn more about the special visit here. Check out more on the couple's project on their blog, K&O Travels.