Boston-area grads focus on education and agriculture in Africa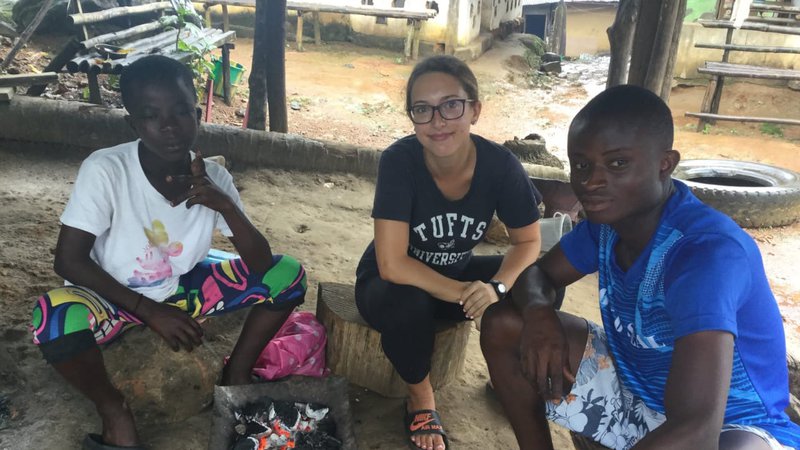 Nov. 13, 2019
During Peace Corps' history, the Boston metropolitan area has consistently ranked as one of the top Volunteer-producing areas in the nation.
As such, many of the colleges and universities from the region are also top-ranked. These Volunteers serve across the globe, specializing in many different occupations that help host countries meet the goals of their programs. Two graduates of Boston-area universities are currently serving in Western Africa, one in Liberia, the other in Senegal. With respective projects based in education and agroforestry, the Volunteers are creating an impact in their communities through experience and perseverance.
Claire Hard
"Your job as a teacher is just to give the skills and the tools, but you really want people to think for themselves; it's just so much more powerful."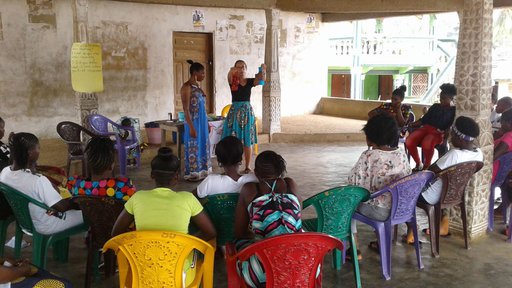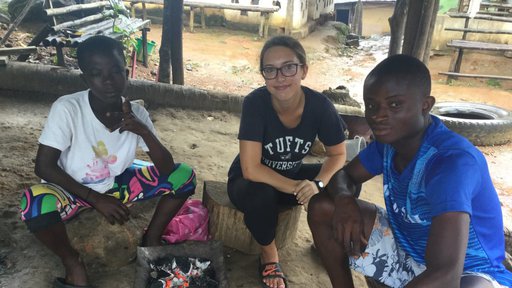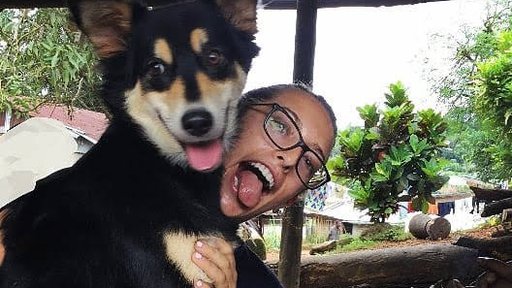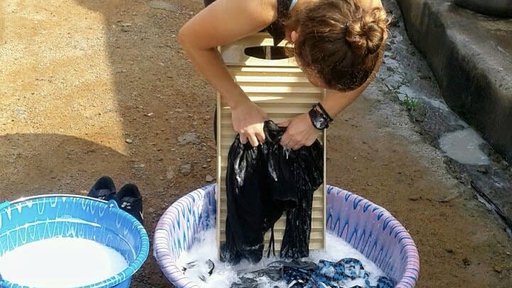 Soon after attending Tufts University, Claire Hard was looking for meaningful work that also would let her travel outside of the New England area. Having grown up in nearby Connecticut, she was ready for a change. The Peace Corps came up in conversation when speaking about it to a friend. From there, she started to dig into service a bit more and realized volunteering was the path she wanted to take.
Claire was open to any location around the globe, ready to enter service without preconceived notions of any place over another. With a degree in economics, some of the volunteer opportunities teaching mathematics were obvious choices. The position that she would eventually apply to and be selected for was teaching middle school students in Liberia, a country that she was completely unfamiliar with up until that point.
"To prepare, I looked into the food and history and did a ton of research," she said. "As an American, it kind of shocked me how little I knew about Liberia, because now I understand the history between Liberia and the United States. Before Emancipation, many free African Americans and previously enslaved people in America either came to Liberia or were sent here to start a colony where there was already a population. That wasn't something I learned in school."
That research helped with cultural understanding once Claire arrived in country. In Liberia, the most common language is Liberian English, but she also began learning a local language, Vai, used in the region where she would be teaching and living. In the coming months, Claire adopted a dog, Kola, named after a type of nut used in Liberian welcome ceremonies. Also during her transition, Claire found a love of learning cooking methods used in her community.
"Everyone was so welcoming and excited to teach me," she said. "Learning to cook soups has been really cool. My favorite is a peanut butter soup, which is a common food in Western Africa. Another favorite to cook are potato greens, which I have been improving on weekends, so that's been fun."
In the classroom, Claire's students range from as young as 12 to some in their mid-thirties, though the average age is around 16. As in any educational setting, Claire notes that everyone has different learning styles and she often tailors her messaging for different pupils. She also makes use of any available resources. In a recent lesson, she taught ratios and proportions to the class by collecting rocks from the schoolyard and having the students create distribution piles.
Gender empowerment is also an important part of the Peace Corps mission in Liberia. As a secondary project this July, Claire partnered with other Volunteers in the area to host a weekend Girls Leading Our World (GLOW) Camp. The camp brought in 30 students to discuss leadership, confidence, challenging gender stereotypes, and sexual reproductive health. One student struck a chord with Claire.
"The morning the camp started we found out one of the girls wouldn't be able to make it, so we were trying to find a fill-in last minute," she said. "One of the Liberian teacher's younger sisters, a sixth grader, was able to come in her place, and she did so well. She came in super shy, but by the end she was leading group presentations, asking all the questions, and teaching other students. Now she's in the seventh grade, and I'm teaching her in math. She's even taken the lead to start a girls club, and it's been cool to see her become this awesome leader."
In Claire's last year, she is working with her fellow Volunteers and community members to plan additional GLOW Camps as well as a similar weekend for boys.
For those considering service, she says, "Stay humble. You're not going to change the world alone."
Tavish Fenbert
"You need to be prepared to slow down and make your own schedule of how you are going to integrate with your community and do your work. Realize that there are many times during service you might be uncomfortable, but embrace it."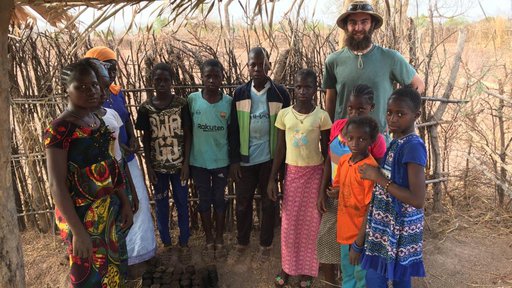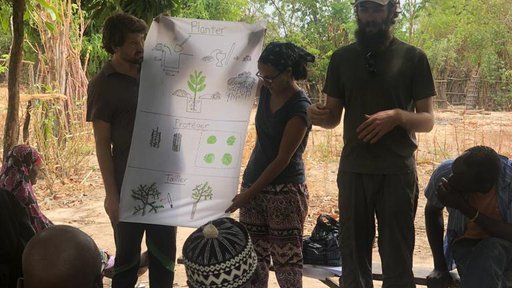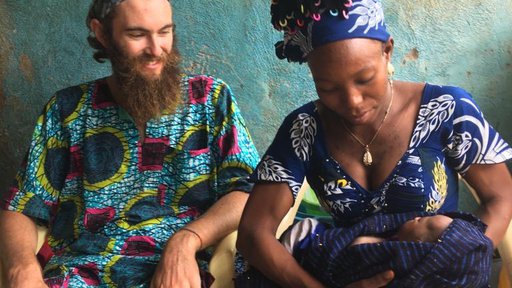 For Tavish Fenbert, the idea of serving in the Peace Corps wasn't completely novel to him. Relatives, an aunt and some cousins, had served. Due to this, he felt fairly familiar with service while growing up, though it wasn't necessarily a goal when he made his way to Northeastern University in Boston to pursue a degree in mechanical engineering. A study abroad program in India, however, would soon catalyze his decision to apply.
"I did my last co-op program at the Indian Institute of Technology Bombay in Mumbai, and I was working on designing food-processing technologies for rural areas," he said. "Living abroad during that time for five months is when I decided I wanted to do so for a longer period of time. Knowing that Peace Corps was an option, this is when I became actively motivated [to apply]."
When he started scoping out available opportunities, he chanced upon a Forestry and Environment Change Agent position in Senegal. After he was selected for the position, using audio lessons, he spent the time before leaving brushing up his skills in French, which is used in much of Senegal alongside local languages.
During his first ten weeks in country, he went through the training of local customs. He also lived with a host family that spoke Diakhanke, the local language spoken at the host site he would be working at for the two years after the initial training courses. When he arrived at the permanent site, another currently serving Volunteer helped introduce him since he had only recently been introduced to the language.
"She helped me greet my [new host] family, and we brought my bags into my hut," he said. "Around one in the afternoon she left, and then I thought, 'Well what do I do now?' That was kind of a shock at first. And then gradually, I figured out how I could go around and meet people, and who would be best to work with on my language skills. There's so much time in the first two months given for learning the local language, and that is the key for doing your work successfully later."
Now a year into his service, Tavish has a pretty firm grasp on the language. One saying that often finds its way into his repertoire is "ning Allah sonta," which means "God willing," and is commonly attached to the musings of daily life. Having his skills now much firmer intact aids his ability to perform his primary work objectives.
He works through three main goals: environmental education, tree planting/maintenance, and natural resource management. Much of this involves working with kids and adults to plant trees in their compounds. Most of the trees are fruit trees (mangoes and cashews) and also trees for live fencing. By using live fences, this helps prevent trees being cut down or stripped bare for similar uses. Often the types of trees planted are thorny, and this helps prevent animals from roaming into the compounds.
Soon, he also will take part in more class-based environmental education for young audiences, particularly in the 11–12 age group. He also helps communities build mud stoves, a combination of clay, manure and dried grass for cooking. This uses much less firewood and the communal usefulness is felt immediately.
"One of the local people I work with serves as bridge to the community and technical counterpart, so I have done much planting with him and see him often," he said. "I built a mud stove with his wife. She gathered the materials and pounded the clay, and I taught her how to build it. This was in March of this year. Almost every day since, she uses it to cook. She tells me, 'Oh I love this stove! I don't have to use very much wood and it cooks really fast!' So this work I am doing is personally affecting her life in a tangible way."
There are dual rewards to his work: he can see everyday changes, but his agroforestry work will also have long-term benefits. In fact, a past Peace Corps cohort recently visited him and remarked how amazed they were to see the compound so verdant with trees and vegetation they had helped plant years before. Tavish looks forward to someday seeing the same literal fruits of his labor.