Bletët e Vërtetë/Women's Beekeeping
In Kosovo, Peace Corps education Volunteers James and Rachel Wirt helped form Bletët e Vërtetë, a women's group focused on economically empowering women through beekeeping.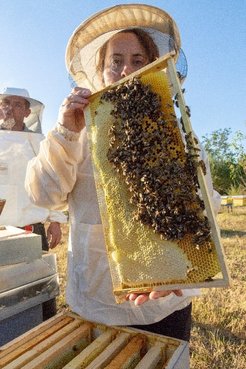 James and Rachel wrote a United States-funded grant to secure supplies and to hire Jehona, a Kosovar woman who manages approximately 700 beehives in western Kosovo.
Jehona is currently training nine women on how to properly bee keep, make hive frames, administer medication and diagnose the health of bee hives, and manage a business.

In Kosovo, only 11.5 percent of all businesses are owned by women, but this hasn't stopped Jehona. Through the money she earns by training the women's group, she is reinvesting in her own business and hopes to be the first-ever bee food producer in the country.

The project above was funded through the Small Project Assistance program (SPA). SPA is a joint collaboration between USAID and the Peace Corps which allows Peace Corps Volunteers to participate with USAID in development efforts, helping communities to implement small, self-help activities, in sectors ranging from health to agriculture to small enterprise development. Click here to learn more about SPA.