Blessing in disguise: How a miscommunication helped provide water security for over 1200 people in my village
It is a chilly February morning and my breath rolls out in white puffs, mirroring the early fog that crawls through the valley below.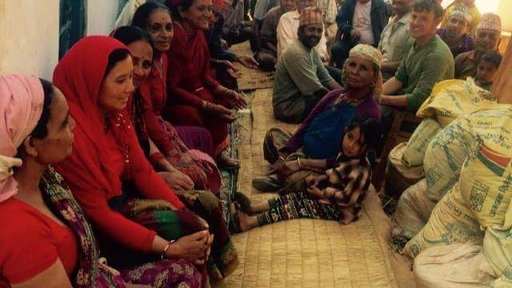 I am standing with a local farmer in his field, planning how to give today's training on biodiverse gardens, water security and tree planting. We are going to be planting an avocado seedling, an under-appreciated and yet an extremely healthy fruit that grows well here in the hills of Nepal. Suddenly and unexpectedly, groups of children start to appear, trudging through the morning sunlight, until I am surrounded — 25 pairs of big brown eyes stare at me, eager to learn about today's lesson. 
A few days prior, I had organized the materials to gear this training towards adults, and had visited 25 houses to invite the families to a "water and biodiversity" training. "This is it," I think to myself. "This is the moment to practice flexibility — to practice the real lessons that we learn throughout our Peace Corps experience." 
So, with a smile and a shrug, I readjust the training to be geared towards kids, and it turns out to be a big success.
My name is Nathan Chaput and I am working as a Peace Corps Volunteer in Nepal. My home is in Vermont, where I grew up working on my family's dairy farm and where I cultivated my passion for agriculture. I now have been working for over 18 months in the Gulmi District as a food security Volunteer. 
Recently, on International Volunteer Day, I was honored with the International Volunteer of the Year award for Nepal. This was made possible thanks to a water conservation project that I created as well as other work I have accomplished in my service. Like many experiences in the Peace Corps, my largest and most successful project came unforeseen through miscommunication, and became the product of practicing flexibility and humor. 
But let's get back to my training…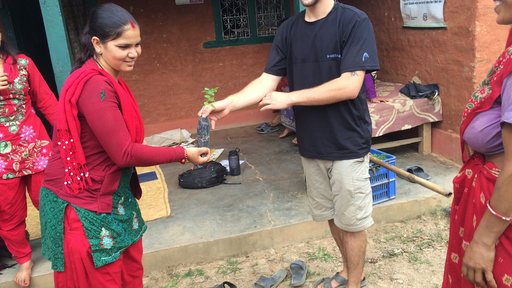 While teaching the biodiversity training to the hordes of children, I notice two men roaming nearby but not paying any attention. After the training is over, I approach them to ask why they came but before I can get a word out, they tell me, "Come up, we are late for the meeting." 

What meeting?!  I think. But once again practicing flexibility, I decide to follow along. As we approach the top of the field and enter the backyard of a house, I see the same 25 people I invited the day before, gathered around and staring directly at me. "You're late!" they say. 
It turns out that while I was informing everyone about the training the day prior, with my beginner language skills people only understood the words "problems we have with water" and "trainings to fix this problem." 
This miscommunication was the catalyst for the community to voice their concerns about water security and a need for improved water sourcing and conservation — the official start of the water conservation project.
After I got caught up on the ideas and community's goals for the new project, we decide as a community to replace 2.5 kilometers of the water line with larger piping to increase water pressure and decrease limescale buildup. For sustainability, we are building three more washout stations for easier maintenance, creating a "basket fund" for future investments and implementing agricultural-based trainings to improve water conservation and improve biodiversity.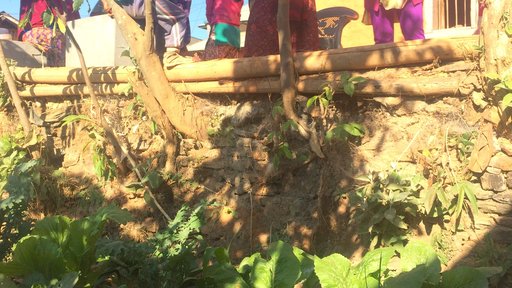 The village has now been separated into five areas, where five lead female trainers are taking the initiative to learn the techniques, prepare the training site, assemble people and assist in training their communities on water conservation. After a successful initial "training of trainers," the next four days I provide trainings for over 110 people in my community on garden design, proper uses of mulching, biodiverse and layered gardens, and the importance of recycling greywater. There is an overwhelmingly positive response to these trainings as people see the results.

As the project has been getting underway, I also have been focusing on increasing access to diverse and highly nutritious foods. I am training more than 50 people on propagation of fruit trees by air-layering, providing my community with more than 500 kale plants and distributing over 200 moringa tree seedlings (with a tree-planting training, of course). Moringa trees are beneficial for increasing nutrition when added to food and increase livestock's milk production when used for fodder. There are always opportunities to help out and add to the community.
Before this project, my work had been going along well, and then the busy festival season arrived. Through this festival season, I managed to work with five different schools nearly an hour's walk away, where I found out that teachers and principals are also community leaders, and children have a hunger to learn. I coordinated a health and hygiene class with all schools, where I provide training on hand-washing to several hundred students and nutrition trainings to more than 100 of the same students. It is difficult coordinating with all five schools, but the payoff is worth it. Months after the training children still call my name from afar and, like kids showing off their expert air-guitar rendition, they give a five-star performance of pro hand-washing abilities. 
Moments like this are worth all of the effort, all of the flexibility and shrugs, and remind me of the best decision I have made in my life: to join the Peace Corps.