The bird bridge between Mexico and the U.S.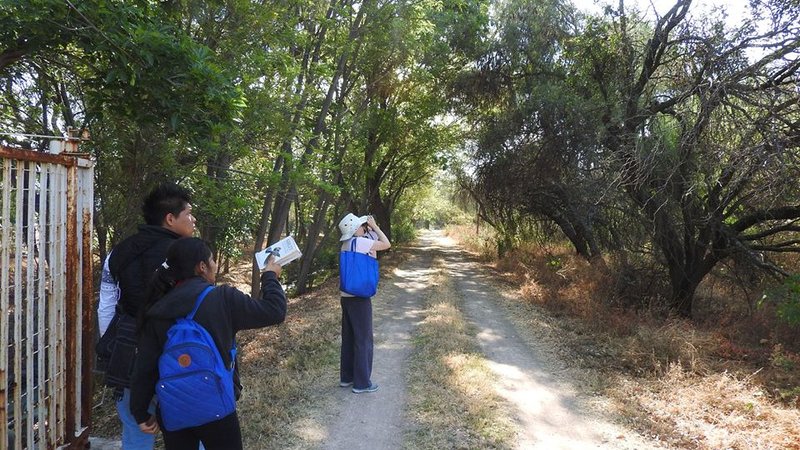 June 18, 2018
Binoculars, lunch, water, hat and sunscreen. Check!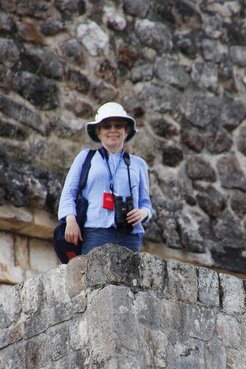 It is just after 7:00 a.m. on a Sunday as I head out the door. Down to the street and over to the park, I wake up to the new day with each step. Then I spot my birding friend Efren.
"Hola, buenos dias!" we both say with smiles. 
 "How many students are birding with us today?" I ask in Spanish.
 "Seven," replies Efren. 
The college students arrive, we pile into the van and soon we are on our way.
And so starts our birding adventure for the day to a water reservoir in the state of Guanajuato, Mexico. We choose different locations that are abundant with birds for each trip. We find birds, we count birds and we discuss interesting facts about birds... Yes, we have a passion for birds. 
My fascination for birds started in my backyard in the U.S. several years ago. Now I take my passion wherever I go. When I found out I was going to serve in Peace Corps Response in Mexico, I immediately went to my local birding store and bought some Mexican bird guidebooks. 
While my main projects in Peace Corps Response include empowering Mexican scientists to legally protect their new technology with intellectual property and improving their English capacity, I have found that birds have created a strong bridge between Mexicans, U.S. citizens and myself.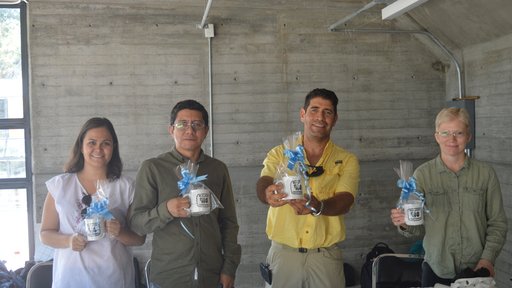 One such link between Mexico and the U.S. occurred when Efren from my Mexican bird club emailed me a photo of a yellow-colored finch that is usually red. I contacted some scientists at the Cornell Lab of Ornithology in New York and asked about the yellowness of the bird. The yellow house finch was confirmed, and a Cornell ornithologist kindly explained the yellow color was due to a lack of carotenoids in its diet.

Another link occurred when I recently went on an archaeology trip from Cancun to Mexico City. As luck would have it, my Mexican tour guide was also an avid birder. While we were walking among the Mayan ruins, such as Ek Balam and Chichen Itza, we had one hand on our binoculars always ready to spot anything in the trees that had wings. I wrote an article for the Maryland Ornithological Society after the trip so Maryland birders could delight in the species we came across in Mexico.
I also had the opportunity to link our countries as a Bird Ambassador on Ray Brown's Talkin Birds radio show. Earlier this year I had a short interview telling birding radio fans across the U.S. about why I like being a Bird Ambassador in addition to my role as a Peace Corps Response Volunteer.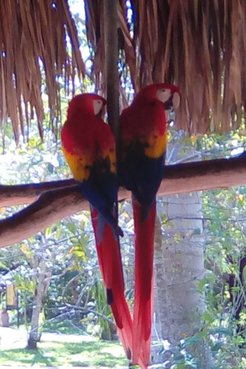 On weekdays, I often go birdwatching at the Mexican science center where I volunteer. Scientists come up to me as I am peering through binoculars and ask questions, start to leave and then come back with more questions about the birds. I delight in such discussions because I know they are connecting with nature in a way that might inspire them to help protect it in the future. 

At our science center, we formed a small group that is interested in putting up bird signs with a conservation message in our local park and botanic garden. We are currently in the process of asking the city mayor and local businesses to help fund our project.
The bridge between Mexico and the U.S. has been crossed many times with birds during my Peace Corps Response experience. Birds aren't the only ones migrating between countries – so are friendships and scientific knowledge.
Back at the water reservoir, Efren announces to our bird group that we need to head back to the city. As I stare at the vast stretch of water admiring the ruddy ducks, Efren is looking at his list.
 "I think we set a record for the number of species today," he remarks.
 I smile. Every day is a good birdwatching day. The record number of species is a bonus.