Bikes for Lesotho: An RPCV shares his love of bicycling with the Mountain Kingdom
It's been over 25 years since my Peace Corps service in the Kingdom of Lesotho, in southern Africa. 
Since then, I've made the long trip back three times to visit my village of Seforong in a beautiful mountain valley next to the Senqu (Orange) River. Seforong remains a very special place to me. Decades later, I continue to receive heartfelt hugs and am treated as an honored guest whenever I return. My Sesotho language is still conversational and it allows me to travel confidently and to surprise people. All that hard work to learn the language is still paying off!

In 2012, I was troubled to learn that the estimated number of children left orphaned by HIV/AIDS in Lesotho had reached 100,000. When I was a Volunteer from 1989-92, and on return visits, I saw the incredible resilience of orphaned children experiencing joy and enthusiasm in the midst of hardship. I wanted to do something to help those kids experience fun.
The answer came to me in the middle of the night–BIKES! I realized that I'd never seen a bicycle in Lesotho. Not even one. I wanted to send bikes to these orphans for the mere purpose of providing kids with the joy of riding. I didn't know how, but I'd figure it out.
I searched online for "bicycle" and "Lesotho" and discovered that a foundation in California had just sent a few dozen bikes to an entrepreneur who had established the first bike shop in Lesotho.
I contacted the foundation and asked how I might help send bikes for kids. They said that they could arrange to send 400 donated used bikes if I could raise $20,000 to ship them. I convinced my friend Jeff to help to raise this amount and Bikes for Lesotho was born!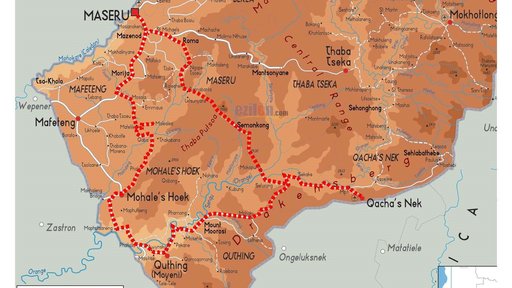 My Peace Corps experience provided me with the unique ability to undertake this project. Besides speaking the Sesotho language and knowing the culture, I've got friends that take great care of me each time I visit. Lesotho and the needs of the Basotho people are often on my mind and being able to talk and plan with my friends using Facebook and WhatsApp has been a huge improvement over the letters that used to take weeks each way.

We wrote pamphlets, created a Facebook page, made presentations, and spoke with reporters. To inspire contributions, Jeff and I announced that we would ride our bikes 350 miles in high altitude around the southern half of the Kingdom. On our bike ride, we took a circular route from the capital of Maseru, through the towns of Morija, Mohale's Hoek, Quthing, Mount Moorosi, Seforong (the village where I served as a Volunteer), Semongkong, Roma, and back to Maseru. 
Over the week, we saw only two other bicycles. One was being shared by two boys who told us that they were training to participate in a bike race someday. Everywhere, people wanted to see our bikes and they asked for us to help bring bikes to their area. As expected, everyone was extremely welcoming and the scenery is even more stunning by bike. It was a beautiful and challenging ride that I will never forget.
Our trip was successful and we were able to raise the $20,000. At the end of our trip, we attended a race that was hosted by the men and women of a local cycling club. The students of a nearby elementary school were excused from classes to spectate and their cheers were deafening. Aside from the race were a dozen young kids learning to ride, some even experimenting with trick riding. Some of the older kids were giving the younger ones tips and encouragement. It was a powerful experience to know that most of these bikes were provided by our project and to see the community that had formed around their use.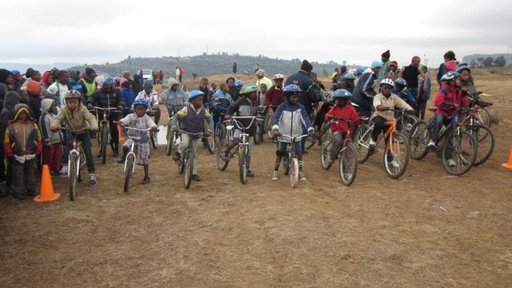 The funds that we raised paid for shipping the first container of bikes, which arrived in Lesotho in June 2013. Ever since, Bikes for Lesotho continues to send other shipments. Contributions include not only bikes, but also funds for shipping. We now have an agreement with multiple entrepreneurs in Lesotho whereby the entrepreneurs agree to give at least 100 bikes to orphans via orphanages and schools free of charge, and are able to sell the rest. In this way, a self-sustaining business is possible but with a charitable component that serves our original mission of providing bikes to orphans while also creating tremendous goodwill and publicity for a bike shop. We are optimistic that additional bike shop owners will succeed with the same charitable/business model, and our plan is to sponsor the initial shipment to new entrepreneurs that come forward in each of the district capitals that have no bike shop. In this way, bicycling will spread sustainably throughout the rest of the kingdom.

The entrepreneurs are also teaching kids and others bike safety and maintenance. Bicycling has become one of the most closely watched sports in Lesotho and people are anxious to receive a bike. 
I am grateful to the Peace Corps for providing me with an impactful job assignment all those years ago, for the excellent training and support during my service, for my continuing close friendships, and for my ability to now help the Basotho people through bikes. What started as a simple dream to send some bikes has since grown into a labor-of-love project, now counting 5,000 bikes sent to Lesotho. I plan to keep doing this for as long as there's a need for bikes in Lesotho.