The best seven months of my life
Working one-on-one with self-motivated faculty and with students who wanted to learn how to do research will be the most rewarding aspect of the Peace Corps Response experience.
"Wanted: Qualitative research specialist for seven-month position at Ifugao State University."
Two people sent me the link to the Peace Corps Response Volunteer job description, writing, "Did you see this?" and "Isn't this what you do?" I applied for the job, outlining my qualifications and tried to make the case that I was a good fit for the position. It was partly a way for me "to dream the impossible dream," and partly a feeling of what my Filipino friends later told me was destiny. I think they were right.
I got the position, and I was assigned to live in a province in the middle of Northern Luzon – a 10-hour bus ride north of Manila. When the Spaniards colonized the Philippines, they left the Ifugao area relatively untouched — some say because of the headhunters, others say because of the extremely rugged terrain. Today, the Ifugao people express pride that much of their culture has remained intact, including several indigenous tribes, multiple dialects, traditional dances, spiritual weavings, wood carvings, and the Rice Terraces of the Philippine Cordilleras, a UNESCO World Heritage site.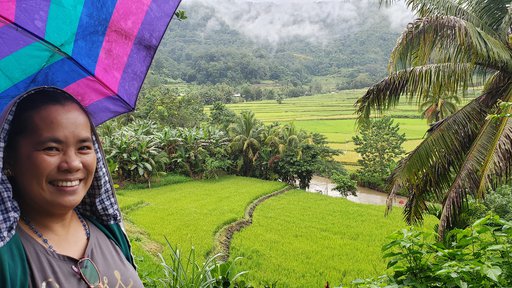 The land is sacred. You can feel it when you trek through the foothills and mountains. The air is clean and fresh. The people live close to nature.
There is rice for breakfast, rice for lunch, and rice for dinner — even rice desserts and rice wine. There is also the intoxicatingly fragrant smell of growing rice. The people are welcoming, and though they sometimes are leery of outsiders, they invite you to weddings and funerals, where you are given a front row seat to the slaughtering of pigs and caribou. The entire community is fed.
The job description was clear: Lead trainings for faculty and students on conducting research and consult one-on-one on their research projects. After seven months working and living in rural Philippines, I would add the following: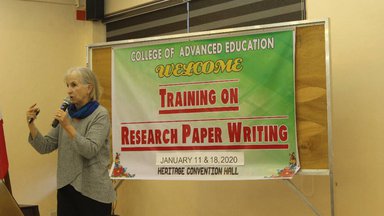 Every one of the research proposals you read will involve Ifugao traditions and customs. They will allow you to peer through a small keyhole into a culture within a culture and you will receive insight into Ifugao courtship rites, trial marriages, weddings, funerals, post-death bone-cleaning rituals, houses, chants, former headhunters, and the worship of anitos.
Your mantra will be "adapt and see the beauty," and you will. Each day will be a meditation on life and a reminder about the importance of grit and resilience.
Every interaction with faculty and students will be challenging and enjoyable, perplexing and fun, interesting beyond description, and simply priceless. Working one-on-one with self-motivated faculty and students who want to learn how to do research will be the most rewarding aspect of the Peace Corps Response experience.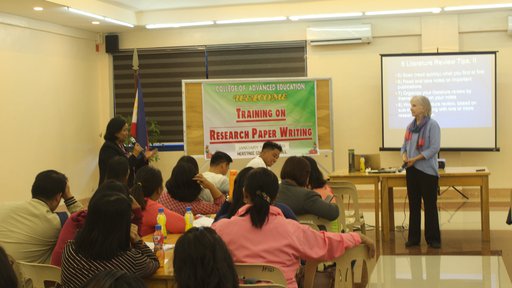 Some faculty will run in the opposite direction when they see you, but most will embrace what you have to offer. One will say, "you seem to really want to help us." Another will tell you, "Maybe it's because you're older, or maybe it's because you're really into research, but it seems like more than anything, you are here for us."
During the best seven months of your life, you will be awed by the sunrise on your morning walks and invigorated by the cleansing rains. You will be surprised by the candid discussions and laughter — lots of laughter — with new friends. You will be jolted into realizing that we humans are not that different after all. You will have a clarity of thought you have never had before and a deeper understanding of the hurdles that must be jumped to level the playing field for researchers around the world. You will appreciate the inspiration behind the Peace Corps: That cultural exchanges bring mutual understanding and world peace.