Being A Global Citizen - Africa and Asia Combined
May 31, 2019
As a Vietnamese American returned Peace Corps Volunteer, my experience serving from 2013-2016 in Swaziland, a small landlocked country in southern Africa, was incredibly unique.
When I first entered the border crossing into Swaziland, the agent looked at my passport, then at me, and asked, "Sisi, why do you have an American passport when you are one of us?" Without knowing it, my surname looked very similar to local Swazi or South African surnames. My surname, Nguyen, is one of the most easily recognizable Vietnamese surnames. In Peace Corps however, the name gave me an unusual connection to my community.
My Asian Heritage
Growing up in San Jose, California, I was acutely aware of the struggles and hardships that my parents overcame as they left Southeast Asia for the U.S. during the 1970s. My mother fled from Vientiane, Laos to the U.S. with her family wearing only the clothes on their backs. Around the same time, my father was saved through "Operation Baby Lift" by the American military as the Vietnam War was ending and the fall of Saigon was imminent.
Through immense hard work and perseverance, they were able to create a better life for themselves and their family. As a first-generation American-born citizen, I was raised with pride for my Vietnamese heritage, respect for being born in America, and a strong commitment to service. My parents decided when I was a child that since we were blessed as a family, we would return annually to Vietnam to support others who are less fortunate. One of the fondest memories I have as a child includes going to Vietnam with my family to take part in humanitarian trips where I helped distribute food parcels and school supplies to children and families in my father's home village of Binh Duong.
The natural progression for my love of service grew into joining the Peace Corps in 2013 where I was a youth development Volunteer in Swaziland (now called Eswatini).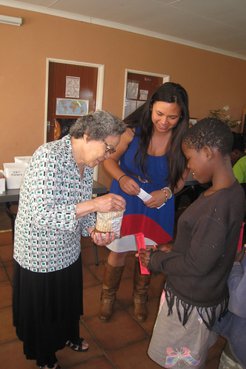 Service in Swaziland
During my time in Swaziland, the majority of my conversations with my Swazi community would start with ethnicity. People would never really know what I was and wavered between calling me "umlungu" (white person/foreigner) or "Chinese." I was the first Asian American who lived permanently at Pasture Valley, the children's home that I worked at. During my three years in the Peace Corps, there were less than ten Asian American Peace Corps Volunteers in Swaziland.
Early in my service, I lead a workshop on "Asia" and introduced the students at my children's home to various Asian countries. I explained the enormity of the continent and made comparisons to regional differences between South Africa, Swaziland, and Mozambique. I explained my family heritage to them and introduced them to Vietnamese and Chinese culture as we made spring rolls learned how to speak a few words in Vietnamese.
Weeks later, in response to a comment regarding China, one of the oldest students quickly replied, "No, Aunty is not from China, she is from Vietnam!" This remains one of the tangible moments where I knew that I had made an impact on these children's lives.
This understanding once again appeared when an African-American Volunteer was placed near my site. A student came to me and did not understand how they could be from America. By making the comparison with being Asian American they were able to understand that there is not one image of "American."
Africa and Asia Combined
When my mother, grandmother, and aunt came to visit me in Swaziland, I was able to introduce them to my second home. The cultural exchange that came from this time was profound. They made pho, which is a traditional Vietnamese noodle soup dish, for the children, housemothers, and staff members. Months later after they had departed, everyone kept bringing up how incredible it was to meet my family and how delicious the homemade meal was.
Being A Global Citizen
Being Asian American in Africa enabled me to introduce my community and my Peace Corps country to the diversity of Americans. Returning to America, my identity has changed. I still remain visibly an Asian American, but now with a deep passion and love for the African continent, especially through my time in Peace Corps. I on occasion wear Swazi skirts, dresses, or jewelry and there is not a single day that I do not think of my service and the impact I had on the children I worked with.
As a social impact MBA and master's in international development dual degree master's student, I recently presented in front of an audience at Brandeis University's Africa Culture Night, where I was able to highlight my experiences in Peace Corps. Every day, the innovative minds of the youth I met through my time in Peace Corps drives me to do more back in Southern Africa. Through Peace Corps and my graduate studies, I am constantly reminded me that there are many people who are devoted to the success of African countries on many development levels. In the end, whether we were born in Africa, have visited Africa, or have made Africa our home, there is so much we in the Peace Corps and the development world can do to celebrate the continent and work towards in the future.