Becoming a window into America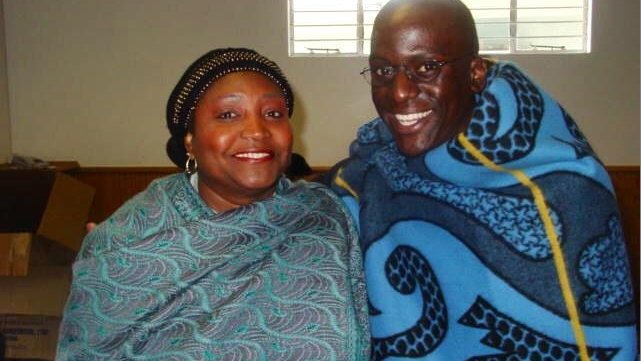 Feb. 25, 2016
In celebration of Black History Month, Peace Corps Diversity Outreach Specialist Byron Williams discusses how his experience living and working as a Black American in sub-Saharan Africa helped to fortify his racial identity. 
Byron served as a Youth Project Advisor for a youth center in Lesotho and currently recruits for the Peace Corps. His story – titled "As a Black American, Trip to Lesotho Enriched My Life"– was first featured on Face2Face Africa in September 2014.

The plane door is opened as we wait on the tarmac in Dakar, Senegal. I approach it to inhale my first aroma of Africa, of home. I step near the door and take in the high grass that lines the landing strip, the bright sun that has been showing for about two hours, the blanket of June's humidity, and the unfamiliar smell that assaults my nose.

Coming from my home of Las Vegas, where there is little vegetation, less humidity, and all asphalt that's cooked by the blazing sun nine months of the year, I assume this is what true nature smells like. It is eerily quiet at this airport, something that I'm unfamiliar with as I'm used to flying major airports, such as McCarran, LAX, JFK.  The plane staff asks everyone to take their seats as we have topped off the fuel and will be in the air momentarily to continue our flight to Bloemfontein, South Africa.
I am one of millions of Black Americans who don't know their  familial connection and bloodline to Africa.
Bucket List Item #1: Live and Work in Africa
I figured it'd happen in my 40s but was blessed with an opportunity to work in Lesotho at the age of 23 as part of the U.S. Peace Corps.
In going, I didn't know much about the small mountain kingdom enclave of Lesotho before stepping foot in it. When I became a U.S. Peace Corps Volunteer, I chose not to do too much research on Lesotho as I wanted my perspective of "Africa" on the ground to be based on my personal encounters and not the unfounded, fearful warnings of my family and friends. My mom was a little worried but moreso because her baby was traveling internationally for the first time.
From day one, I made it a point to do a lot of listening while having fun. Laughter is easy to come by if you let it be. While working at Selibeng Youth Centre (pronounced SEH-dee-bang in the local language known as Sesotho), I asked a lot of questions.
"How do you say this in Sesotho?"
"Why can't I pick up that furry caterpillar?"
"Why do you think China has a textile factory in Lesotho?"
"Is half a loaf really better than no loaf?"
"Why can't I leave the shovel standing up in the dirt?"
The great thing was that all of my questions were answered. The same way I asked questions incessantly of the Basotho, is the same way they asked of me as a Black American.
"Why does your hair feel different from ours?"
"Why are you skinny and not fat like all Americans on TV?"
"How can you not know your grandfather's grandfather?"
"Which is better, kwaito or rap?"
"How much does a flat cost in Las Vegas?"
After having learned Spanish, I already understood the value of integration and access when it comes to using someone else's language. Taking this to heart kept me a student of Sesotho during my whole Peace Corps service.
My counterpart, Seipati Maphatsoe, was well-known in my camptown and across Lesotho. Me getting familiar with my area and the people had a lot to do with her. It seemed like everyone we came across knew this petite woman with the limitless energy. She knew how to connect with children, young and elderly adults, shopkeepers, shoemakers, businessman, taxi drivers, netball players. I hadn't seen someone like her before, and just to be near her made your day better. Her indelible impression has lasted all these years.
After 27 months of living and working in the town of Mohale's Hoek, I'm glad I made that decision. A high prevalence of HIV/AIDS, a severely depressed economy that resembled the American Dust Bowl, a fairly underdeveloped country — that's what stood out. What connected me to my community and the people of Lesotho was my local language skills, ability to adjust culturally, and general physical appearance as a deep-hued (a.k.a. dark-skinned), thin, bald, Black American.
It was hard for Basotho (people of Lesotho) to believe I hadn't returned "home." I had to repeatedly explain to Basotho that there are plenty of dark-skinned people in the United States. I also had to explain that I didn't know Robert Kelly (better known as R. Kelly), that I didn't rap even though I love hip-hop and that slavery's effects are still deep and long-lasting despite the appearance of an America that is painted on the sliver screen as perpetually happy, sunny, and wealthy.
Connecting to my Basotho community was a life-enhancing experience like no other. It granted me access and favor that magnified our work as a youth organization and reaffirmed my belief in the power of language.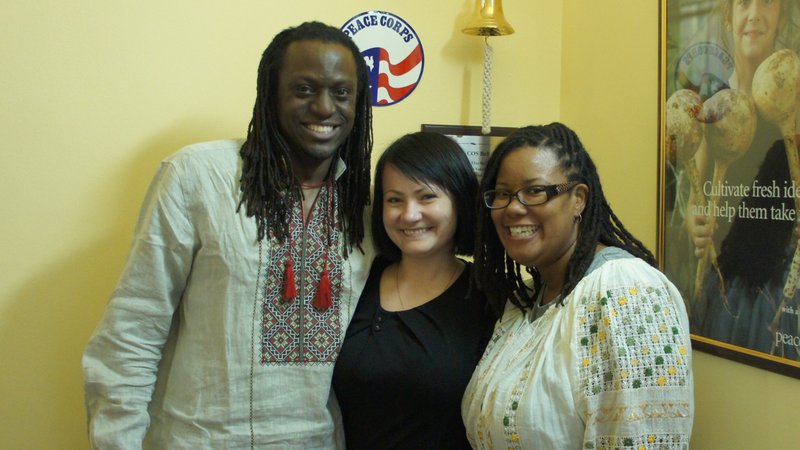 What was your main project while serving in Lesotho? My main program was at a youth center where I helped to build capacity with its youth and program leaders. We focused on HIV/AIDS education and outreach, teaching life skills through sports – specifically basketball and football or soccer – and two small income-generation projects.
You later served again as a Peace Corps Volunteer in Ukraine from 2011 to 2013. Did the local work environment there differ from the one in Lesotho? If so, how? The local work environment was vastly different. In Lesotho, my work environment was informally structured at a much slower pace. I was working with youth that weren't enrolled in school and were really looking for productive ways to contribute to their community. Outside of the youth center, these young people were all managing households of extended families while looking for work and attending classes when they could afford the enrollment fees.
My work environment in Ukraine operated around a solid class schedule that followed a national education curriculum. As an instructor in a university classroom, I worked side-by-side with roughly 40 career-driven women, adding a different perspective to my day-to-day routine. It was great, but I also had to keep in mind that while I'm happily married – about which most of my community knew – the public perception of a Black American man working with so many Ukrainian women could have lent itself to the rumor mill.
Through your Peace Corps service, did you educate people in your village about diversity in America? If so, how? In the Ukraine, I had plenty of discussions with my wife – who served with me in the Peace Corps at the time – about being Black Americans there and the diversity that America contains. In addressing the topic with our students, neighbors and colleagues, we compared and contrasted America's heterogeneous makeup and Ukraine's homogenous societies, assessing the impact of each in those respective countries. We spoke about Black and white, but most Ukrainian people wanted to understand the deeper issues once we put diversity in a context of national policies, causes of migration, and overall exposure and awareness.
Conversely, what did you learn about the perception of race overseas? While in Lesotho, considering it was my first time abroad, I was surprised to learn that many people weren't knowledgeable about the transatlantic slave trade. When I would speak about me not knowing exactly where my ancestors originated – due to the horrific reality of my people being ripped from our homeland many generations ago – it was a look of disbelief in the person's eye. The other thing I learned is how quickly people, African as well as non-African, dismissed me when they mistook me for an African. That really opened my eyes to the privilege of being an American.
How did your service as a Peace Corps Volunteer shape your work as a Peace Corps employee? Being able to speak about my two tours of service from very different times in my life has aided me with countless applicants, Peace Corps Volunteers and returned Peace Corps Volunteers. I've served while being unmarried and married, right out of college and again with significant volunteer and work experience under my belt; serving in a hot, arid sub-Saharan African country and then in the numbing winter of a former Soviet country. All these experiences have given me the worldly experience of connecting with many different types of people but, in particular, helping people of color to understand what international service with Peace Corps can look like. I speak with many people about my challenges as well as my successes. I know there isn't a plethora of people who've had the same experiences, so I know it's important to figure out ways for me to be a resource in reaching out to underrepresented people and groups about Peace Corps service.
What would you tell other African Americans who are looking to join Peace Corps about serving overseas? I would say learn what the benefits and challenges are to serving abroad before you apply, but let the bulk of your learning happen during service. This means having to take the leap and apply. During my first service, I was surprised to be the first Black American that so many people from Lesotho had met, but our meeting gave them real-life exposure to our sorely misrepresented culture, which they had only viewed through the media. That firsthand experience is invaluable when it comes to shaping or dispelling someone's notion of what they expect. You might miss home while overseas, but just think about all the positive experiences you can have while being someone's window into our part of America.