Answering the call to serve again and again
Don't expect Yanick Douyon – a three-time Peace Corps Response Volunteer and a two-time Virtual Service Participant – to slow down anytime soon.
"Every opportunity available, I will be there," stated the dedicated educator. Her resume clearly reflects that the sentiment.
Since becoming a teacher in the '70s, Yanick has taught in countless countries, including the U.S., Haiti, Senegal, China, Vietnam, and Liberia. Recently, Yanick moved from her home in Florida to teach graduate-level English at a university in Mauritania. Secondary school and adult education remain her areas of expertise, but if Yanick has proven anything, it's that she's game to lend a hand wherever she feels she can make a difference.
"I just get such a feeling of satisfaction when students are learning and I'm doing something in this world to help humanity."
Yanick began her Peace Corps journey in 2016 as an Education Response Volunteer in Liberia. During her 6-month-long assignment, Yanick strengthened literacy skills among 1st through 9th grade students. Her subsequent service, an 18-month-long assignment in Rwanda, saw her co-facilitating two English as a second language (ESL) programs: one at a university and another at teacher training college. Her third Response service stint in St. Vincent and the Grenadines placed the passionate educator at a summer literacy program for local children.
Virtual Service has enabled Yanick apply her expertise to short-term, community-level projects. However, its online modality allowed Yanick to maximize her reach and impact. The "retired" teacher could maintain her commitment to the West African university while simultaneously supporting classrooms elsewhere.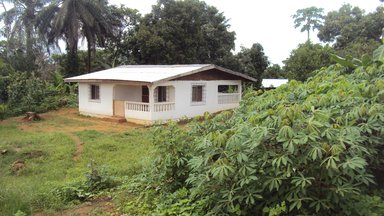 Yanick returned, albeit remotely, to Rwanda for her first virtual engagement. "Teaching is supposed to be conducted in English, but Rwanda only recently switched its national language from French to English, so most of the teachers are not fluent in English just yet."
Having a skilled ESL educator like Yanick during such a transitional period proved extremely valuable. At the start of each week, Yanick reviewed the teachers' lesson plans, researched viable, student-centered approaches, and then met with the teachers to discuss delivery options that could make the course material more engaging for students.
"During my in-person service, I noticed teachers benefited from being introduced to updated pedagogical practices. Many were still using a lot of rote memory and writing notes; it was teacher-centered instead of student-centered," she said.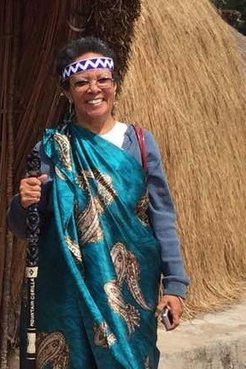 The seasoned instructor knows firsthand how intimating it can be to change classroom instruction methods, reflecting, "What I learned back in my teacher training [in the '70s] has since been thrown out the window. In regularly taking seminars or workshops over the years, my practices and outlook on education has evolved."
Yanick just finished her second virtual engagement, where she collaborated with Guyana's Ministry of Education. Just as one might cleverly disguise vegetables for a picky eater, Yanick finessed social studies lessons to include a touch of literacy. She broke down vocabulary into syllables, identified rhyming words, and incorporated critical-thinking activities.
"Yanick, is a rare, talented, and exceptional individual. Her unique way of communicating and taking charge while gently instilling values is first class. It has been a pleasure to get to know and work with Yanick. Even though our collaboration was brief, it was certainly impactful," said Samantha Williams, the Ministry of Education's assistant chief education officer for literacy.
Yanick just applied for another virtual service engagement (her third!), which will team her with another education partner in Africa. When it comes to successfully meeting the needs of curriculums across diverse countries, Yanick says, "They have minor differences in my opinion. If you're learning English, you've got to make vocabulary and grammar interesting so it sticks. If you're learning social studies, the vocabulary is still important, but the primary focus is on content. Understanding prefixes, suffixes, and all that will help with whatever you're studying."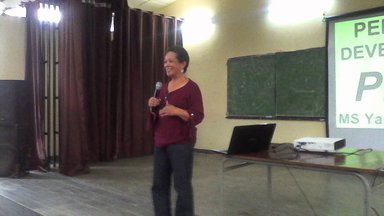 This is not to say that Virtual Service is without its challenges. Participants like Yanick need to accommodate their counterparts – whether that's using the partner's preferred meeting platform or being flexible when connection issues delay meetings. Still, many Participants agree that making an impact on a part-time basis is well worth these occasional obstacles.
"It makes you a better person, because you become more open-minded and more accepting of different ways that people do things. We tend to believe that there is a right way and a wrong way, but sometimes, what you thought was the "better way" just won't work for a certain situation."
If you're interested in participating in Virtual Service but are concerned that your expertise doesn't stack up to Yanick's, take it from her: "There's always some way you can help, so I encourage people to give it a try."
---